TED-Ed Club
TED-Ed club is my initiative to help Kendrick students improve their confidence and public speaking skills. I began this club as I am very passionate about sharing theories, thoughts and ideas, learning new skills and building my own and others' confidence. This club allows students to explore knowledge and discover interests outside of regular lessons in school.
After an application and an online video conference, I persuaded TED to join hands with our school. TED is a well known organisation which prepares knowledgeable talks and distributes them for free on YouTube, and TED-Ed is TED's youth and education initiative. Kendrick now supports their aim of spreading knowledge and allowing the youth of today's society to share their ideas. This means that Kendrick students have a voice about the topics which they care about and can make a difference.
It proved to be a popular club as over 75 students applied for a limited number of places. Perhaps this is due to the chance to go to New York if chosen by TED in an international TED-Ed student talks competition. If selected, they will be able to take part in workshops and perform their talk live on stage at TED-Ed New York headquarters.
My main aim for this club was for students to inspire each other whilst sharing ideas and innovations which they are passionate about. We have accomplished this goal together through TED-Ed Showcase Week, which I organised in March. Students performed their talks in front of an audience and some of these were recorded to be put on a TED YouTube channel.
28 talks are now on YouTube, which is a very exciting moment for me as I have seen the members of my club grow and develop not only their public speaking skills, but also their confidence. The young voices and opinions from Kendrick can be heard across the world and make a positive impact.
The club sessions (consisting of 49 members) were split into three parts:
1) 'Identify Your Passion' - "activities that expand curiosity" which allows students to find the areas which they are interested in
2) 'Choose Your Idea' - and begin to learn skills to create their own TED-style talks
3) 'Start Talking' - students share their talks with each other, and, if they choose to do so, record and upload them onto YouTube through TED-Ed.
On behalf of our TED-Ed club, I would like to say a big thank you to Ms Mendez, Mr Marsh, Mrs Kenward, Ms Stacey, Ms Joseph, Ms Nolte and Mrs Brunsdon for helping me along the way.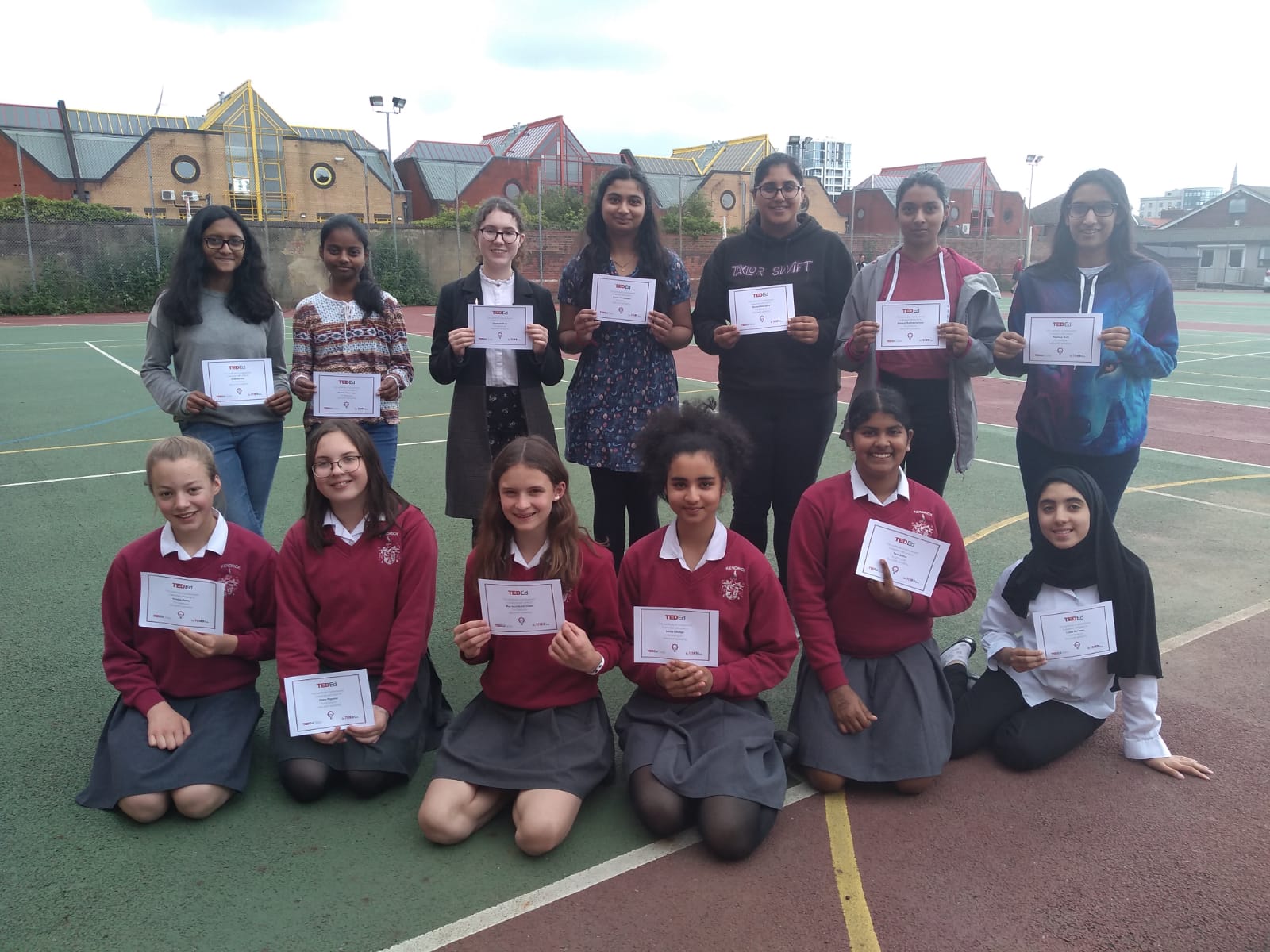 I invite you to have a look at the talks we have performed, which are attached.
Anjali D
*Aashi C | The Zero Sum World View https://www.youtube.com/watch?v=PCmCmQ5r5Sc
*Amelia P | What is Love? https://www.youtube.com/watch?v=WVwuVFpVjgs
*Amy D | This is me. https://www.youtube.com/watch?v=aO9TE9A5xhM
*Anika M | Black or White https://www.youtube.com/watch?v=OGs3iuR4FVU
*Anjala V | Political Correctness https://www.youtube.com/watch?v=8SQHJuL_l3o
*Anjali D | Science and Superheroes https://www.youtube.com/watch?v=htmQj_gx5k8
*Aratrika K | Strokes https://www.youtube.com/watch?v=rkRFkuABR60
*Attsaya R | Music and the Mind https://www.youtube.com/watch?v=uzZgUgP7q1o
*Bryony S | Respect, Accept, Except: Disability Prejudice https://www.youtube.com/watch?v=UFtik-ZPTxw
*Charlotte K | The Art of Being Forgetful https://www.youtube.com/watch?v=RR4sMnbYWsE
*Eisha J | Identity https://www.youtube.com/watch?v=HPMYYYm6uHg
*Elena P | The Rise of Flexitarianism https://www.youtube.com/watch?v=fgHWiEr_EBc
*Imaan A | The Power of Representation https://www.youtube.com/watch?v=lCw7VqulAhc
*Ishita G | Climate Change https://www.youtube.com/watch?v=Gtgwg48u80c
*Jasmine K | Why are we so obsessed with horror movies? https://www.youtube.com/watch?v=z0hhPcop0AI
*Katy H | Learning Through Exploration https://www.youtube.com/watch?v=7NLAS0aycD4
*Laiba R | Building a Base on the Moon https://www.youtube.com/watch?v=_fJaAvwD4jc
*Mannsi K | Conspiracy Theories https://www.youtube.com/watch?v=G1yVqghMd_Y
*May A | Fairy Tales: Their Effect on Society https://www.youtube.com/watch?v=3otJbeMa9Ok
*Mia T| Aromatherapy: Witchcraft or Wonder? https://www.youtube.com/watch?v=qhtaqO7POl0
*Petra P | Brains VS Brawn https://www.youtube.com/watch?v=GFXEe5hWQ_s
*Rajdeep S | The Wildest 10 Minutes of Your Life https://www.youtube.com/watch?v=nbsH9FvYs7k
*Saanvi S | Smile for the World, With the World https://www.youtube.com/watch?v=VV4nBtjC-PQ
*Shraddha S | Mobile Phones: The Silent Killer https://www.youtube.com/watch?v=auip5zgAOFs
*Shreyaa P | Can India be modernised without being westernised? https://www.youtube.com/watch?v=EcS-9y6FwHI
*Sruthi V | Brain Implants- Give Them a Thought… https://www.youtube.com/watch?v=EPVa_b8AigA
*Tara S | To Judge or To Understand https://www.youtube.com/watch?v=LFHOZKZVMIY