Year 8 Journalism Awards
Earlier this term Y8 enjoyed an afternoon of drama and journalism. Part of the year group presented short plays set on the Titanic, and the rest of the year group took various journalism roles to cover the event. The winners of the drama element of the event have already been published (the article can be found in the Drama Department section of the website). After long deliberation by the judges, the winners of the journalism element can now be announced.
There were five categories, photography, graphic design, interviewing, feature writing and reviewing . The entries for the first four categories had to be completed on the day of the event, in order to give students the experience of working to a very tight deadline. The feature writers had the most complex task, as it incorporated elements of all of the other tasks and they were given just one extra day.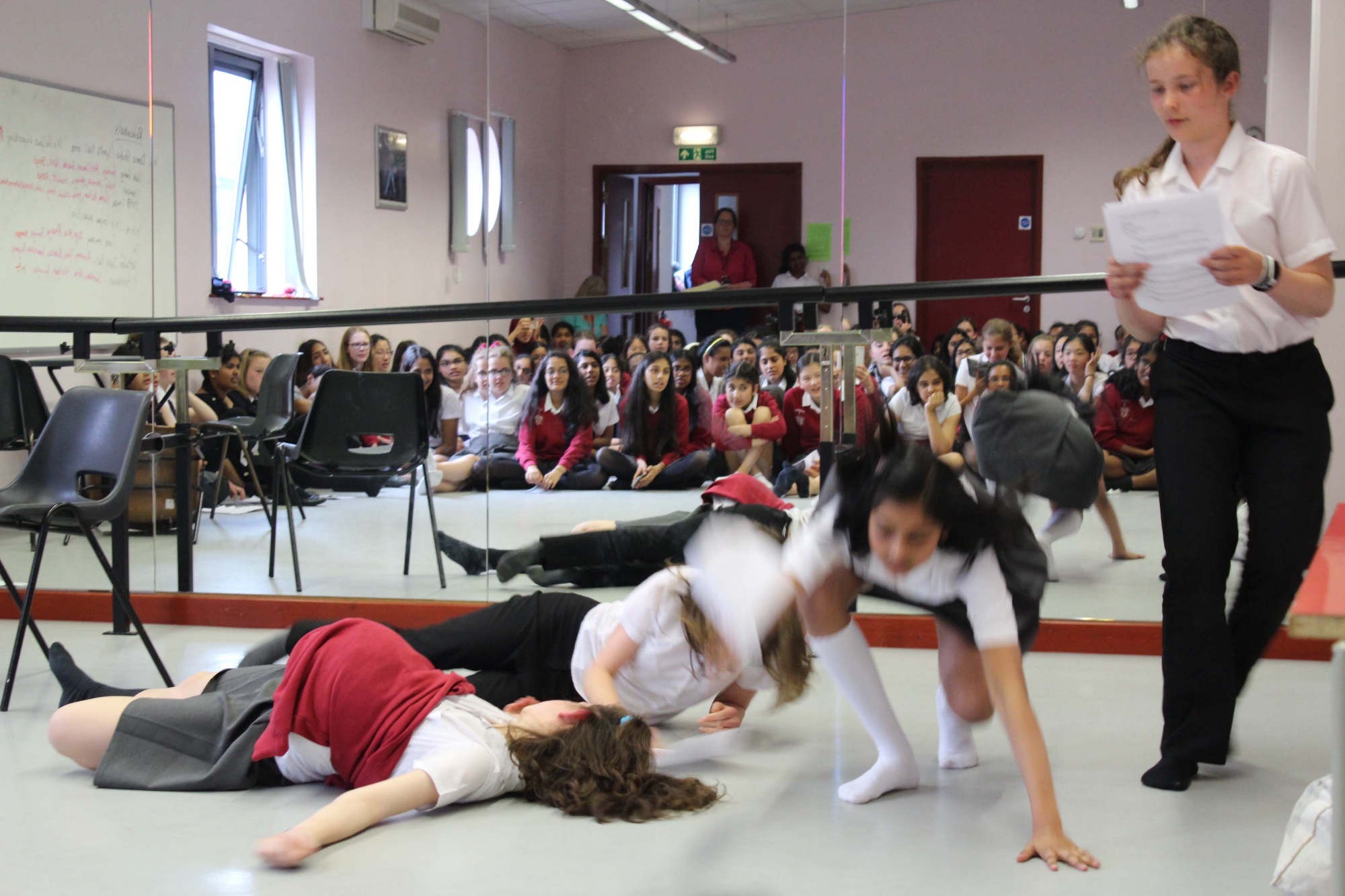 Photography - Winners - Pihu, 8W and Katherine 8W. Pihu submitted an extensive portfolio of excellent shots, but the winning picture is beautifully framed and composed, captures a moment of action in the drama, and makes effective use of the mirror to include the audience as well. Katherine also took a number of very good shots, which she used to create two highly effective and entertaining slideshows (see the previous article).
Graphic design - Winner - Sneha, 8V. The graphic designers were tasked with producing a programme for the event to the tightest deadline, just 30 minutes. Sneha's programme was very professional, attractive, accurate and usable.
Interviewing - Winners - Davneet and Helena, 8T. They asked interesting and relevant questions, spoke to a range of interviewees, and captured some illuminating responses, concisely and accurately.
Feature writing - Winners - Hannah, 8W and Navya, 8W. Both students' features were highly professional and well laid out, and incorporated photography, interviews, reviews, research and a well-structured overview of the event.
Reviewing - Winner - Ishita, 8V. The reviewers were challenged to write three 'lightning' reviews whilst watching the plays and submit them immediately. Ishita captures the flavour of some of the performances in her reviews below.
Chatterbox Juicy Bees:
Chatterbox Juicy Bees have given it their all in this performance displaying the difficulties and problems faced by people from different social classes. A play that kept us captivated throughout.
The Dodgy Drama Company:
This drama company certainly knows how to make an audience laugh. Their play was filled with plenty of scenes of comedic moments along with an interesting plot. Finally, it ended with a sweet moral to be learnt.
Guru Gang:
A heartfelt play about the meaning of love and friendship with some comedic moments in between. Well Done!
Special mention must also go to Gioia and Inakshi in Y7 and Raeesah in Y9 who joined us for the afternoon, and produced some fascinating background reseach.