Trip to Germany - October 2019
The Year 10 German trip was a wonderful experience for all those who took part. We were able to immerse ourselves in the culture by staying with German families, eating German meals and communicating in German. It enabled everyone to be taken out of their comfort zone and gain confidence. We also got to explore beautiful places and engage in amazing activities that brought us all closer together. Everyone enjoyed the trip greatly and are extremely grateful to the teachers who accompanied them on this trip as well as the wonderful coach driver, Scott, who drove us safely everywhere throughout the week.
Sunday
The trip began very early at 6:30am which felt too early to be up. The coach set off immediately after everyone had arrived. Our wonderful coach driver drove for many hours, during this time many people went to sleep, until we arrived at the Euro-tunnel. After we crossed into Europe, the France coach and Germany coach split up and set off in separate directions. We travelled through France, Belgium, the Netherlands and Germany to reach Wiesbaden. Whilst on the motorway, we saw many beautiful views. In Belgium, we grabbed a quick bite and tested out our German skills for the first time on this trip. We arrived in Wiesbaden late evening at about 9pm. As we were nearing Wiesbaden, everyone's nerves started kicking in but our teachers prompted us with some phrases we could say to our host family. Everyone was tired by now as it had been such a long day but due to the great company of our families we were able to stay up and enjoyed our first night with them.
Monday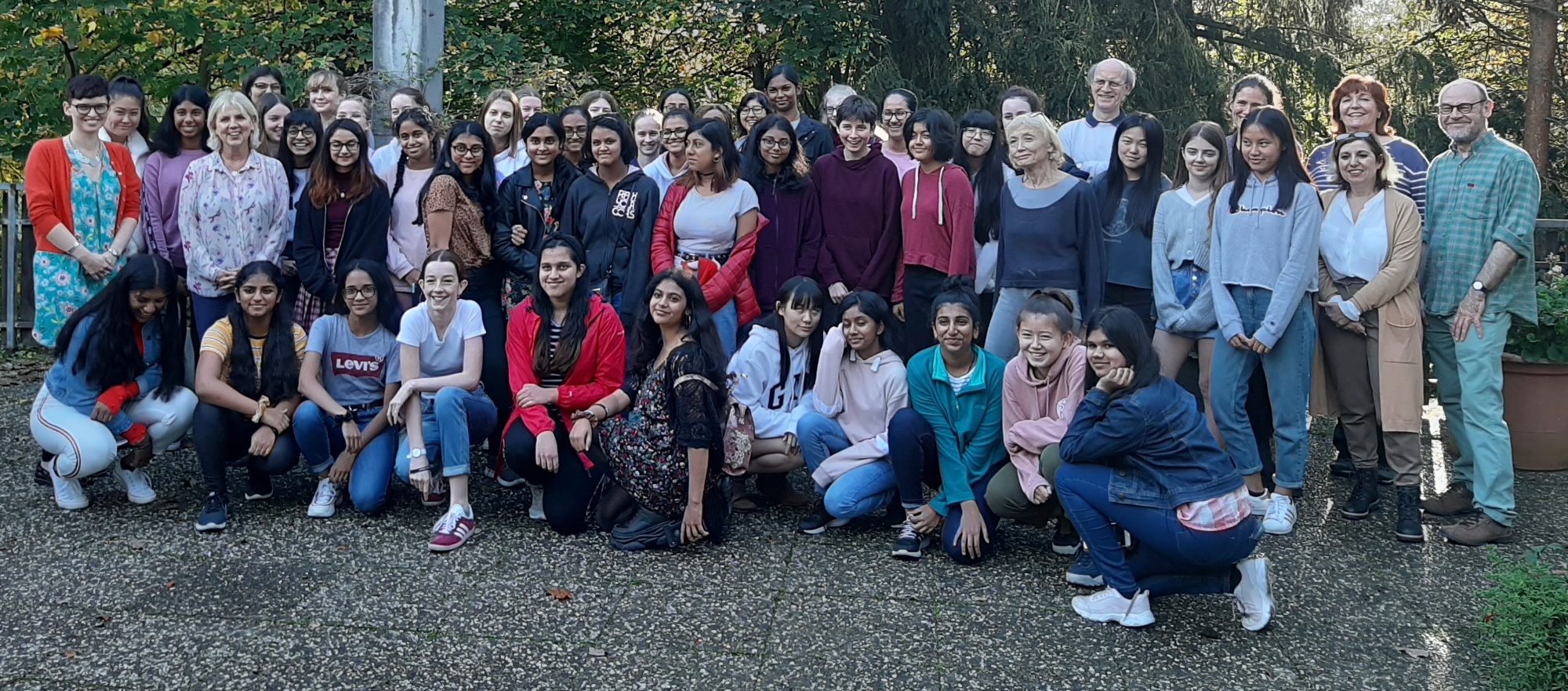 We were up bright and early. It was our first day in Germany so we were keen to explore our new surroundings. We started the day by visiting a German grammar school where we were taught by a German teacher and interacted with the students. After going to the school, we hiked up a hill that was quite high but it was worth it. We got a great view out towards the city of Wiesbaden and there was a beautiful Russian Orthodox Church that we could go into if we so wished. It was a great location for people to take some wonderful pictures. Personally, it was one of my favourite locations. At the top of the hill, as part of an artistic challenge, we were given blank postcards on which we had to draw an image of the scenery around us. Some of us sent these cards home to our parents. The final thing we did on the first day was a tour on foot of the city. We walked around the city, seeing different statues and landmarks of Wiesbaden. It was then the end of the day so we headed back to our host families for an amazing evening with them!
Tuesday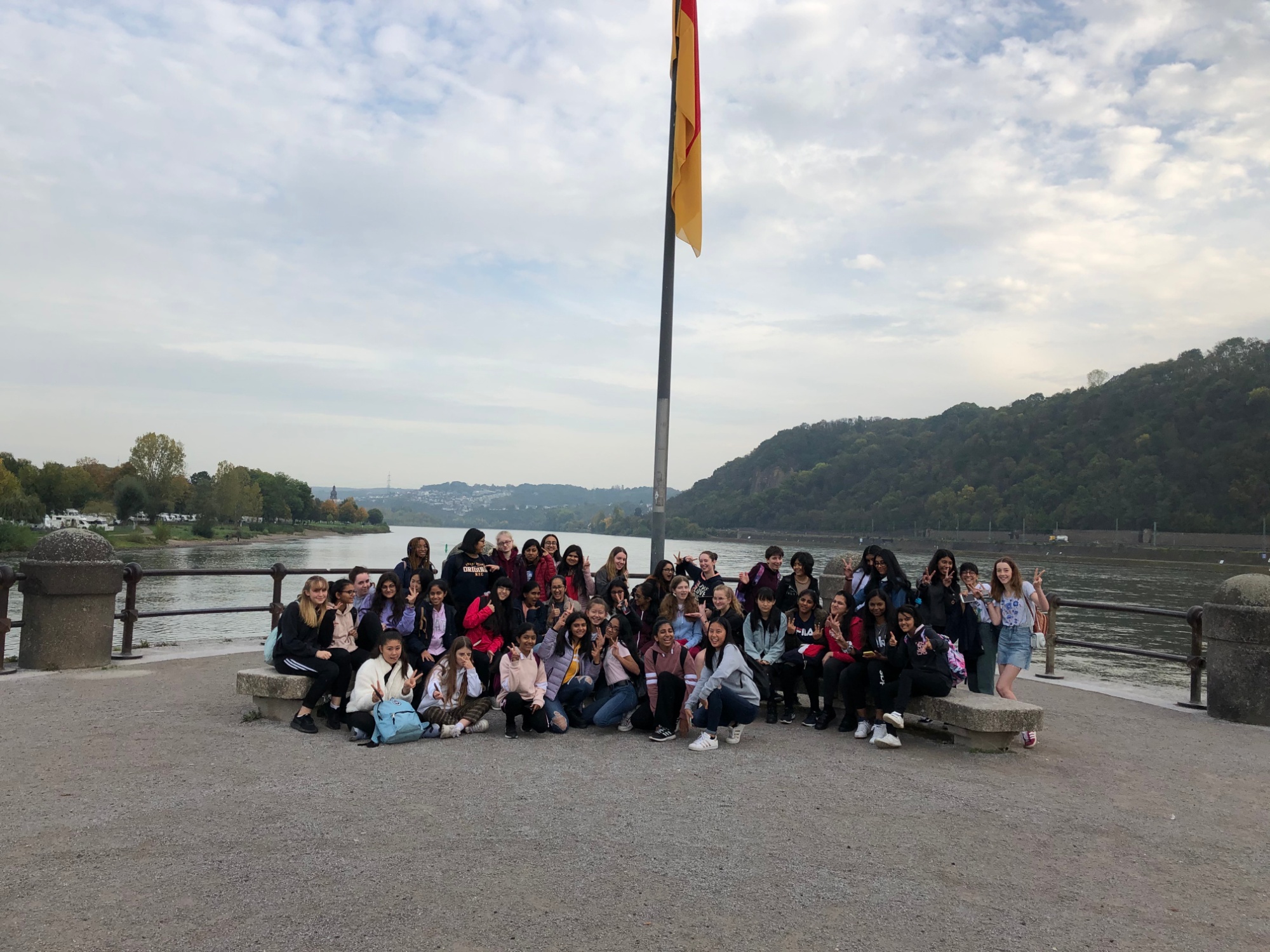 On Tuesday we did not have school so first thing in the morning we had an enjoyable dance lesson in Koblenz where we all learnt how to waltz, both English and Viennese style. The teachers were much better than the rest of us at waltzing! It was a memorable experience as there was much laughter. We walked around Koblenz and saw a water fountain called the 'Schängelbrunnen' that had a statue of a little boy on it. The statue at random intervals would spray out water. The risk-takers in our group stood in the splash zone of the statue. I was one of those risk-takers and was absolutely soaked! After our walk through Koblenz we went to a beautiful castle called Marksburg. This was another great picture-taking location where we all took many photos of the Rhine valley which looked fabulous with the autumnal colours. We had an interesting tour of Marksburg castle, where we learnt a lot. It had been an active and exciting day and we had done a lot as we headed back to Wiesbaden for another wonderful evening with our host families. Yet again we ate some amazing meals that they had kindly made for us. There was always a wonderful atmosphere in the houses we stayed in.
Wednesday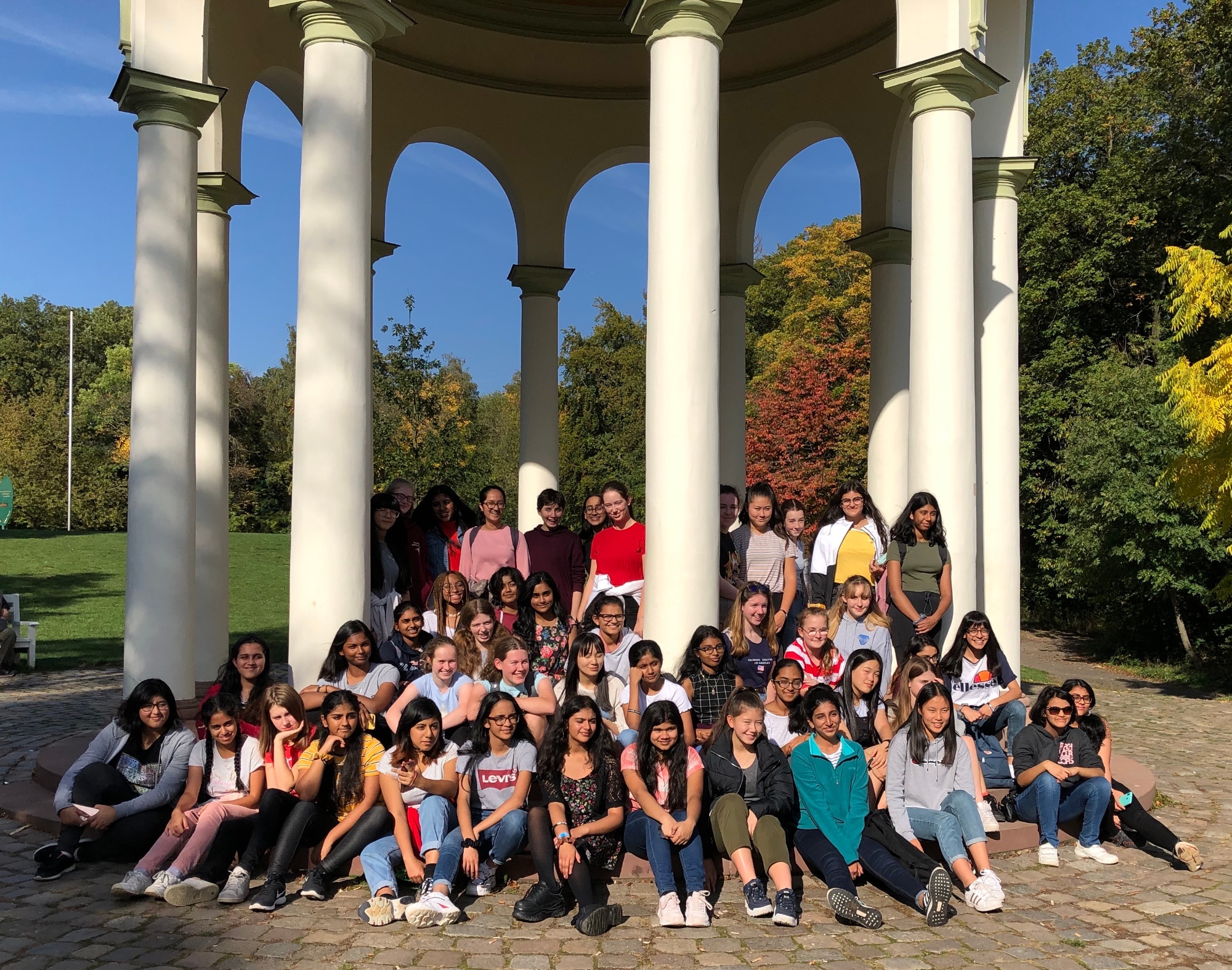 We once again had lessons in the morning; it was a valuable experience to be able to go to a German school and the teachers and students were great to interact with. Afterwards we went to the Gutenberg Museum in Mainz. It was a museum about the origins of printing where we were lucky enough to get a demonstration of how the first printing press worked. It was fascinating. We then had some free time to look around the museum with our friends. After that we had a fact-finding activity in Mainz which involved using our German skills to ask the locals questions to find out answers to the questions on the piece of paper we were given. Whilst we were doing this, we were allowed to go into shops so we were able to do some shopping. This was very enjoyable as we got to go around the town with our friends independently. Some groups had more interesting experiences with the locals than others. My group were able to talk to some friendly people of our age and get answers for our fact finding activity. After an eventful and exciting day, just like every other, we travelled back to the meeting point to go to our wonderful host families
Thursday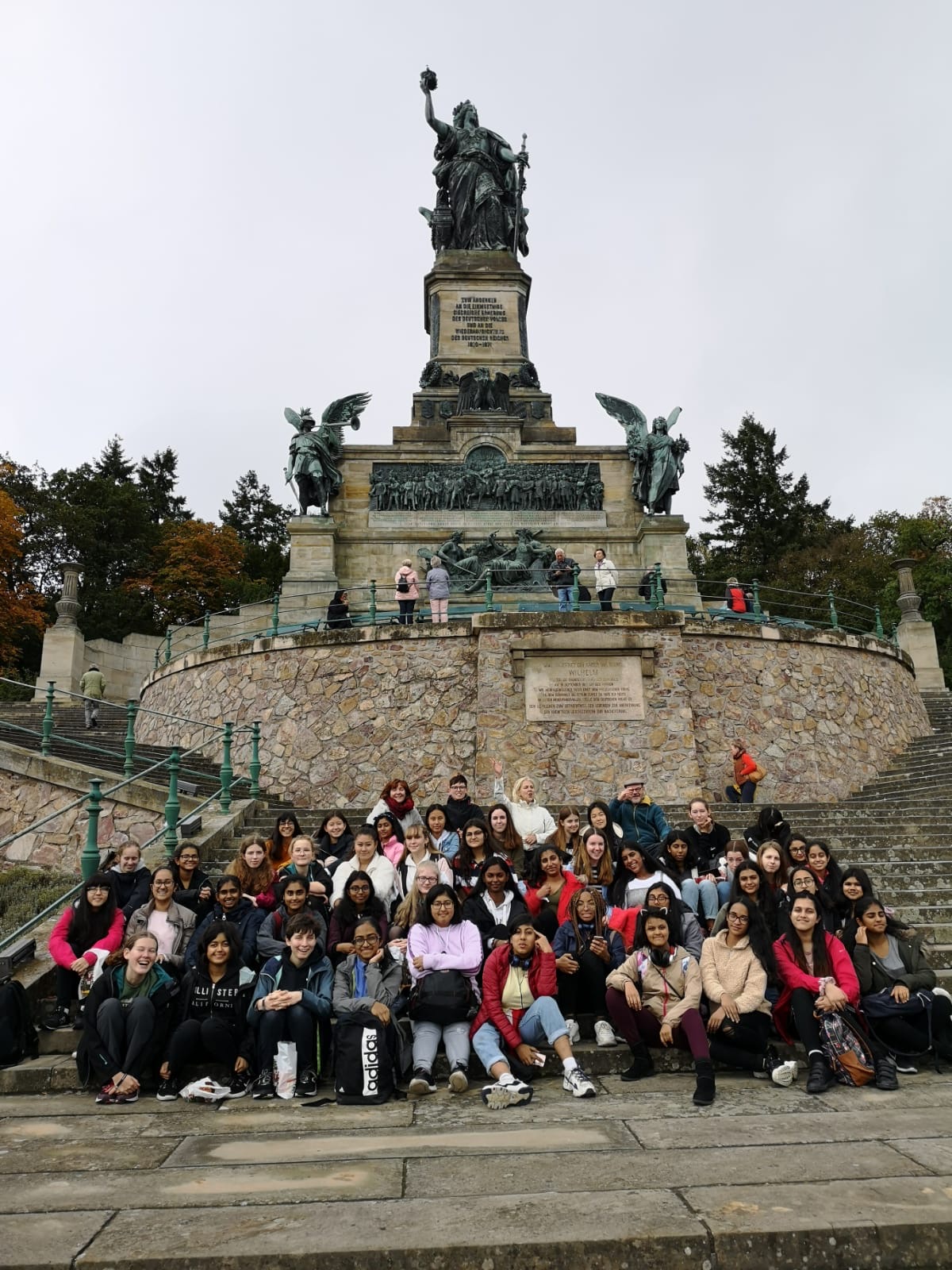 As was the case for many people, Thursday was my favourite day of our entire trip. My highlight was probably visiting the all-year-round Christmas shop, which was decorated so beautifully and really got us all in the Christmas spirit (even though it was only the beginning of October). There were lights, trees and decorations throughout the shop, and many people purchased something small to take home, although it was a little pricey! After the short stop, we boarded the cable car to travel up to the monument of Germania on the hillside. Although we found the cable car very entertaining, I feel very sorry for the poor tourists and German citizens who were going the other way who had to put up with being waved at by every single car of Kendrick students! After the cable car, we visited the impressive monument of Germania where Mr Hiner explained its history and got harassed by an Englishman pretending to be French, but you will have to ask him about that! After a short walk through the forest, we travelled in pairs on a chairlift down the hillside. The views we enjoyed on our journey down of the Rhine valley and the many vineyards and castles on the banks of the river were so impressive. Once at the bottom of the hill, we got on a (very posh) boat. The boat trip was about 40 minutes long and was very cold on deck, but the snacks were great! Again we were able to enjoy the beautiful scenery along the way. We were then allowed to go shopping in the supermarket before boarding the coach, which was probably a mistake, as everyone bought a lot of food, as they were stocking up for the journey home. We travelled back to our families for a final evening of their superb cooking and company!
Friday
Friday was a very sad and long day, as we said goodbye to our families who had looked after us so well for the week. My family was so kind and caring, and I truly miss them. We packed and boarded the coach early in the morning, preparing for the long trip. After a few hours, we stopped at the much-awaited chocolate factory in Belgium. There was so much chocolate, we were spoilt for choice! Many people bought presents for family or friends here, or even for themselves. We then boarded the coach again and headed towards the Eurotunnel. Once on the Eurotunnel, we were allowed to get off the coach and meet up with the people who had been on the French trip. There was a lot of screaming, and some crying, which just shows how much we need our friends! We were then ushered back onto the coaches, and we set off on the final stretch back to school. We arrived at school after a long 14 hour trip, and were reunited with our parents who we had dearly missed. This trip was such an amazing experience, and I feel so much more confident in my German after doing this. Thank you so much to all the teachers who made this happen: we appreciate it so much!
This trip was such an amazing experience, and we feel so much more confident in our German after doing this. Thank you so much to all the teachers who made this happen: we appreciate it so much!
Eshal & Manuela (Year 10)