Year 10 Trip to Germany 2022
The MFL trip to Germany could not have been any better. Not only was it a perfect opportunity to practice our speaking skills but also to dive into German culture, especially the cuisine! We were fortunate to have visited beautiful locations like castles, with a lot of walking, but to socialise with our German host families too. This experience was the perfect way for us to step out of our comfort zones even if it meant being corrected by your host family! We thoroughly enjoyed and will cherish the six days with our teachers and our schӧne coach driver, Chris, who even learnt German with us along the way.
Monday 10th October
With wonderful weather on our first day, we set off to the language school. We learned some useful vocabulary for our café visit later and more vital vocabulary. We then travelled to Neroberg, a very tall hill (over 240m height) with a breathtaking view of Wiesbaden from the top - it was a steep, half-hour's worth of a trek (although it felt like more). As we ascended the top, we were lucky to witness a beautiful marriage proposal, Einen Heiratsantrag, and were even asked to take the couple's photos at the golden Russian Orthodox Church. With another speedy walk down we travelled to Limburg, a medieval town with timber-framed houses, called fachverghause. We enjoyed a walk around the small shops and arrived at Limburg Cathedral. We learnt about the scandalous 'Bishop of Bling', now promoted to work in Vatican City despite accidentally spending 32 million Euros on his own house that was by the cathedral. We then walked to a fairy-tale-like café to enjoy some hot chocolate and cakes, ordered in German of course - we also had to share our food with countless unwelcome wasps.
Tuesday 11th October
We started our second day with another trip to the language school where we learnt to tell jokes in German and more useful vocabulary. Then, we went to the wonderful 'Gutenberg Museum' where we were able to watch a demonstration of how the first printing press worked! It was truly magnificent to see how large some of the machines were and there was even a guarded dark room that contained some special artefacts, the real texts that had been printed on long time ago! Afterwards, we travelled to Mainz, a large city near Wiesbaden, and had some free time to go shopping! Many of us bought German street food such as currywurst and pretzels, and before we knew it, we had to reassemble in the market square, where we were faced with a challenge. We were given some questions and had to ask the locals (in German) whether they knew the answers! Luckily, most of them were happy to help us and soon enough, we had all the answers. The winning group was mine and we were presented with chocolate bars! We then went on a short tour around Mainz and saw many interesting sights, such as the Mainz cathedral, and a postcard house.
Wednesday 12th October
To change things up from sightseeing, we had a speedy dance lesson, by that I mean - a Viennese and English Waltz dancing lesson! The teachers were much more efficient and ever so graceful, while we stepped on each other's toes, but it was filled with laughter (and aching feet afterwards). After our dance lesson, we set off to the Deutsches Ecke in Koblenz and were educated by Mrs Sheppard who told us it featured a statue of William I, the first German Emperor. Then, we travelled to Marksburg Castle, a magnificent castle on a large hill by the River Rhine. In fact, it had never been attacked as it had an intimidating defence system (cannons and height) and its location, beside a river. An 11th Century castle that was once a war prison with its own torture chamber and a room filled with armoured knights. We also had to applaud our driver, Chris who had to drive up the great slope and managed wonderfully, and then drove us all back to our host families, with whom we enjoyed dinner and a game of Uno, in German of course.
Thursday 13th October
Sadly this was our last day of activities, but in my opinion, it was by far the best, as it was packed full of exciting activities! First, we travelled to Kloster Eberbach, a monastery which produces wine and even featured in the film 'Name of the Rose'. We saw the famous door from the film and were even treated to candlelight wine tasting (non-alcoholic!) which actually tasted like grape juice (which it was), but was produced by their wine presses. Then, we travelled to Rüdesheim to ride a cable car up the mountain, where we saw a magnificent monument Germania. Frau Mändler gave us all a quick history lesson and read some Tripadvisor reviews which we all disagreed with. 'Nothing says "we won!" like a great big statue on to of a hill!' The view from the top was wonderful as you could see the River Rhein and the entire land surrounding it! Then, we had to walk (forest bathing) quite far through a beautiful woodland to reach the chairlift. We were all very excited to go down the mountain in a chairlift as many of us had never been on one before. The chairlift was much slower than we had anticipated, but this meant that we could enjoy the view on the way down. We weren't allowed to take photos on the chairlift, a small price to pay, so we wouldn't drop our phones. Afterwards, it was a quick rush to get to the boat on time. It was a serene 30-minute boat ride but very cold, although the numerous castles and hills were beautiful to see. We walked back to the coach and then made our way back to our host families.
Friday 14th October
Parting is such sweet sorrow, and it truly was. With tearful goodbyes to our host families, we said farewell and began our long journey home. We arrived at the Eurotunnel, took some more photos and then continued our journey to London, with the bleak, cloudy and rainy weather reminding us that our amazing trip had come to an end.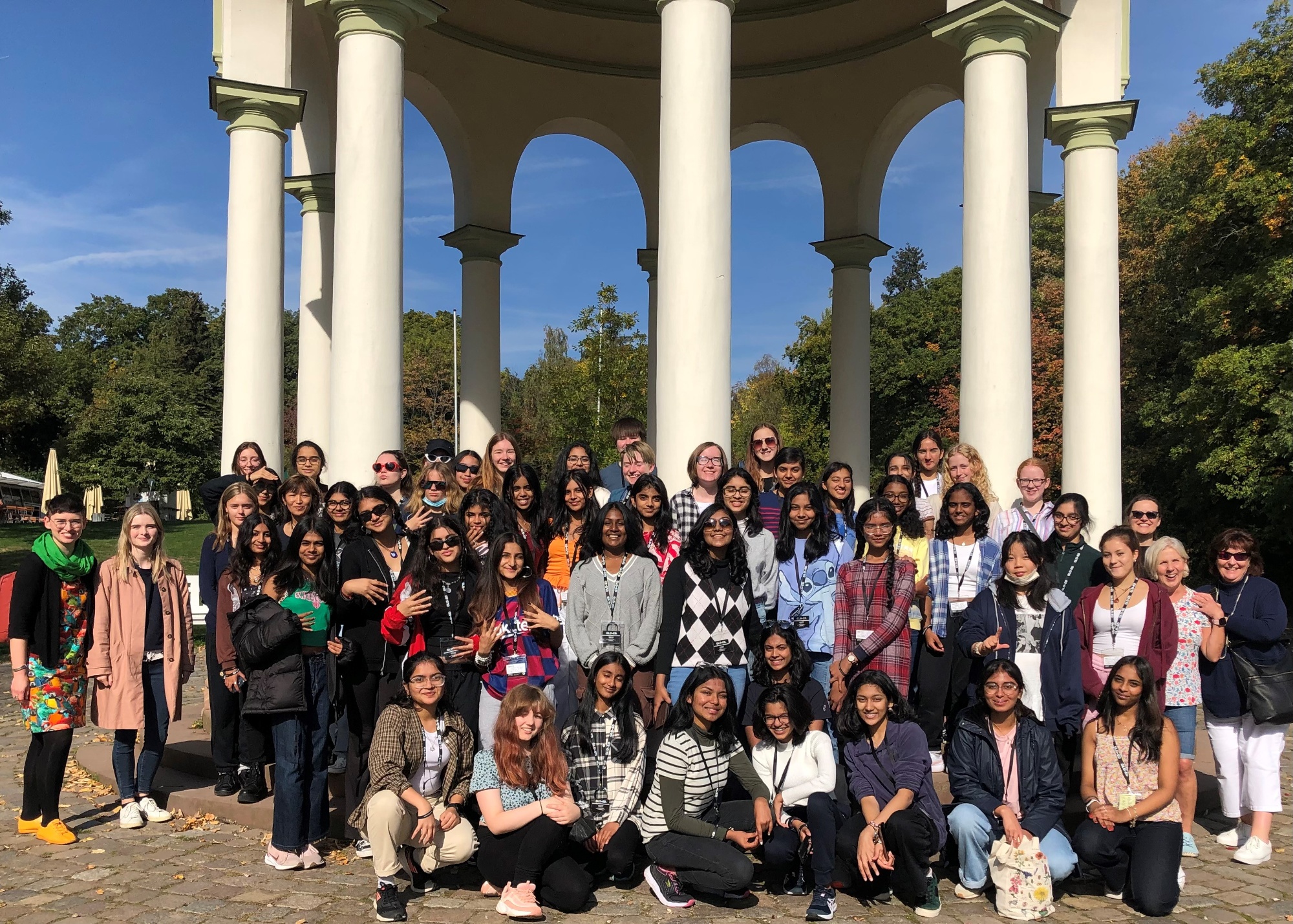 We would like to thank our teachers who accompanied us, organised the trip and took on such a huge responsibility that involved months of planning - we truly appreciate it! And of course, our cool driver Chris, who drove us safely throughout.
Rishona and Akshitha - Year 10