Christmas Week 2022
As the Christmas holidays fast approached, the school council team wanted to spread some festive joy throughout the school and also help our community through donations and shoeboxes.
Shoeboxes
Every year, we give children who are less fortunate a shoebox full of presents. This year, we chose to make shoeboxes for a charity called the Association of Ukrainians in Great Britain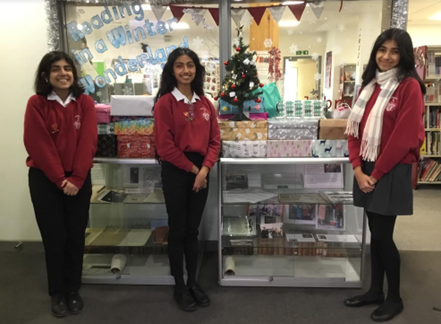 (AUGB), who will give the shoeboxes to Ukrainian children aged 1–15 years old. Each form was delegated a gender and age to make a shoebox for, and the turnout was amazing! We had made more than 30 shoeboxes, ready to be delivered to the Ukrainian community, filled with useful gifts such as gloves and hats all the way to more fun presents like games and sweets!
Monday
On Monday we decided to get creative with a bracelet making session in the art rooms! Students from most years in the school came together to create fun and colourful bracelets as gifts for their friends during the Christmas period. Gathering together in the presence of creativity and creating a fun festive atmosphere made this event special in bringing the kendrick community together to enjoy this special season. We are so thankful for everyone who took part and it was so wonderful to see all of your wonderful designs!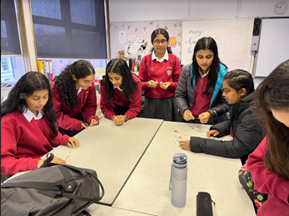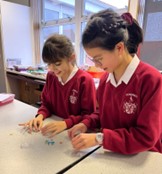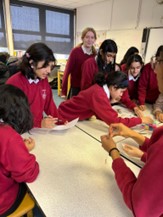 Tuesday → Karaoke!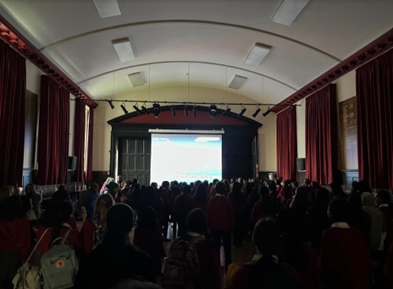 On Tuesday, we were delighted to have karaoke in the hall, with some notably loud renditions of Let it Go, Hot n Cold and Blank Space. It was a brilliant opportunity to celebrate with friends and try something new before the holidays, as well as bring all the year groups together to have fun as a community. We want to thank everyone who joined in and all the teachers who participated.
Thursday → Movie Night!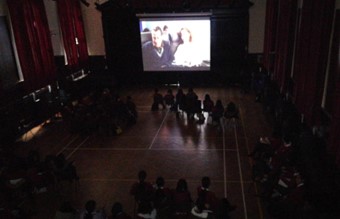 On Thursday we held a mini film night in the hall - we played the Christmas classic, Home Alone! Students across all years and teachers came and had a lovely time watching this film, which proved to be both nostalgic and very fun. The freezing temperatures outside contrasted nicely with the cosy atmosphere created in the hall - it was a wonderful opportunity to sit back, relax and enjoy the all-time favourite.
By Dora, Sohini, Sudiksha & Shriya