UKSDC Competition
Last weekend, Kendrick Students (Esha, Krittika, Nikitha, Aniya, and Shriyam) took part in the UK Space Design Competition (UKSDC), a multidisciplinary space-themed competition designed to simulate life in the space industry.
A team of 5 Kendrick Students, and students from other schools came together to form 'Kepler Automation' (an engineering company).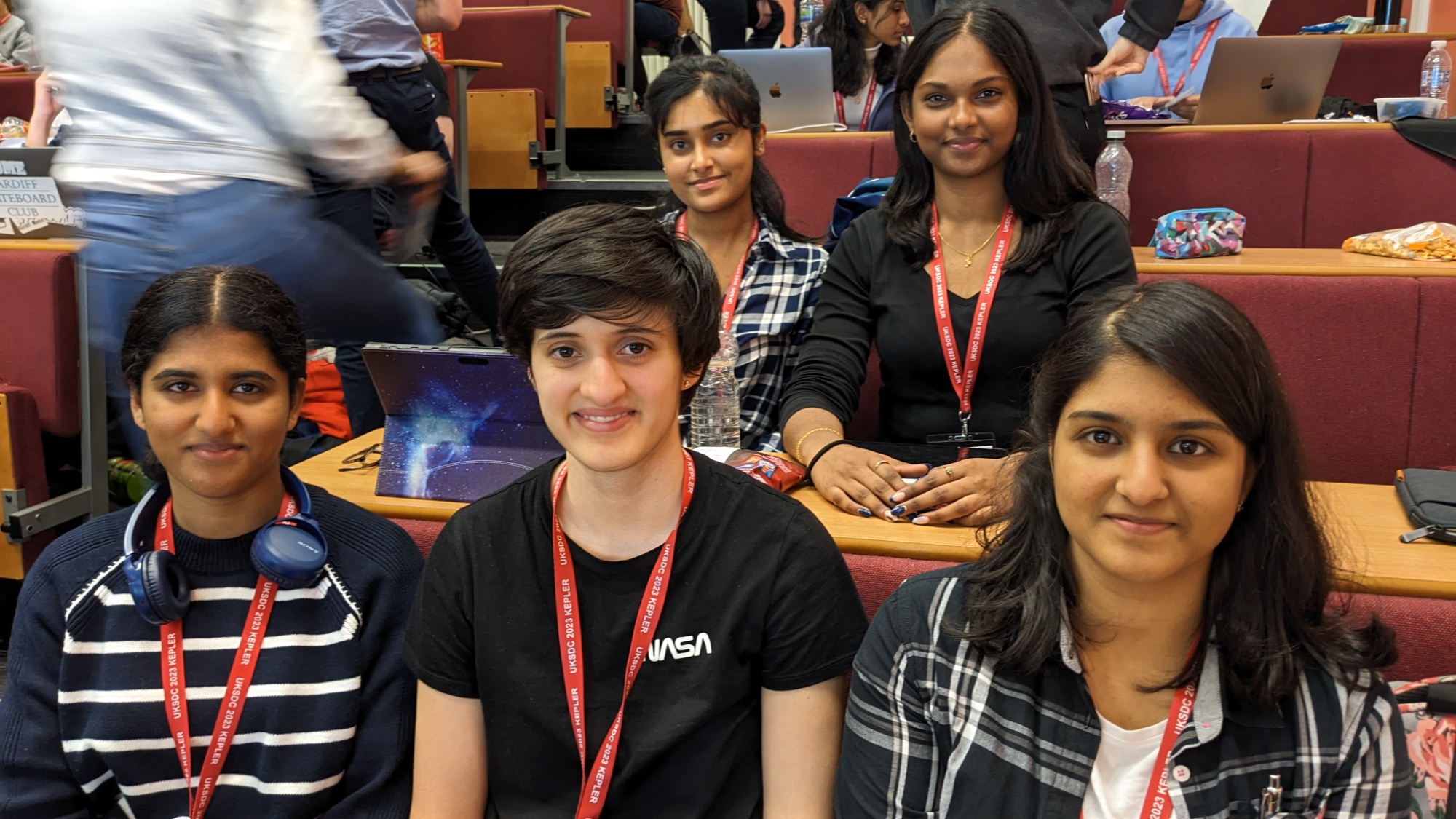 The task was to design a space settlement within our solar system which would orbit 0.25AU from the Sun. Set between 40 and 80 years in the future, we were able to lose ourselves in the elaborate and expansive universe which was complete with over 20 fictional settlements and 50 subcontractors that provided an array of goods and services that helped competitors in their quest to tackle the Request for Proposal. The UKSDC gave us a taste of the vast potential offered by the study of STEAM (Science, Technology, Engineering, Art and Maths) subjects, through this fun and engaging simulation of a career in the industry!
For a bit of background information, the regional UK Space Design Competition took place in December 2022, I chose to work on 'Automation and Control Systems'. Our 20-person team spent the whole day in our designated sector. I decided to design and implement an Assembly robot (AMR - Autonomous Mobile Robot) capable of deconstructing and reconstructing a robot from individual parts in order to make sure any-sized robot would fit into a standard container. It honed my team working skills, as I was required to communicate with other departments to engineer the robots that they required. The Kendrick team performed exceptionally well, winning the regional competition and qualifying for the national competition at Imperial College London. - Esha Year 13
At the national competition at Imperial College London, we were part of a Company (team) of 50. Aniya was in the "Structural" department whilst Esha, Krittika, Shriyam and I were in the 'Automation and Control Systems' department. I worked with Shriyam to design a system to monitor the structural integrity of the space settlement. We had to consider what could happen to the walls of the structure as it would be orbiting close to the sun. The exposure to high heat and radiation would lead to the deterioration of the outer structure. We researched the different sensors that could be used to detect faults and at what levels we would have to evacuate the settlement. Working with Esha and Krittika, we made a robot that could replace wall panels and safely transport the damaged panels away for recycling. Communication and innovation were key to delivering this project. Shriyam and I had to gather information from all departments to design an effective monitoring system and develop contingency plans. Our company received a lot of praise in particular for our consideration of accessibility and inclusiveness. The competition experience was challenging at times but looking back on it now, there were some great moments too like meeting new people, travelling around London together and working on the presentation together at the youth hostel. It was definitely a weekend to remember. - Nikitha Year 13
I worked in the 'Structural' department and worked with the 'Human' department to engineer a space shuttle and here is a picture of some of our early designs that I sketched and our final design.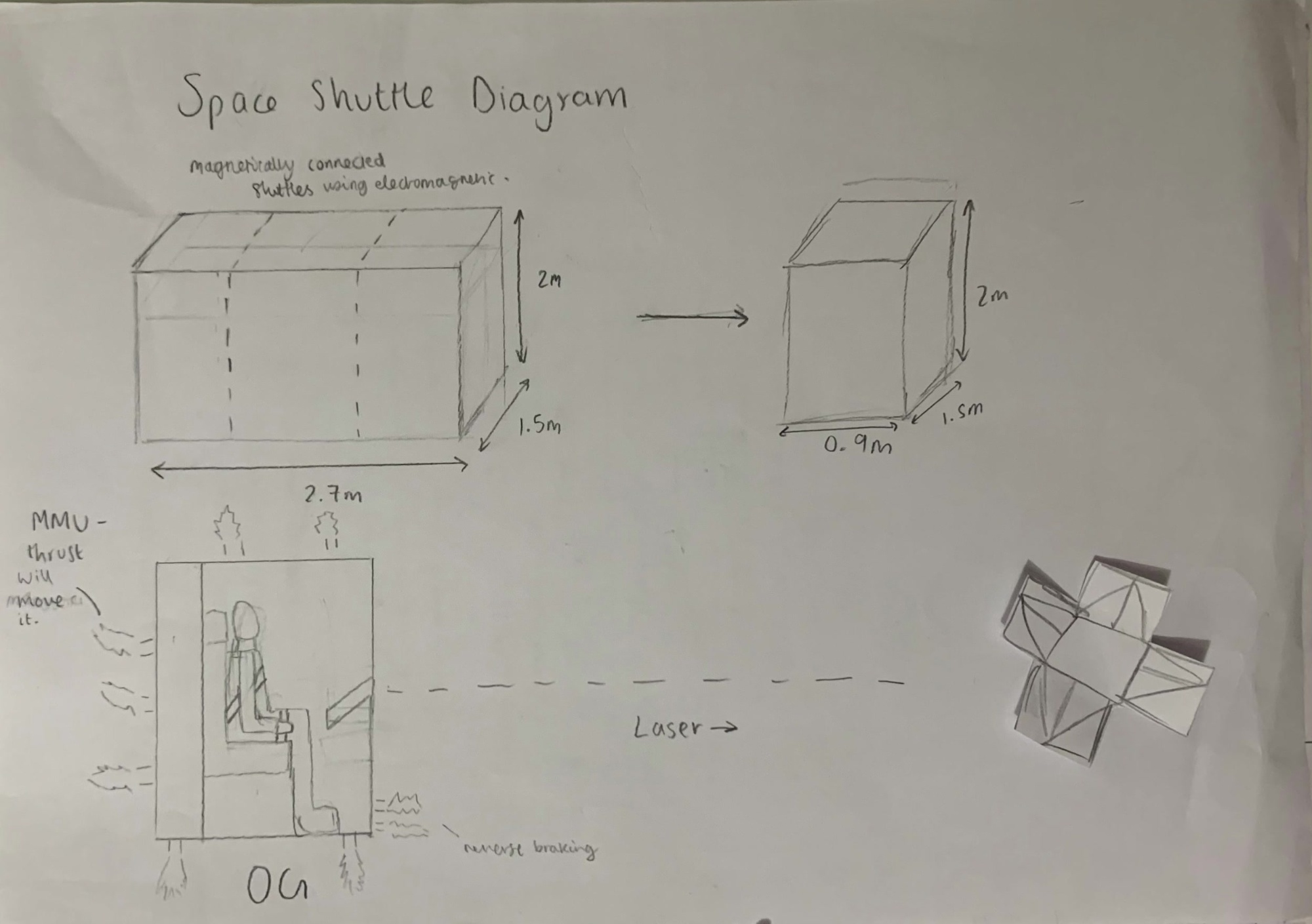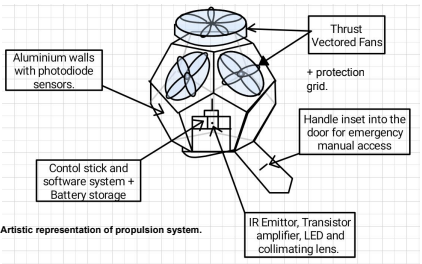 I found the nationals an extremely fun, challenging and rewarding weekend; I would love to do it again next year! - Aniya Year 11