Careers Education, Information & Guidance & Work Related Learning
CEIAG (Careers Education, Information and Guidance)
Kendrick School is committed to providing a range of opportunities, experiences and resources to enable students in KS3, 4 and 5 to help them engage with their future life after Kendrick.
Our aim at Kendrick School, is to ensure that the careers provision is tailored to the needs and circumstances of all our students. We have a careers plan and we encourage all of our stakeholders to be aware of it and we commit to keeping it up to date. We continually develop our network and information through our existing networks and our governing body to ensure that the programme considers their knowledge of the changing labour market.
Good communications and teamwork underpin activities and support our students. The platforms that we use to deliver our programme are: assemblies, tutor time, PSHCE, employer-encounters, workplace experiences, enterprise experiences, Year-Group conferences and drop-down days.
Main Objectives
The main objectives of CEIAG at Kendrick are in line with the Governments careers strategy which is expressed by the Gatsby Benchmarks.
A stable careers programme
Every school and college should have an embedded programme of career education and guidance that is known and understood by pupils, parents, teachers and employers.
Kendrick School's Overview

Kendrick School's Interpretation
Learning from career and labour market information
Every pupil, and their parents, should have access to good-quality information about future study options and labour market opportunities. They will need the support of an informed adviser to make best use of available information.
Kendrick School's Overview

Kendrick School's Interpretation
Addressing the needs of each pupil
Pupils have different career guidance needs at different stages. Opportunities for advice and support need to be tailored to the needs of each pupil. A school's careers programme should embed equality and diversity considerations throughout.
Kendrick School's Overview

Kendrick School's Interpretation
Linking curriculum learning to careers
All teachers should link curriculum learning with careers. For example, STEM subject teachers should highlight the relevance of STEM subjects for a wide range of future career paths.
Kendrick School's Overview

Kendrick School's Interpretation
Encounters with employers and employees

Every pupil should have multiple opportunities to learn from employers about work, employment and the skills that are valued in the workplace. This can be through a range of enrichment activities including visiting speakers, mentoring and enterprise schemes.
Kendrick School's Overview

Kendrick School's Interpretation
Experiences of workplaces
Every pupil should have first-hand experiences of the workplace through work visits, work shadowing and/or work experience to help their exploration of career opportunities, and expand their networks.
Kendrick School's Overview

Kendrick School's Interpretation
Encounters with further and higher education
All pupils should understand the full range of learning opportunities that are available to them. This includes both academic and vocational routes and learning in schools, colleges, universities and in the workplace.
Kendrick School's Overview

Kendrick School's Interpretation
Personal guidance
Every pupil should have opportunities for guidance interviews with a careers adviser, who could be internal (a member of school staff) or external, provided they are trained to an appropriate level. These should be available whenever significant study or career choices are being made. They should be expected for all pupils but should be timed to meet their individual needs.
Kendrick School's Overview

Kendrick School's Interpretation
For more information click here.
Work Related Learning Co-ordinator

Our work related co-ordinator, Mrs Elisabeth Rock, leads our CEAIG work with a high level of expertise to maintain and develop our stable careers programme. Curriculum and tutor time is dedicated to allow for a planned delivery of CEIAG content through skilled personnel. We are supported by external professional agencies to assist with the delivery of certain aspects of the programme. We promote the importance of the careers programme to students, parents, teachers and employers so that they know what to expect and how they can contribute to its success. We undertake regular evaluation of the programme to inform future decisions about the programme.
Please contact the WRL co-ordinator, Elisabeth, erock@kendrick.reading.sch.uk for further information.

All year groups have a specifically devised schedule to deliver the relevant career guidance and input to help them make informed decisions about their future.
To give you some flavour of what the students are involved in, an overview is provided below:
KS3 (Years 7-9)
Overview of KS3 programme
Year 7
Towards the end of Year 7 in Term 6, once the cohort has settled in to life at Kendrick School, we have a session to give our students the opportunity to be inquisitive about careers. We know many students this age are unsure about what they might like be or what career path they will choose later in life and that is fine. We do, however, want them to have a wide scope, to be informed of the many possibilities that are open to them and to have access to some of the tools that will help them access this type of information.
The session content will be planned to introduce the Unifrog platform and then to investigate the jobs/careers that they already know something about, but then to extend the search to unusual and less obvious career options. The outcome is to widen the aspirations and career horizons of our students.
Year 8
As our students engage with their career thinking we enable them to investigate careers to a deeper level as each student is to interview someone they know that either has a career in the field they are currently interested in or in an area that is simply of interest, perhaps for its difference to regular careers or that it is unusual in some other way. They will be trained on how to carry out this research by their form tutors and then some dedicated time will be given for the students to give a presentation to the rest of their form. Students will keep a log of this information that they gain.
Students will be encouraged to continue using the Unifrog platform to further investigate career paths and begin to see links to careers through subject choices. They will keep adding to their personal profiles, keeping a dynamic and helpful log of all useful experiences and encounters with guest speakers etc. which will enable them to reflect on their thought process towards their future career choices.
VISA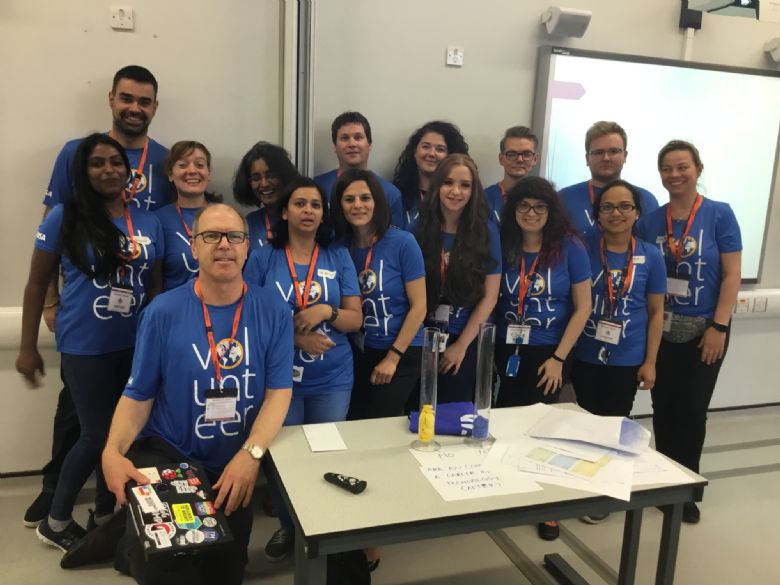 We also plan a drop-down day when the whole Year 8 cohort have a full day encounter with a local employer– VISA. A large team of VISA ambassadors visit our school and run an interactive day to showcase the diversity of careers that are possible in technical companies such as VISA. The day involves creativity, problem solving, technical challenges and presentation skills. We are grateful for the external support from our local business network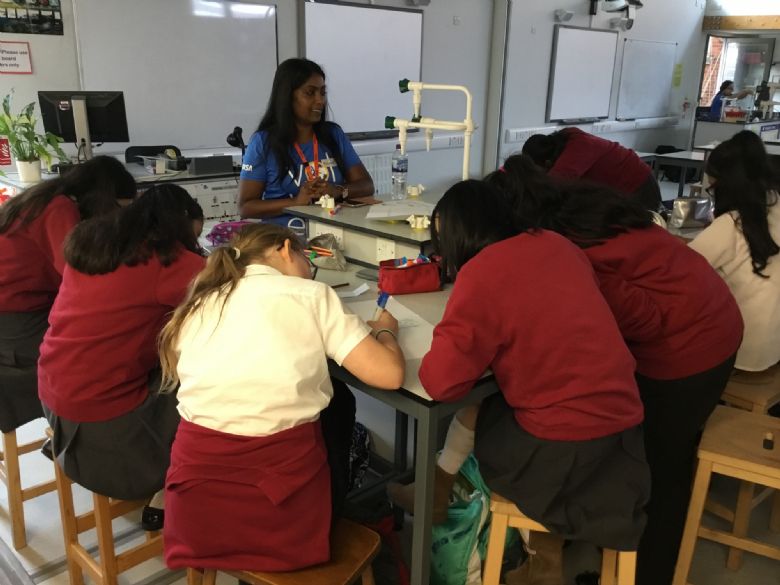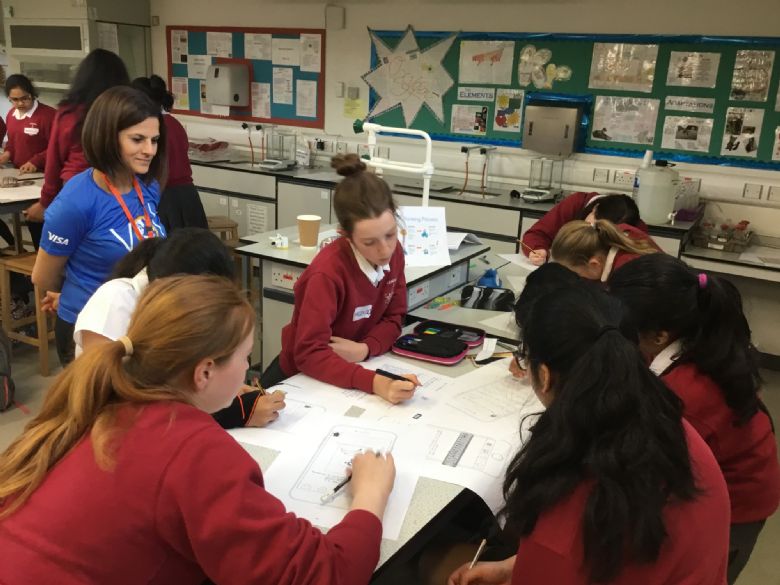 Year 9
A term of PSHCE lessons is used for the delivery of CEIAG in Year 9. In these sessions the students are empowering to make informed decisions regarding their GCSE choices by creating an in depth personal profile. They will have time to use various interactive apps as well as use more of the features of the Unifrog platform. They also have a thorough induction of the careers library and have time to investigate the resources in there which could be of significant to them when thinking out their future potential careers.
Enterprise for KS3
Year 7
Year 7s enjoy the 'Wheelie Fun Business Challenge' in the summer.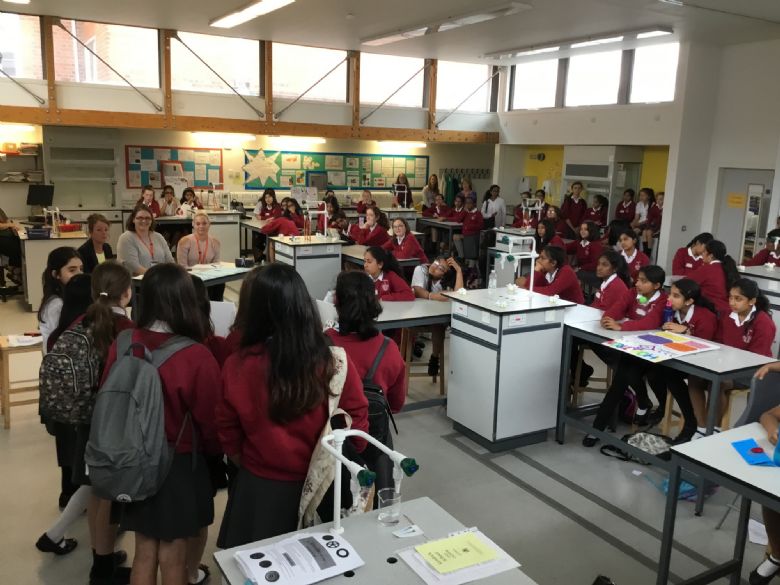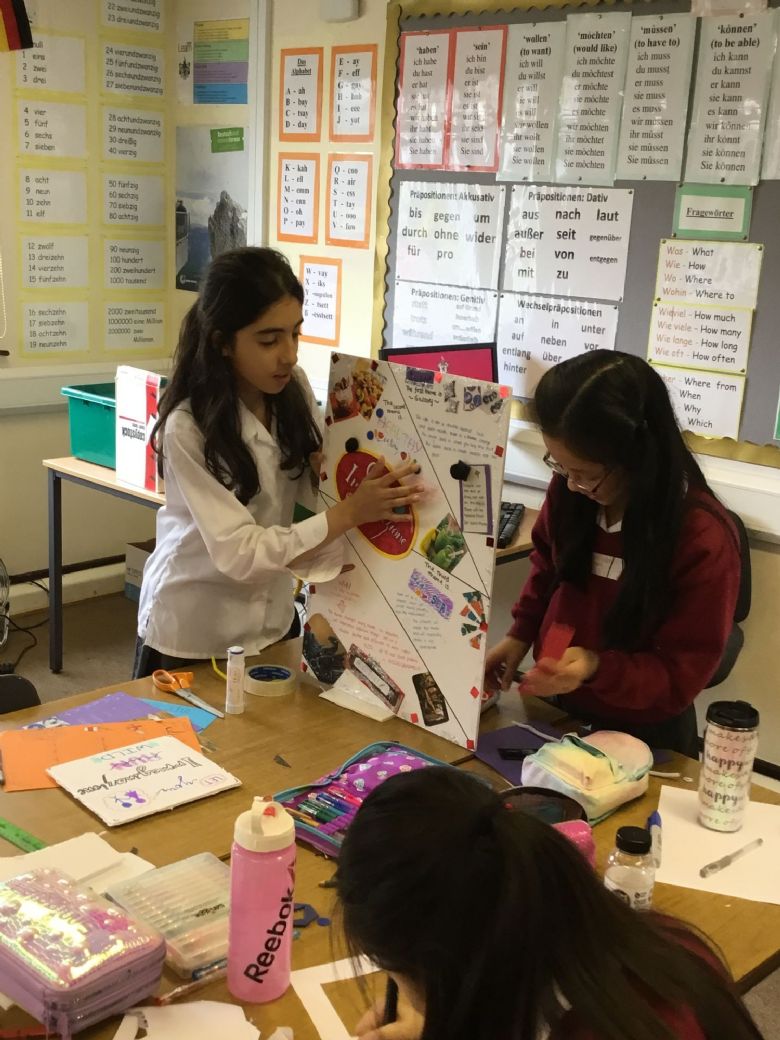 This event is an example of an engaging and educational activity which made available to the students; which serves to develop a host of transferable skills, such as team work, idea generation, decision making, teamwork, delegation, meeting deadlines, careful use of resources and so much more.
Year 8 and 9
Years 8 and 9 take part in the 'Tenner Challenge' which is run by The Young Enterprise Organisation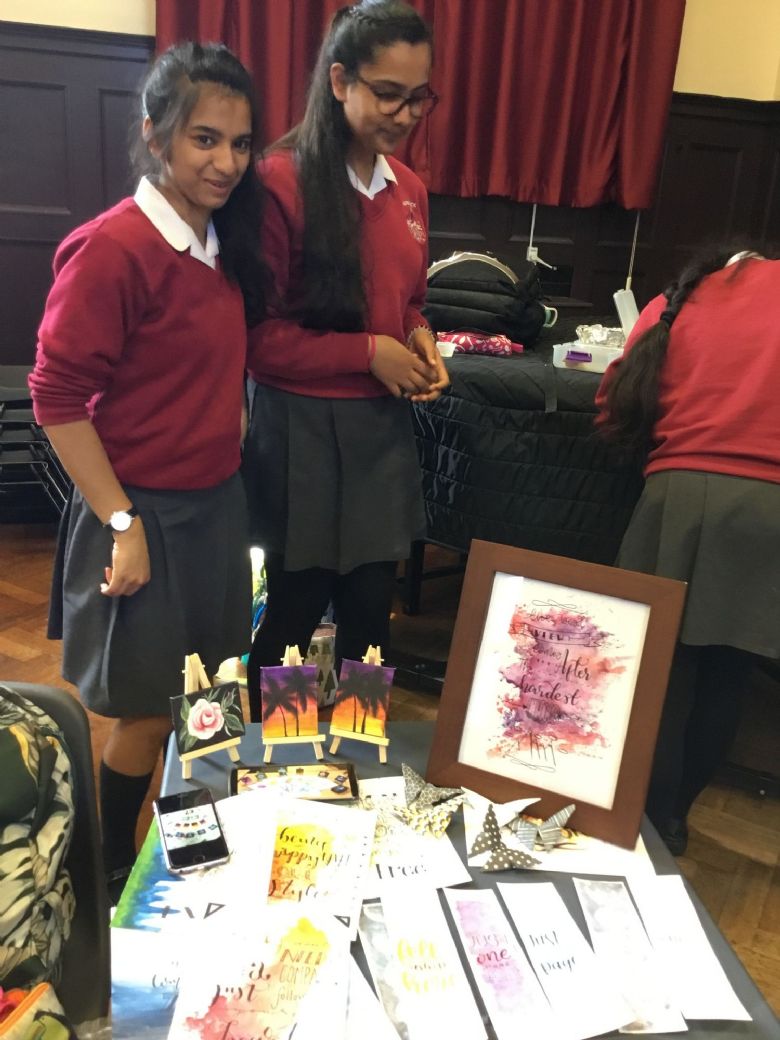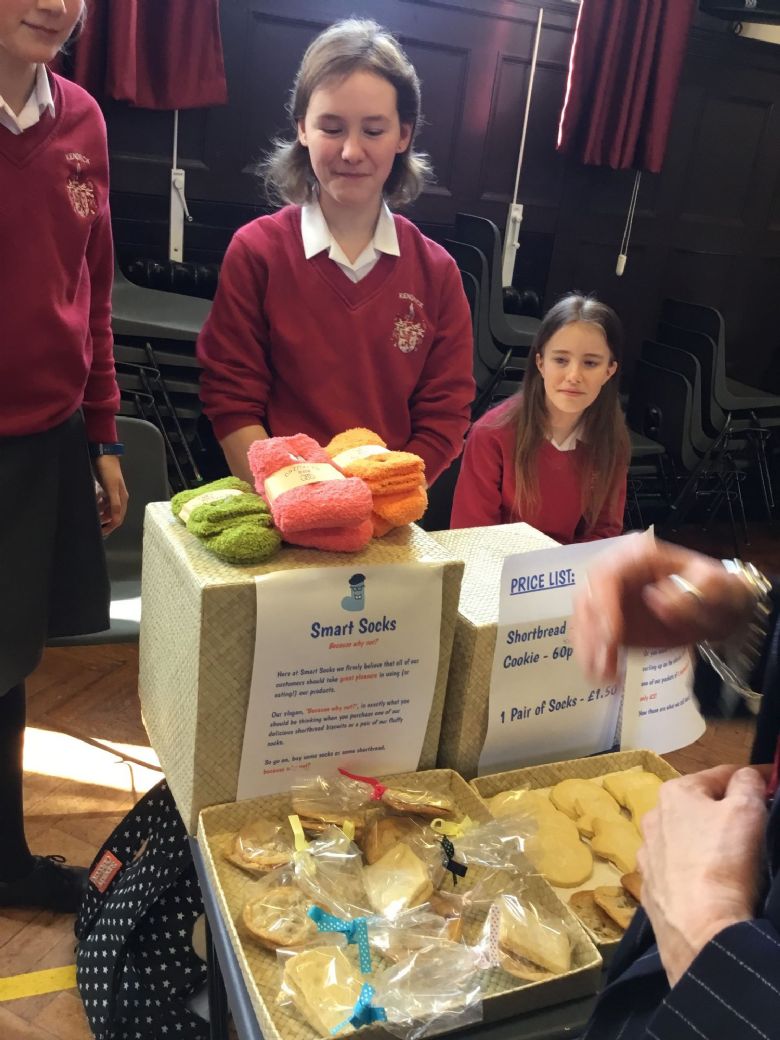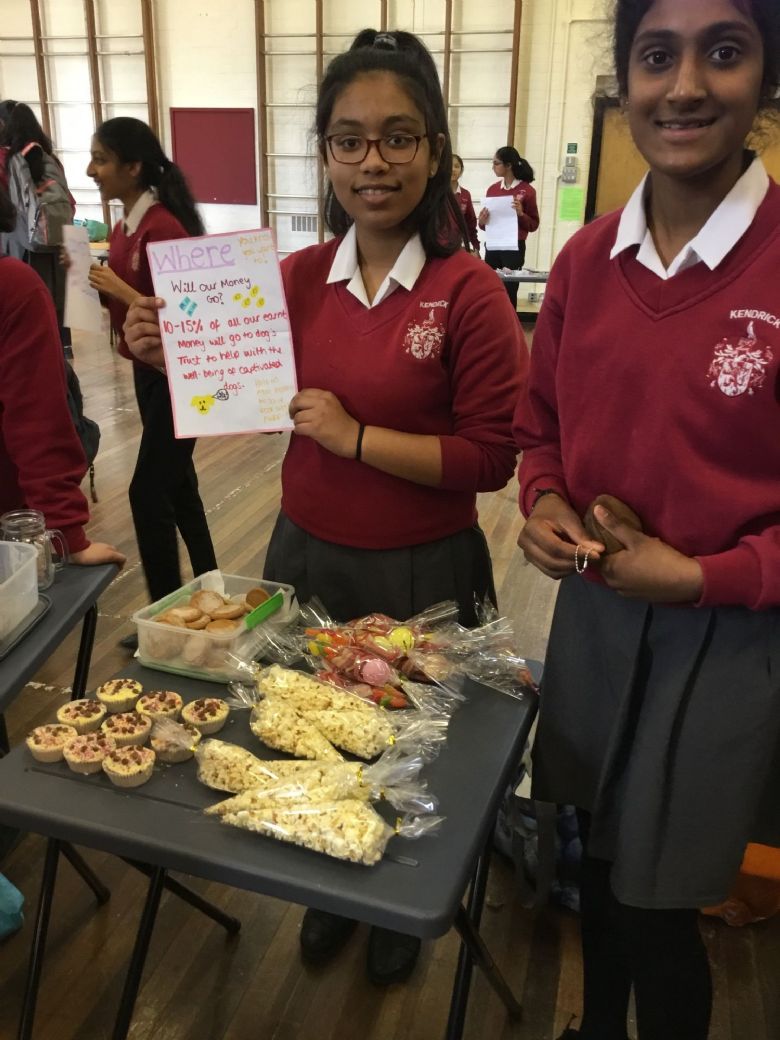 For this, individuals, or teams of up to 4, are lent £10 and they have to use this start-up funding to create a short-term business which will trade for 4 weeks. There are some national challenges to compete in and some in-school prize-categories for which students can compete for. The students can be creative with goods and services alike.
KS4 (Years 10-11)
Overview of Year 10 programme
In Year 10, we build upon the work done so far on 'personal discovery' and 'self-assessment', to thinking about becoming better equipped in order to feel more confident about how they portray themselves to potential employers and wider networks. Including job application and interview processes.
We also have more opportunities to research careers using a variety of online tools and resources.
Later in the year and again working alongside PSHCE department, the Work Related Learning Coordinator also puts together a programme where invited guests (from local businesses and other contacts) share their stories of their career journey with the students, explaining how they made their choices, gained relevant qualifications, their level of job satisfaction and career development paths open to them. This increases the number of meaningful-employer contacts that they have. It also creates supportive links that the school has with local businesses and industries-all adding flavour to the local career information and opportunities.
Work Experience KS4
Work Experience takes place in Term 6 of Year 10. Using the services of the 'Learning to Work' charity*, students have the valuable opportunity to spend a week in a work placement. This is relevant learning, where our students learn to act in a professional manner in the work place, taking on new and unfamiliar tasks, working alongside people they only know in a professional capacity. The placement are sought to closely meet the aspirations of our students and the feedback from this activity is overwhelmingly positive.
* Learning to Work is a local charity working for the benefit of local young people, schools, colleges and businesses. Learning to Work creates high impact activities with local employers to inspire young people, educate them about opportunities and give them the skills they need to be successful.
Post 16 Conference (Year 11s) KS4
In Year 11 (KS4), we run the 'Year 11 Post 16 Conference' which is an action-packed and informative day, where the students hear a Keynote presentation by an invited guest (usually alumni) and the 'Learning to Work' charity provide us with several delegated from local businesses who represent key career areas such as; IT, Engineering, Law, Medical professions, Creative Industries etc. The day concludes with a talk from the National Apprenticeship Service and a Q and A session with the Head Girl Team about life in the Sixth Form and their future choices. All this informs our student of their post 16 and post 18 options.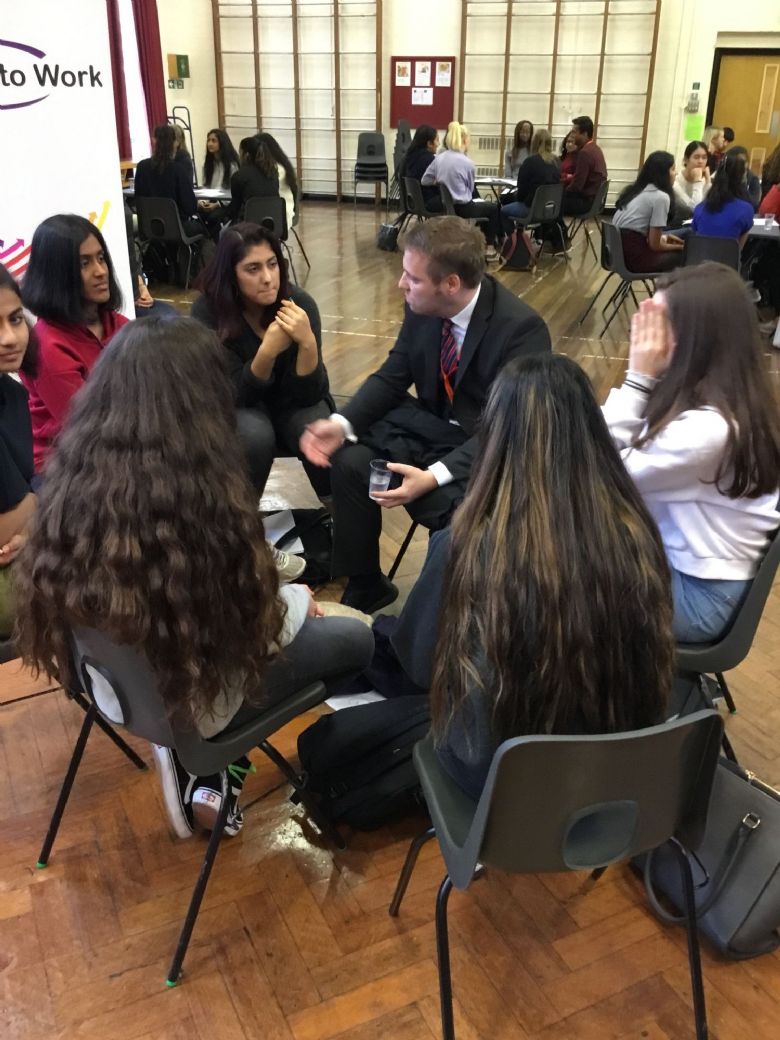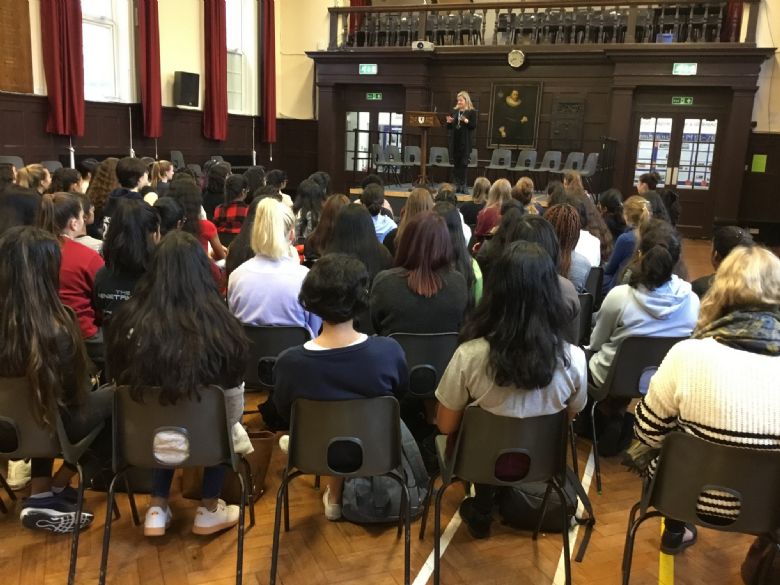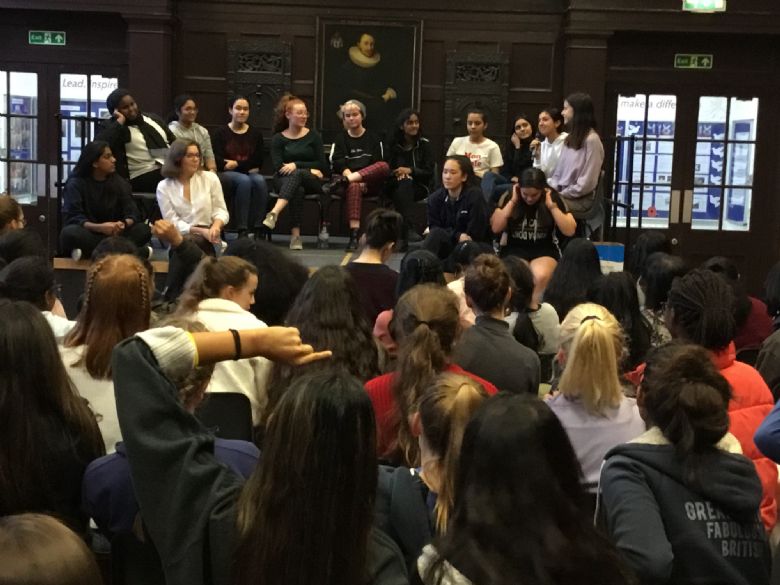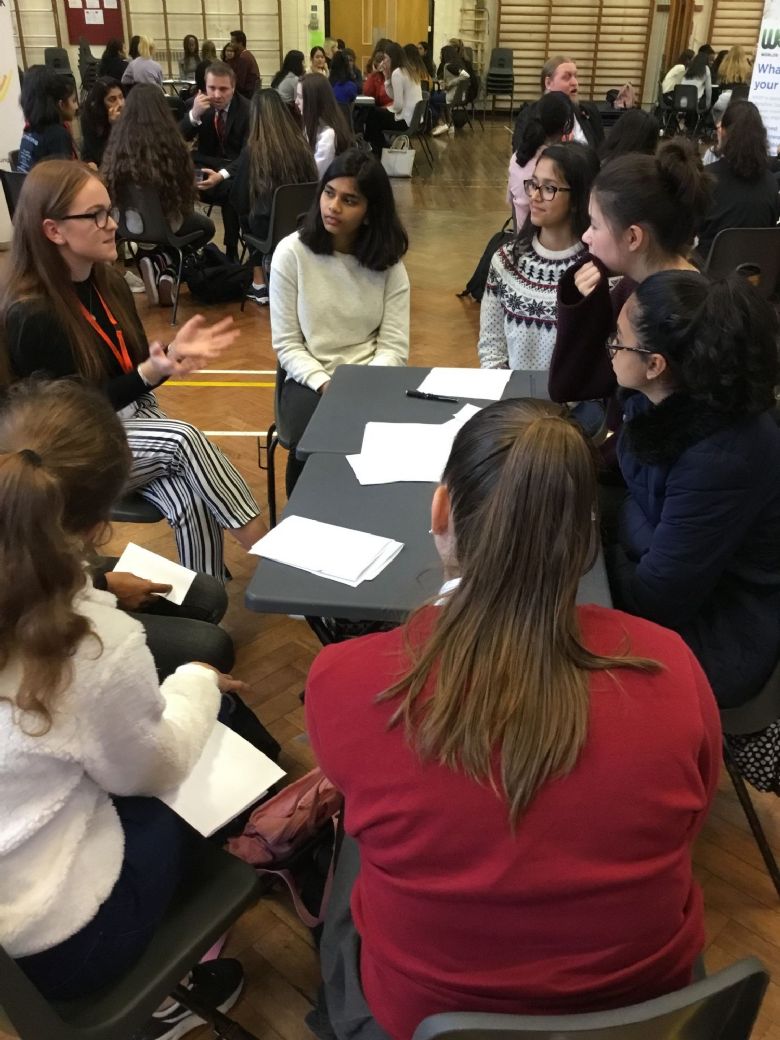 Enterprise for KS4
Year 10s have a drop-down day to carry out an exciting enterprise activity involving designing a board game to a specific brief. Teams work with high-levels of productivity to research and design a playable board game, in which all parts of the game need to be designed: the board, how it fits into a box/bag, playing pieces, cards, spinners, props and rules. Finalists pitch their game prototype to a panel of judges (guests from local creative businesses) and the most successful team wins a prize.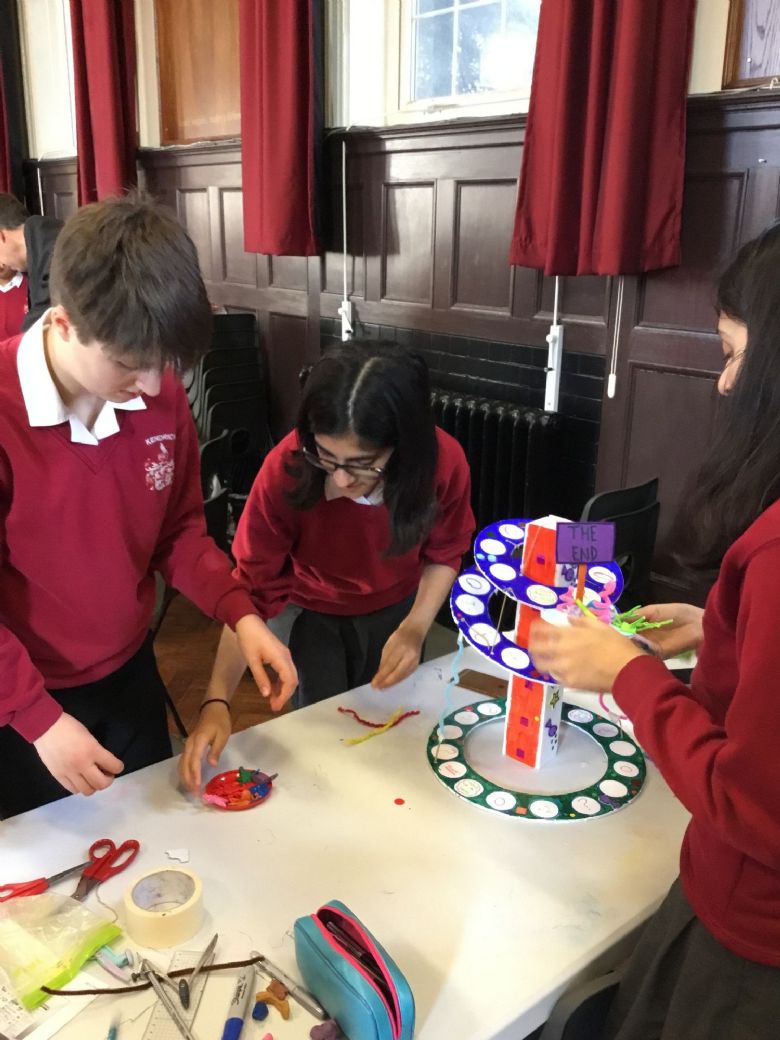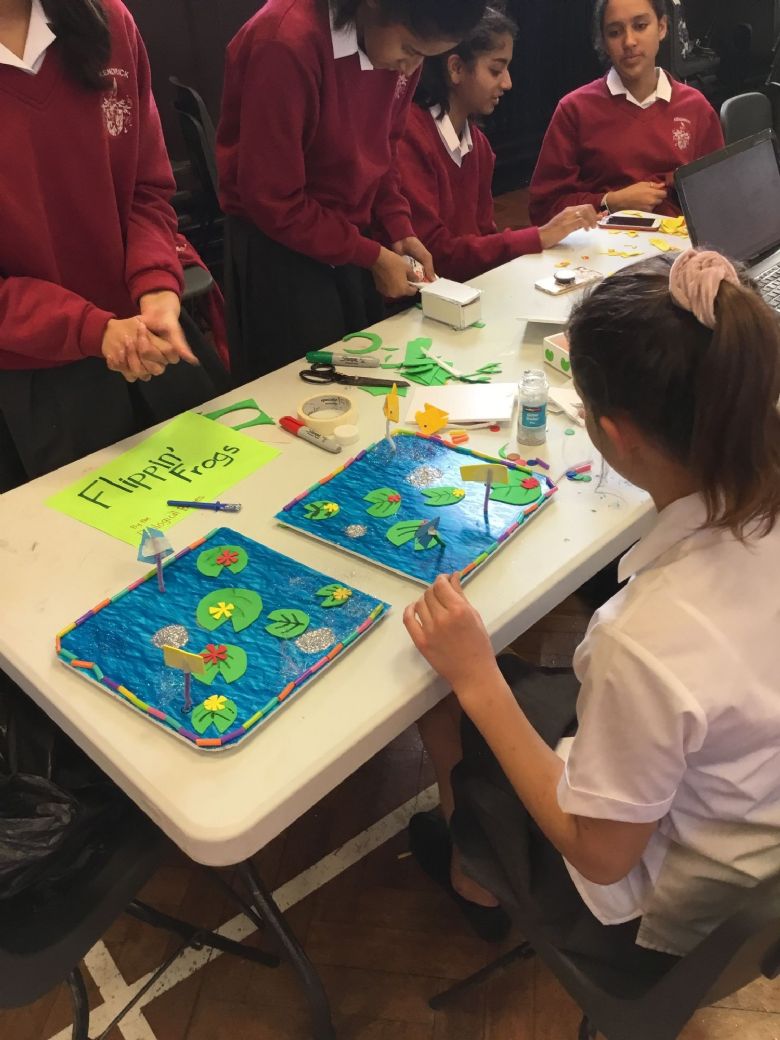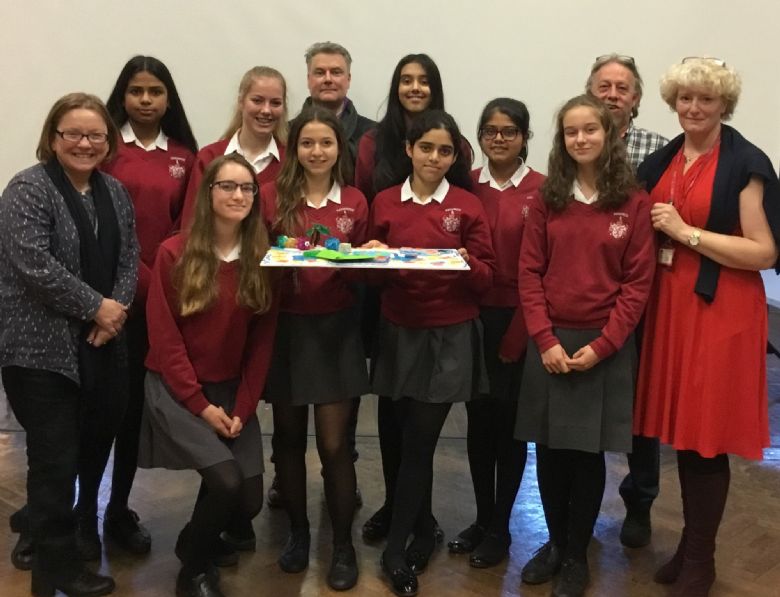 KS5 (Years 12-13)
Our Year 12s are supported and trained to create a competitive UCAS application after in-depth investigation and research into possible universities. Other exit options are also discussed; routes such as apprenticeships. The Wellbeing programme addresses a wide range of topics to encourage the students to develop useful life-skills; student finance, decision-making, healthy relationships, rights and responsibilities.
Work Experience
Students in the Sixth Form are encouraged to investigate work experience opportunities for themselves. The WRL learning co-ordinator also informs Sixth Form students of offers of work experience placement which are advertised and offered by our valued network of supporting businesses and contacts.
Whole School
Careers Fairs
Kendrick School hosts a biennial 'Design Your Future' event in collaboration with the 'Learning to Work' charity which gives students from Year 9 to Year 13 the opportunity to meet potential future employers and discuss possible career paths with a wide-ranging choice of delegates.
In the Summer term, an annual Year 12 Student and Parent/ Carer Information Event, 'Life after Kendrick', is held which builds from the information gained via previous careers fairs and the UCAS application process.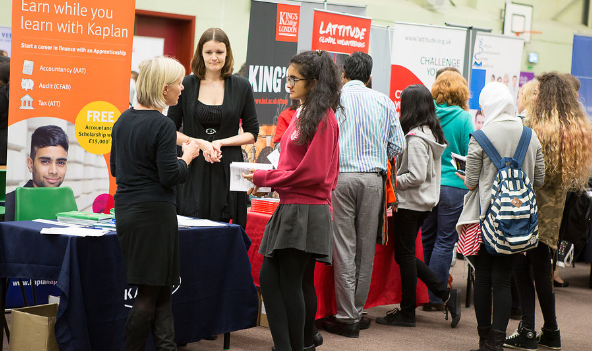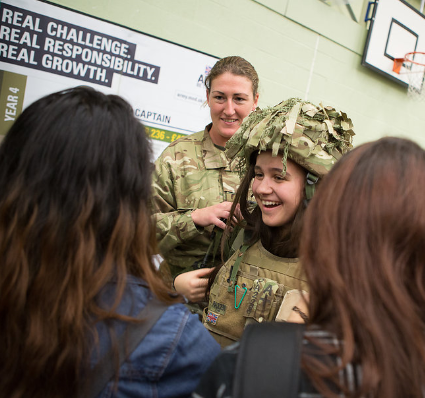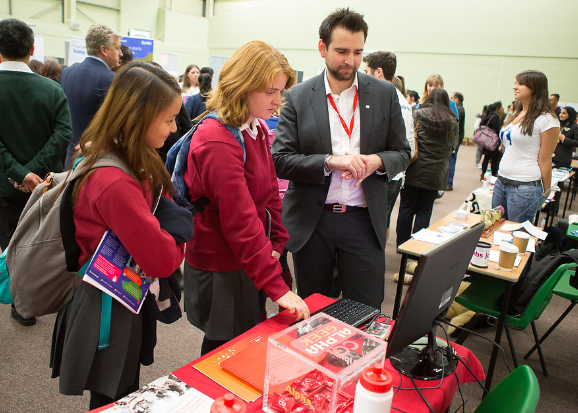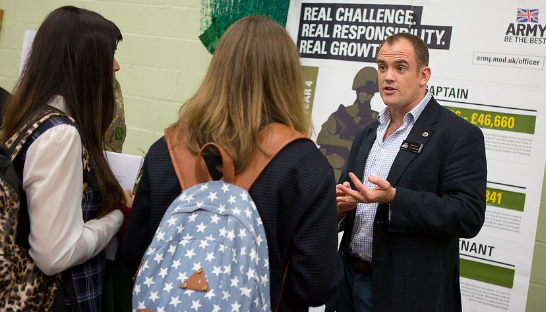 Careers Library and other resources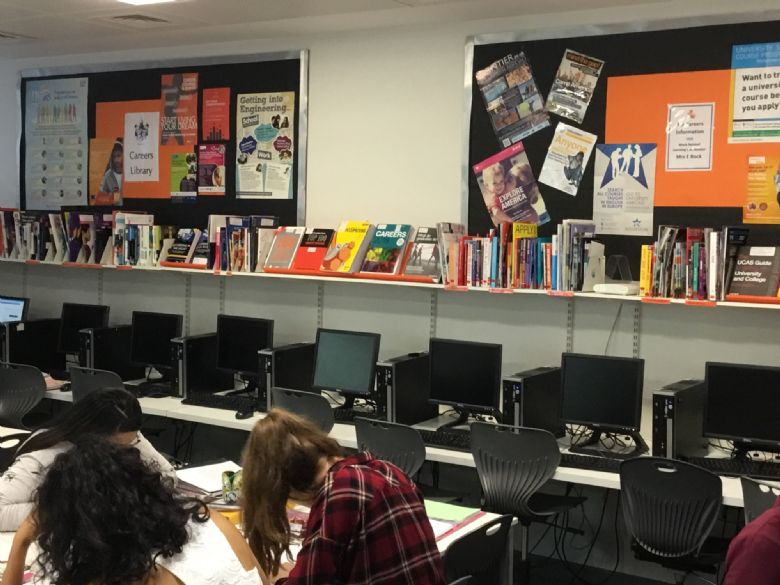 The Careers resources area in the school library, which is well stocked with the essential resources for researching careers and the opportunity to use the internet, is open all day.
The Work Related Learning Coordinator also informs students of relevant careers opportunities, such as additional work experience placements, course, employment opportunities, events and conferences etc. through regular updates.
The students can speak to their tutors, Heads of Year, teachers and the Work Related Learning Coordinator at any time for information and support.
Unifrog
Unifrog is the complete destinations platform – a one-stop-shop for students across KS3, KS4 and KS5 regardless of their interests or academic ability.
Available now for our Sixth Form students this resource will be rolled out to all students from September 2019. This will create an ongoing record of all work related learning and personal development.
Support Networks
Kendrick school is committed to developing relevant and up-to-date contacts with alumni, parents and local businesses, who share our desire to provide opportunities to our students to explore career options and experiences.
We would be very happy to hear from you if you think you or your business could support us in some way. Please contact the WRL co-ordinator, Elisabeth Rock, erock@kendrick.reading.sch.uk