Charities and Leadership Opportunities
Kendrick takes part in a very large amount of charity work which is what makes us so special and unique compared to other schools.
The students strive to make an impact on the lives of others in the outer community. Recently the Head Girl Team raised more than £2000 for Sport Relief and each Year group has a charity week every year, which raise immense amounts of money for their chosen charity.
Year 10 Charity Week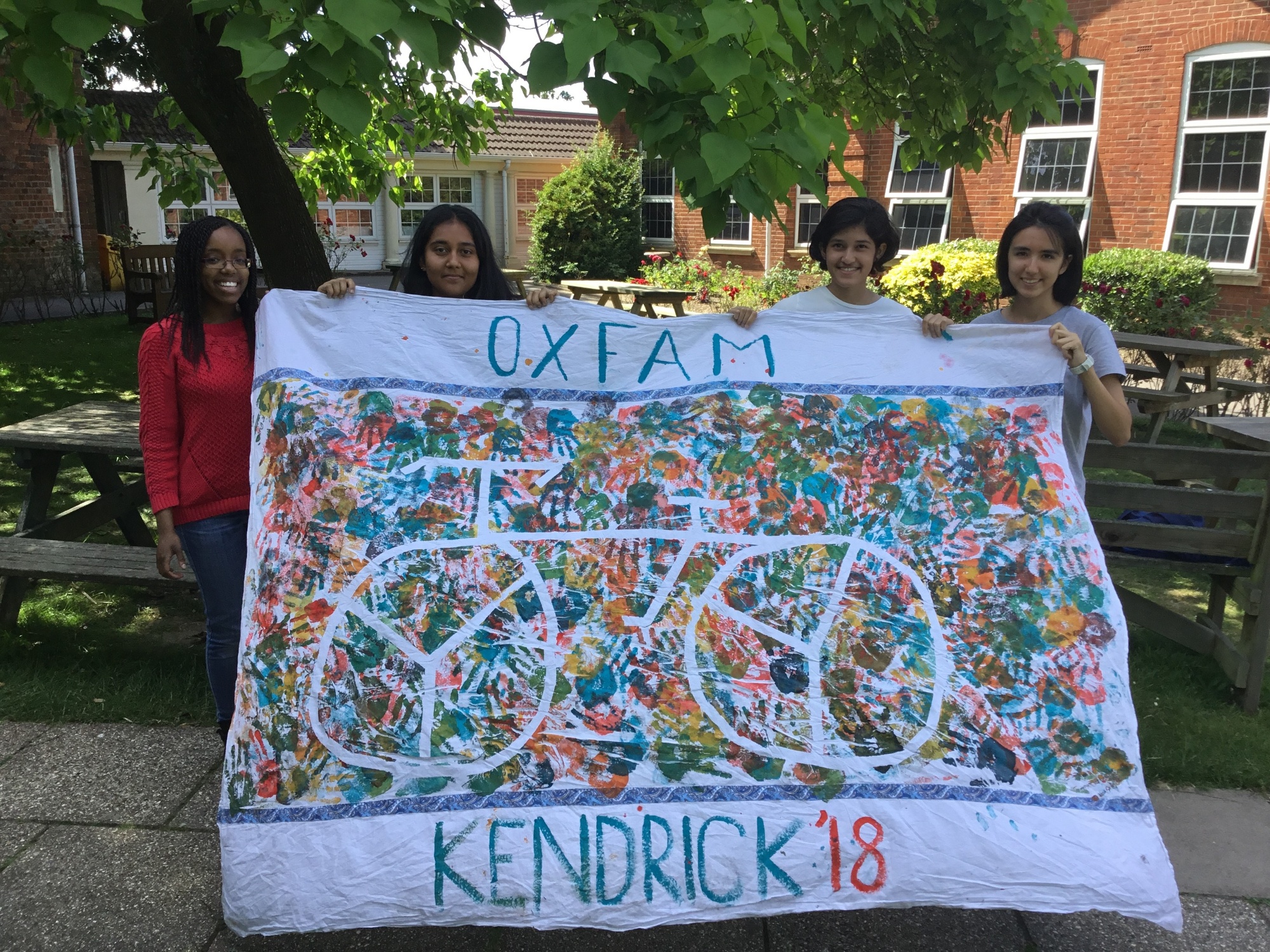 Last week saw Year 10 organise events to support Oxfam's Stay in School Appeal. The aim of the appeal is to raise money to buy bicycles for girls in lesser developed countries so that they can get to school safely and arrive alert and ready to learn.
The charity team organised a non-uniform day for the year group and held a cake sale to raise funds. The grand total was £275 which is enough to buy over 5 bicycles. They also created a piece of art by encouraging as many students as possible to contribute their hand print to a banner symbolising the cause they were hoping to address.
Thank you and well done to all involved in the week!
[For more information on the Oxfam appeal go to: https://www.oxfam.org.uk/inside-oxfam/bicycles
Year 9 Charity Week
Year 9's have been raising money for Clear Sky Children's Charity, which is a local charity that focuses on early intervention and rehabilitation through Play Therapy.
The Charity Representatives from each Form have worked extremely hard to have a successful week! Well done to all involved and once we have our total amount raised confirmed, we will let you know.
Year 7 Charity Week
The Year 7 Charity Week was from Tuesday 2nd of May to Friday 5th of May. We raised money for Launchpad – a local charity for homeless people.
All three forms worked together, and the other years loved it (or so it seemed!). On Tuesday, there was an amazing bake sale! There were cookies, muffins, brownies, cupcakes, and slices of cake. All the other years gorged themselves and said they were super tempted to by all of them! We sold loads, raising £172 in one day, making it one of the most successful cake sales ever.
On Wednesday there was a fun-filled fair that took place in the hall. The stalls included cakes, a second hand book stall, raffle, stress gadgets (slime and rice filled balloons), sweets and chocolate, candy floss and popcorn, and more. It was diverse, creative, well priced, and enjoyable.
On Thursday, people from each Year 7 form went round with mobile games and activities. 7B did The Jelly Bean Challenge, which was racing another person to see who could transfer the most jellybeans, using chopsticks! 7C did The Chubby Bunny Challenge. This is again a competition to see who can fit the most marshmallows in their mouth. 7F did another competition The Strawberry Lace Race. The challenge was to see (in a pair) who could suck up a strawberry lace the quickest.
On Friday, Year 7 had an own clothes day and almost every Year 7 took part. It was a great first charity week for us all – we all did our bit by funding and bringing along all the things we needed. We hope that our Charity Week, in which we raised a total of £682 will make a difference to the life of a homeless person.