Charities and Leadership Opportunities
Kendrick takes part in a very large amount of charity work which is what makes us so special and unique compared to other schools.
The students strive to make an impact on the lives of others in the outer community. Recently the Head Girl Team raised more than £2000 for Sport Relief and each Year group has a charity week every year, which raise immense amounts of money for their chosen charity.
Kendrick School's Eco-Committee

Kendrick School's Eco-Committee was set up in 2017, as it is important to us that we are conscious of the impact our school has on the area around us and the wider world. The committee consists of one to two representatives from each form in the school, elected by their peers, as well as several keen staff members.
Having been established for less than a year, we are proud to have achieved the Bronze Eco-Schools Award and are working towards obtaining Silver. We have set up an action plan to reduce the landfill waste produced and increase the recycling done within the school. One of our initiatives has been to pair up and re-designate bins; proposals to manage food packaging are being worked on, as we work through the practicalities of bringing Tupperware, using dishwashers or using recyclable cartons; and our new eating spaces are part of this drive to reduce plastic waste and change our habits.
Eco-Committee brings these matters before the students and raises them with school leadership, in the hope that students will take this initiative to heart and think about the impact they are having while in school and elsewhere.
The state of the environment is a problem that society is becoming increasingly aware of, thanks to programmes like 'Blue Planet' and several high-impact reports on BBC News. At Kendrick we want to do the best we can to have a positive impact. If you have ideas or contacts that you think would be of use in helping Kendrick to be more Eco-friendly, we'd love to hear from you. Please support us through discussing these matters with your daughter.
Own Clothes Day for India's COVID-19 Crisis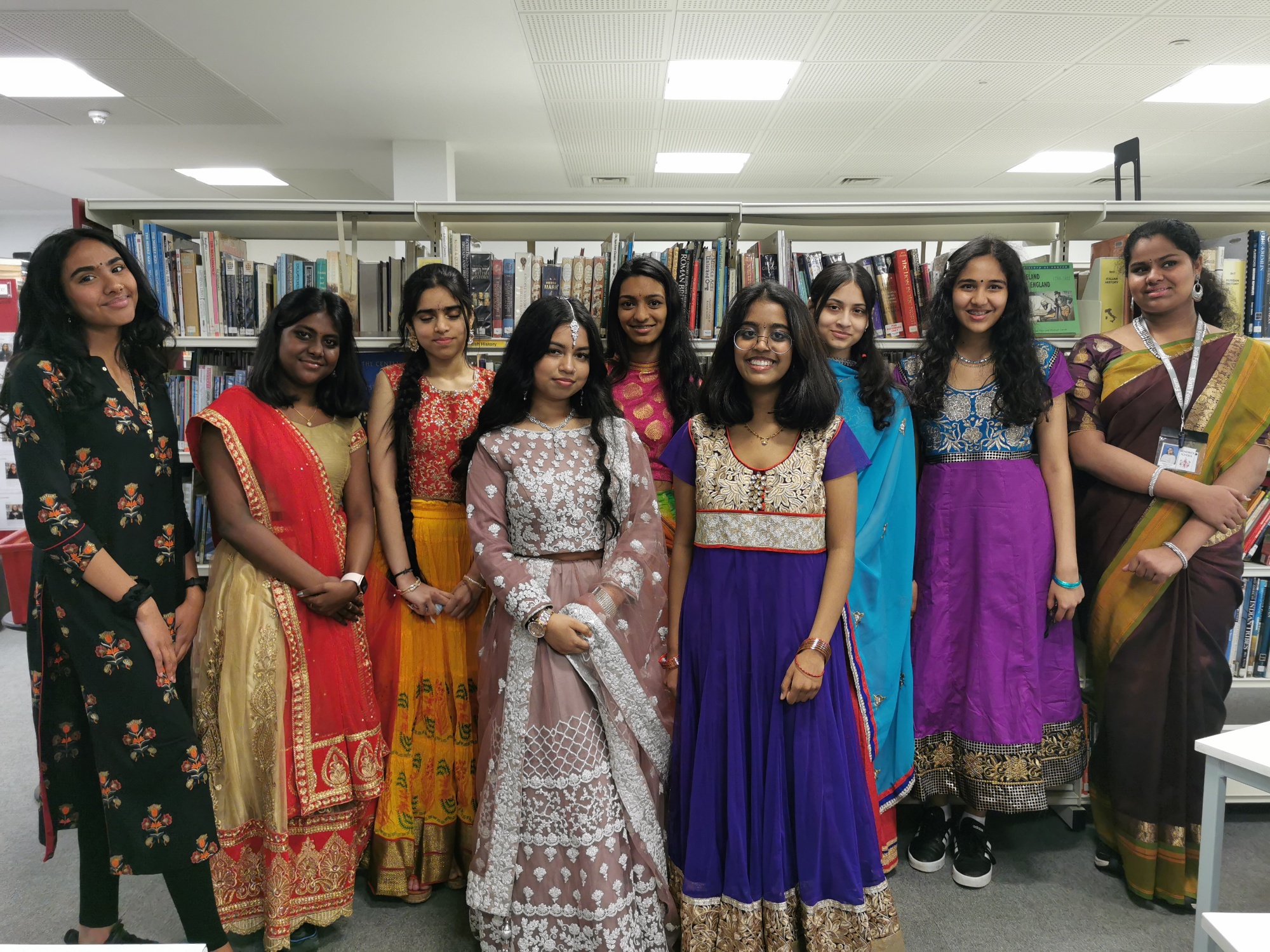 Students across the school watched an assembly orgainsed by the Curriculum and Current Affairs Committee of the Kendrick Students Leaders on the COVID situation in India. To complement the assembly and raise money for COVID charities that are doing such important and vital work in this area, a themed Own Clothes Day was held on Thursday 20th May. Some students, and even a few members of staff, dressed in beautifully coloured and designed saris and Punjabi suits.
Year 10 Charity Week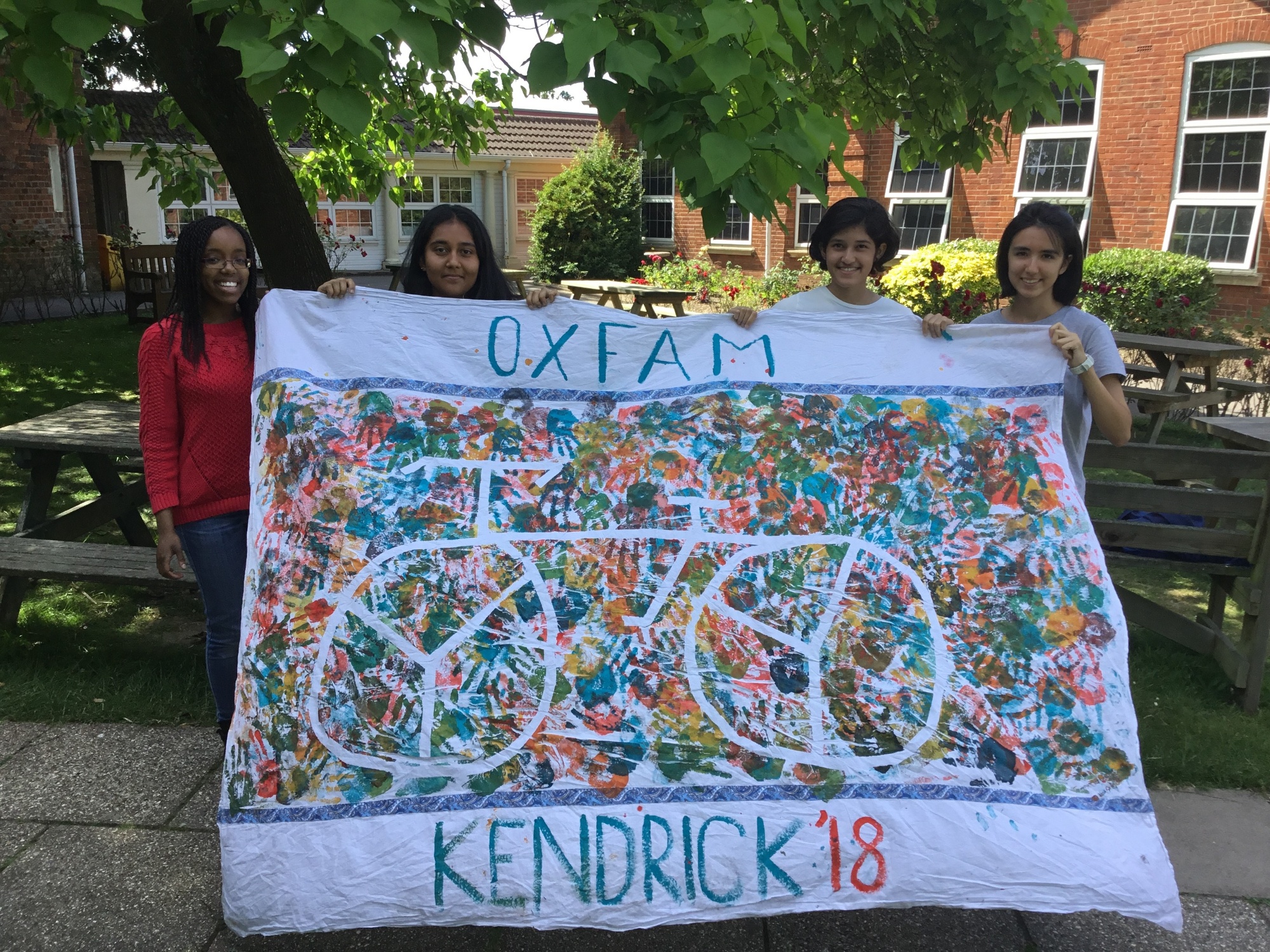 Last week saw Year 10 organise events to support Oxfam's Stay in School Appeal. The aim of the appeal is to raise money to buy bicycles for girls in lesser developed countries so that they can get to school safely and arrive alert and ready to learn.
The charity team organised a non-uniform day for the year group and held a cake sale to raise funds. The grand total was £275 which is enough to buy over 5 bicycles. They also created a piece of art by encouraging as many students as possible to contribute their hand print to a banner symbolising the cause they were hoping to address.
Thank you and well done to all involved in the week!
[For more information on the Oxfam appeal go to: https://www.oxfam.org.uk/inside-oxfam/bicycles
Years 8 & 9 Charity Week 2018
Year 7 Charity Week 2019
Year 7 Charity Week Launch Poem - by Ananya Agrawal and Coco Sun
This week Year 7 had their Charity week and I'm glad to say that it was a huge success. We raised around £500 and had so much fun raising it. Every year, Year 7 raise money for one charity. Everyone in each form does a presentation to their form and the form votes for a charity. This year the charities that were successful in the three forms were: Macmillan Cancer Research (7B); Ollie Young Foundation (7C) and Cancer Research (7F). After the three forms elect their charity, the year 7 form tutors and the Head of year choose one charity. This year when they were trying to choose the charity they thought "Maybe we can donate to all three charities as they all raise money for the same cause." And that's what they did.
One of our most enjoyable experiences in charity week was the fete on the last day. There were so many people that came in and bought stuff. It was absolutely amazing. There were two stalls that people really enjoyed. The first one was a stall run by Shriya, Isabella, Yun Yun, Yasna, Laasya and Bhuvi who are all in 7C. Their stall was called 'Fairground Food' and they had: cotton candy, caramel apples and popcorn. It was so crowded, and by the end mostly everything was sold out. The other stall at the fair that was a huge success was the 'Tombola' which was run by a group of girls from 7B. They were Kavya, Ira, Joshika, Shruthi, Maria, Tanvi and Aniya. Each member of 7B bought in a prize to make the tombola a success. They raised a lot of money and greatly contributed to the money we earned during our charity days.
The other great experience was the bake sale on Monday. I want to say thank you to everyone who contributed to the bake sale. There were so many different types of cake and they all looked so tasty. I am really happy that so many people got cakes in and especially that so many people took the time to make the cakes. I think that this was a really enjoyable experience for us, especially as this was our first bake sale as Y7.
We were so proud to be supporting Macmillan, Cancer Research and Ollie Young. We raised all of the money out of passion, care and most importantly love. I would like to say thank you to the whole of year 7 for making this possible and also to the teachers. Without them, we would be in complete chaos and would not have made money for the charities. Overall, this was an amazing experience and I'm sure we'll all enjoy the forthcoming charity weeks in higher years.
By Ananya 7B