This Week's Message from the Headteacher
Friday 23rd April 2021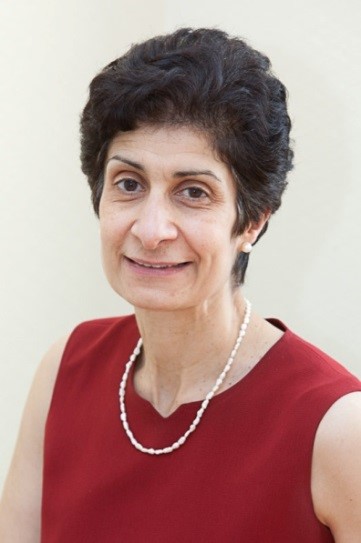 WEEKLY LETTER FROM MS KATTIRTZI, HEADTEACHER
It was wonderful to be able to return to school this term with everyone present. Being able to start the term altogether in a whole school assembly, albeit remotely, meant that our community could be together again. This time last year we were settling into the first lockdown with absolutely no idea of how events would unfold. One year on there is such hope and optimism that the virus can be controlled, that the numbers of people being vaccinated is increasing every day, and a more normal life is being resumed. I spoke to the students in the assembly on Monday about the new beginning that this term and season bring and the hope that everyone can begin to feel happier and able to make some plans that have a chance of happening in the months ahead.
Our assembly on Monday is always the time when I am able to introduce our new student leaders. This year we have reorganised, reshaped and renamed our student leadership group. There will now be 18 Kendrick Student Leaders, as they will now be known, who make up four separate committees, elected by students and staff, to represent their school. The four committees are: Curriculum and Current Affairs, Student Welfare, Community and House System Committee. Having only just assembled, the committees have yet to articulate their vision for the coming year, but very soon they will be able to introduce themselves to you and explain their plans. My expectations of them are that they are Ambassadors of our school and good role models to students. They will be expected to uphold our values and standards, understand and appreciate our Kendrick Pledge and serve their school in the coming year; positions of immense leadership and responsibility. I am confident they are all up to this challenge and we wish them well.
It was Earth Day yesterday, 22nd April, a day in the year which is dedicated to raising awareness about the state of the planet and environment. The day has been marked for over 50 years, but many would say that whilst people's consciousness has been raised, actions have been slow to respond to the current crisis. On the world stage there were a lot of prominent people advocating the need to take the climate and environmental crisis seriously and many pledges were made by world leaders yesterday, all of which sounded very encouraging and hopeful for the future. Let us hope they can deliver on their promises. At Kendrick we have had an active Eco Committee for some years and many students and staff are dedicated to trying to improve the management of our environment by introducing a number of initiatives to make us recycle more, reduce use of plastics, reduce use of energy etc. This term we are planning a new drive in our work by setting challenges for students to try to meet and demonstrate how they are actively trying to be more ecofriendly. We may not be able to reach the ambitious targets of the politicians, but I know many of our students are very determined and dedicated to this work and take inspiration from activists like Greta Thunberg and David Attenborough who inspire us all to take this world crisis very seriously. You will hear more about the work of our Eco Committee in the future, including how we intend to mark Earth Day in a few weeks' time.
We had the results of our House Reading Competition and I am pleased to announce that Cedars was the winning House. Well done to them! Please read more about this fun event that took place last term here.
We are delighted that our swimming pool is now completely renovated and in use. I believe a number of swimming lessons have taken place this week and the PE Department is delighted to be able to use this wonderful asset we have in school. Also since April 12th, children's sports activities have been able to resume and our hirers and swimming clubs, who use our facilities, have returned and been pleased to use the renovated pool. We are most grateful to our Kendrick Trustees for funding the swimming pool renovations that were needed and giving the pool a new lease of life.
Finally, Angela Strach's story about her father Eric's survival as a Czechoslovakian Jew during the Second World War, reaches its last episode with Eric revisiting the country of his birth and experiencing both joy and sadness. The link to episode 5 is here.
Wishing everyone a happy weekend,
Ms Christine Kattirtzi, Headteacher
For the Weekly Update in full please click here