First Lego League England and Wales Final
A huge congratulation to the team from Robot Club (Ishika, Jess, Shruthi, Bidisha, Nikitha, Pihu, Emily, Tisha, Shriya, Samragee, Eva, Aditi and Jasmine) who competed in the National Finals of First Lego League in Bristol. We won the prestigious '1st Place Champions Award' for consistently performing well across all four categories! This is a fantastic achievement and here are some of the details of our journey to winning this award.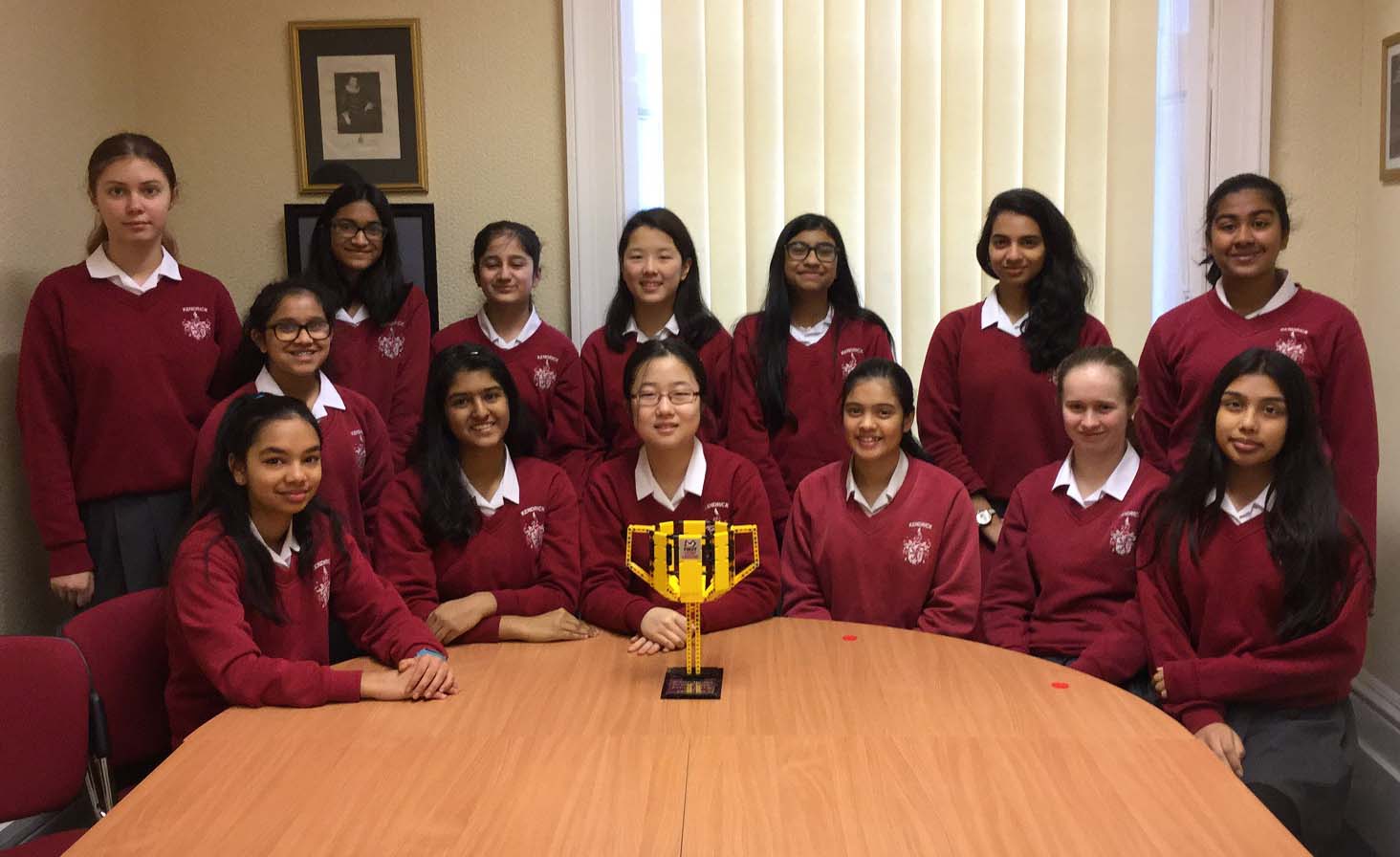 A few weeks before the end of the half term, Mr Hayes received an email from First Lego League, with the news that we had received a Wild Card and that our team would be going to the England and Wales National Final! Unfortunately, Mr Hayes had dismantled the robot but the team were ecstatic about going to Bristol to compete. Our team (the Shape Shifters) worked hard through the holidays to prepare and set off early on 22nd February to the Bristol Conference Center. Our robot had been improved upon and we were ready to go even if a little nervous.
The Shape Shifters' first event was the Robot Design, which the Year 10s were leading. Soon after, we had our first round of robot games. During the half term, Ishika and Shruthi had given Bregans (the new name of our robot) some much needed improvements. We scored 280 points, which put us in 12th place out of 66.
The Shape Shifters then had to present our Core Values. The presentation went well, but the team building task they had to complete as part of the challenge was less successful. They all still worked well as a team.
At this point, we had to present our innovation project, where we created a drone to assist the fire service. The judges seemed to like our idea, which was a good sign.
The Knockouts were much more intense and we attained a solid 290 points which got us through to the quarter-finals. In the quarter-finals we scored 355 points, which took us through to the semi-finals! While we did not make it to the finals, but we achieved third place in the Robot Games, out of 66 teams, which is an amazing result. Well done everyone!
At the Awards Ceremony, we were surprised, overjoyed and thrilled to be crowned the overall champions for England and Wales. As champions of England, we have been invited to the International competition in America! Needless to say, the whole team are very excited and incredibly proud of each other.
On behalf of the team, thank you to Mr Krishna Jain, our coach for the day, and to all of the other parents who drove us to Bristol so early in the morning.
"It was very surprising because we only got through to the Nationals on a Wild Card and we did so well in the end. I'm glad that the 3 years I've been in Robot Club has given us this amazing result and opportunity." - Ishika (Year 10)
Eva, Year 9