German Christmas Market Trip
In the first week of December, a group of students studying German from Years 11, 12 and 13 took part in the German Christmas Market trip, travelling over 700 miles in total.
Day 1 - Thursday 1st December
At 5 o'clock in the evening, we gathered in the school hall to get checked in and make sure we had a list of our groups. We said goodbye to our parents and got onto the coach, leaving at around 6pm. The coach was full of chatty students; all of us were so excited for what was to come! After three hours on the coach, we reached the Port of Dover, went through customs and got onto the ferry. Many of us were very tired, but still enjoyed the ferry ride! We arrived at the Port de Calais, and continued our 12-hour journey to Cologne.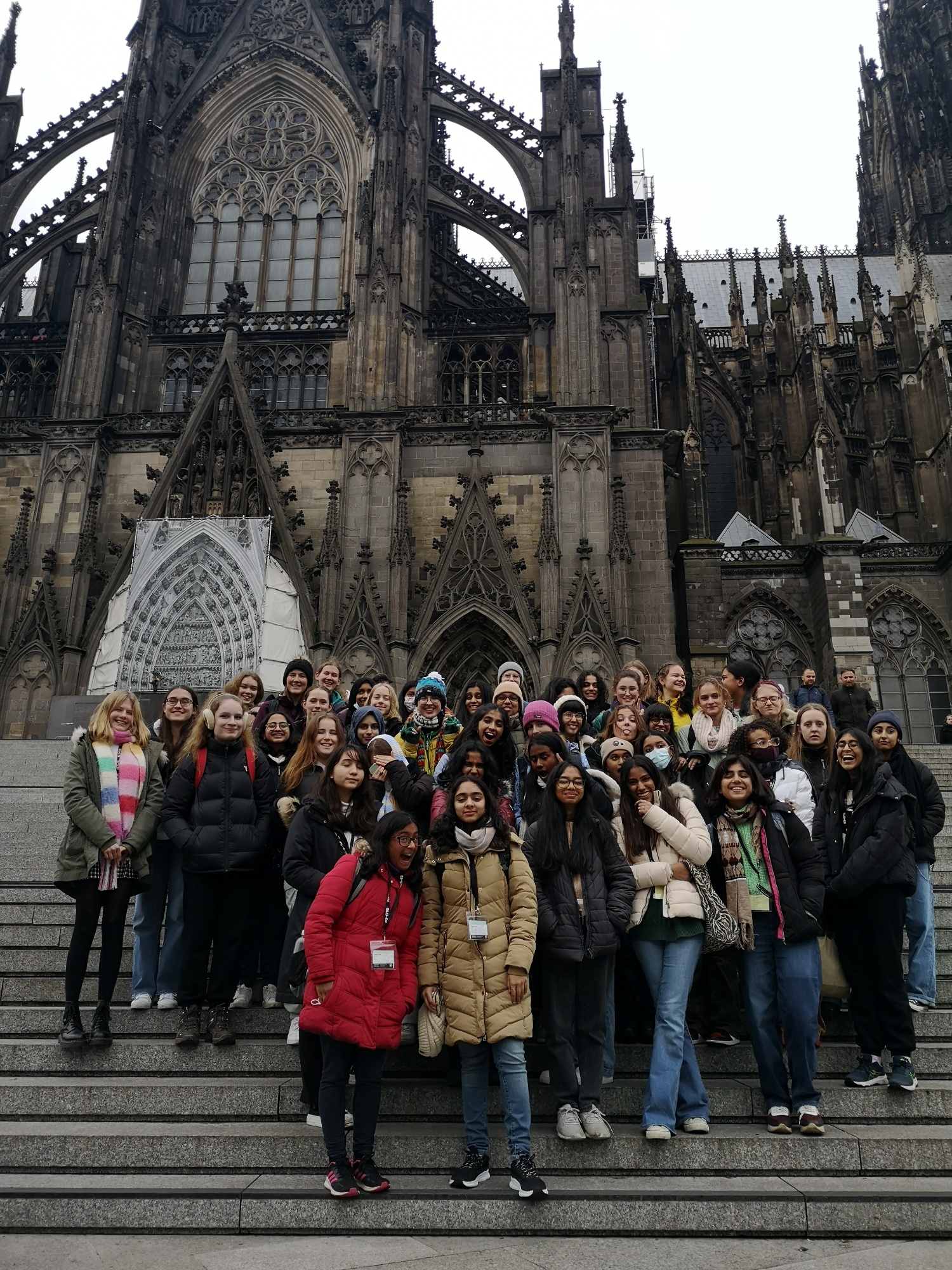 Day 2 - Friday 2nd December
At 9am the next morning, we arrived at our hostel, looking forward to some breakfast. After a filling meal, we walked with the teachers to the Köln Dom ('Cologne Cathedral'), and were told by Frau Mueller that it was once the tallest building in the world! In the Second World War, the cathedral was so sacred and special to people that they climbed to the top and tried to protect it from the bombs dropped by the Allies. We then climbed over 300 steps to the top, led by Mrs Wheeler, and admired the giant bells, as well as the stunning view of Cologne from the top; it really was worth the climb! When we got back down, we were allowed to walk around the Christmas Market next to the cathedral for lunch, and many of us tried German cuisine for the first time, with options for Bratwursts, Currywursts and Reibekuchen. We soon left the cathedral, and travelled by U-Bahn/S-Bahn (the underground / trams) to watch a play in a theatre; revolving around the story of Icarus, it taught us the importance of taking risks, even when we think we can't do something. After the play, we returned to the cathedral, but this time we attempted a challenge set by Frau Hellwig; in our chosen groups, we had to ask strangers around the cathedral questions from a quiz given to us, and the winners won a Baumkuchen (a German cake)! Back at the hostel, we got our room keys and had dinner (we were also told some very interesting facts about Cologne by Mrs White), and set off again, this time to another Christmas Market. This one was much closer to the hostel, and had beautiful decorations. We walked around the market in our Kendrick fours, buying souvenirs for family, friends and ourselves, as well as trying the Kinderpunsch. We returned to the hostel for a well-deserved rest.
Day 3 - Saturday 3rd December
After breakfast, we set off in our coach to Bonn, the former capital of West Germany when it was split into East and West Germany. In Bonn, we visited the Rathaus (town hall) which was magnificent with its gold and white colour scheme. We even got to cheer for a newly-wed couple! We were told fascinating facts about Bonn by Mrs Wheeler, particularly focused around its culture and geography. A few minutes away was the Beethovenhaus, now converted into a museum commemorating Beethoven's life, and learnt about Beethoven's life, and the ordeals that he went through. Throughout the museum, there were several portraits of him, all of which had a story tied to them. We then travelled a short distance to a Christmas Market, the speciality about this market was that there was a ferric wheel, which was embellished with lots of Christmas-themed decorations. We returned to Cologne, and after freshening up, we headed to our final Christmas Market, which was also quite close to our hostel. There was a noticeable theme at this market; many souvenirs were centred around angels and light, and there were stars hanging everywhere! As this was our last market, many of us bought a lot of souvenirs. We headed back to the hostel for dinner, and stepped out for a night trip one last time. Our destination this time was a local supermarket, where we bought lunch for the next day, as well as snacks and German specialities.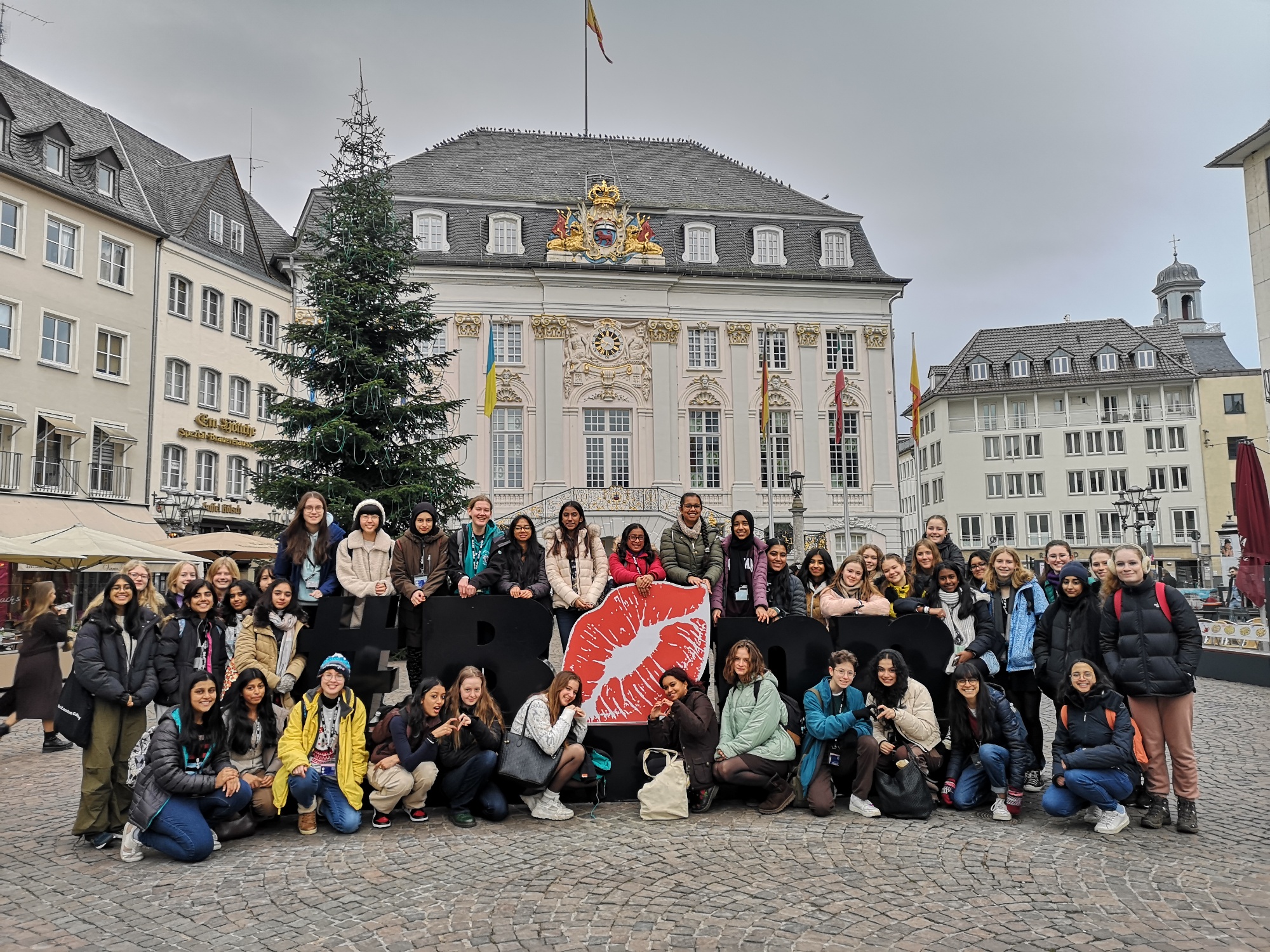 Day 4 - Sunday 4th December
We got onto the coach after breakfast to start our journey back, although we enjoyed the ferry ride more this time, as we had had more sleep!
This trip was amazing, and definitely a once-in-a lifetime experience. We are grateful to the teachers who came with us (Frau Mueller, Frau Hellwig, Mrs Wheeler and Mrs White), but this trip would not have been possible without the hard work put into organising it, by both Frau Mueller and Frau Hellwig!
By Navya - Year 12