Year 8 Bushcraft Trip 2023
The Year 8s had an amazing trip to Bushcraft and learnt many new and exciting skills ranging from making shelters to enjoying s'mores by the fire.
We have surely enjoyed this opportunity to explore the natural beauty of the world, and we hope that we have many more chances to get to know our year group and do these activities in the future.
Day 1
Everyone arrived at school before 8:20 and lined up their bags, ready to jump onto the coach. The drive was about 1 hour and 15 minutes and was filled with excitement and chatter. When we arrived at Bushcraft, we were split into 2 camps, each one having a yurt. Before we started the actual activities we were introduced to the Camp Leaders and given some snacks. While some of the camp leaders were getting our first activities equipment ready, the others entertained us with witty riddles and games.
Next, we were shown several methods on how to make a fire ranging from an electrical fire to one made from reacting glycerol and potassium permanganate on top of cotton balls. After this, we were split into 4 tribes, led by one tribe leader and had to use our newfound knowledge of fire building skills with the help from our Tribe leader to make a fire, and cook our own burgers for our lunch. We learnt about the different sizes of wood to use and what order to place them in to build up our fire.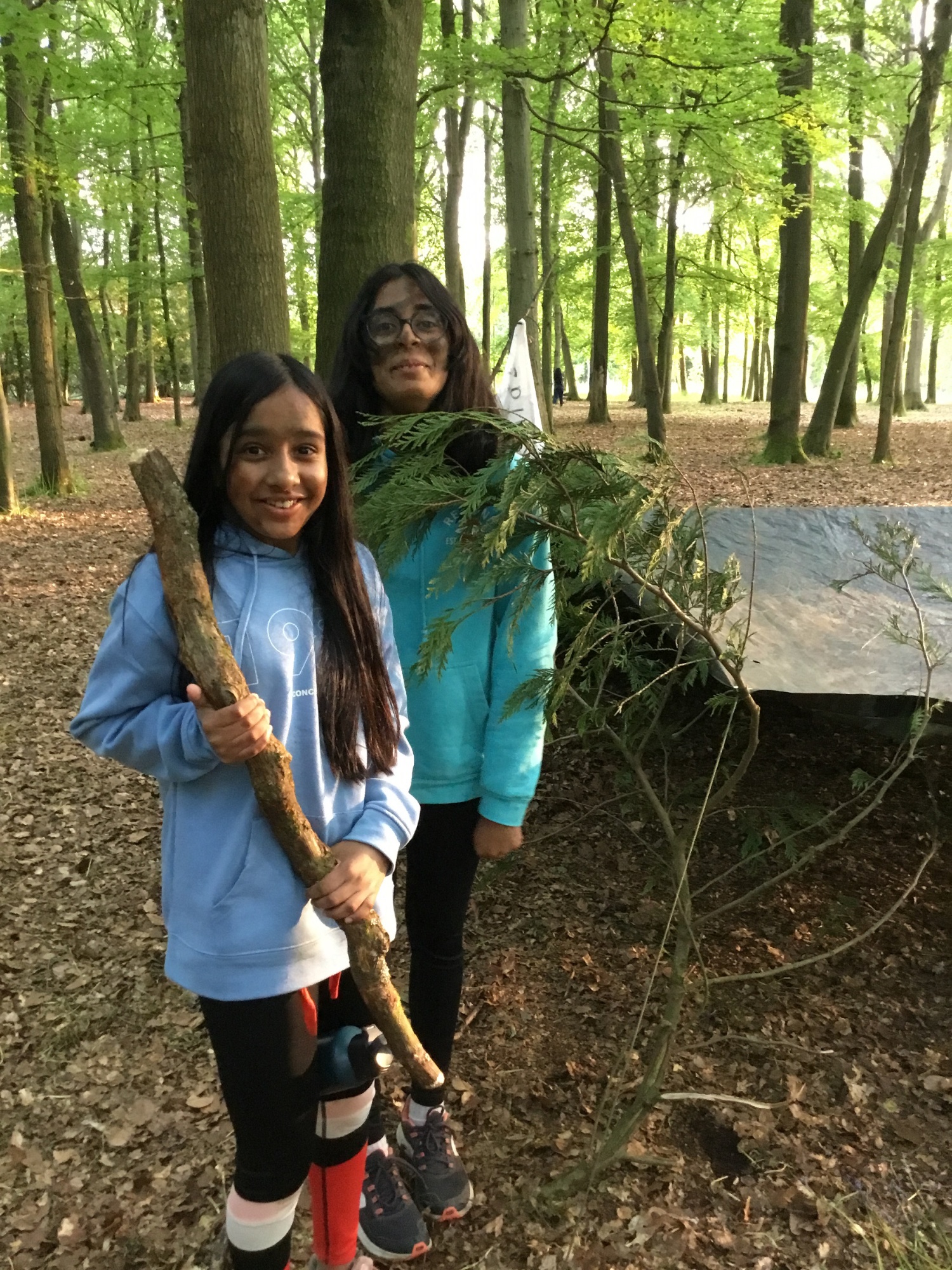 There were 4 different types of wood sizes that we needed to collect that ranged from matchsticks (very thin sticks) to wrist sticks (sticks the size of your wrist). We collected a good amount of each stick, and built our fire, starting with the smaller sticks, and building on the larger ones. The only real struggle of building the fire was actually getting our flint and steel to light. After several tries from different people, one member from our tribe finally managed to light our fire. Once the fire was lit, we were given a grill, and we set our burger patties (either veggie or beef) to cook. Soon after, the patties were ready, and we ate our delicious burgers with crisps and corn on the cob.
After eating our burgers and putting out the fire, we were called back into the yurt to be assigned to our tents and unpack. When we unpacked, we were allowed to spend about half an hour in our tents to give us time to relax and get to know our new tent-mates.
Next we learnt about camouflage and concealment and how animals use it to escape from predators. Then we began to make our own shelters in which we could sleep in if we wanted to. We made the shelters with rope and plastic sheets. We also learnt new ways to tie a knot. Some of these knots were the Bowline and the Half-hitch.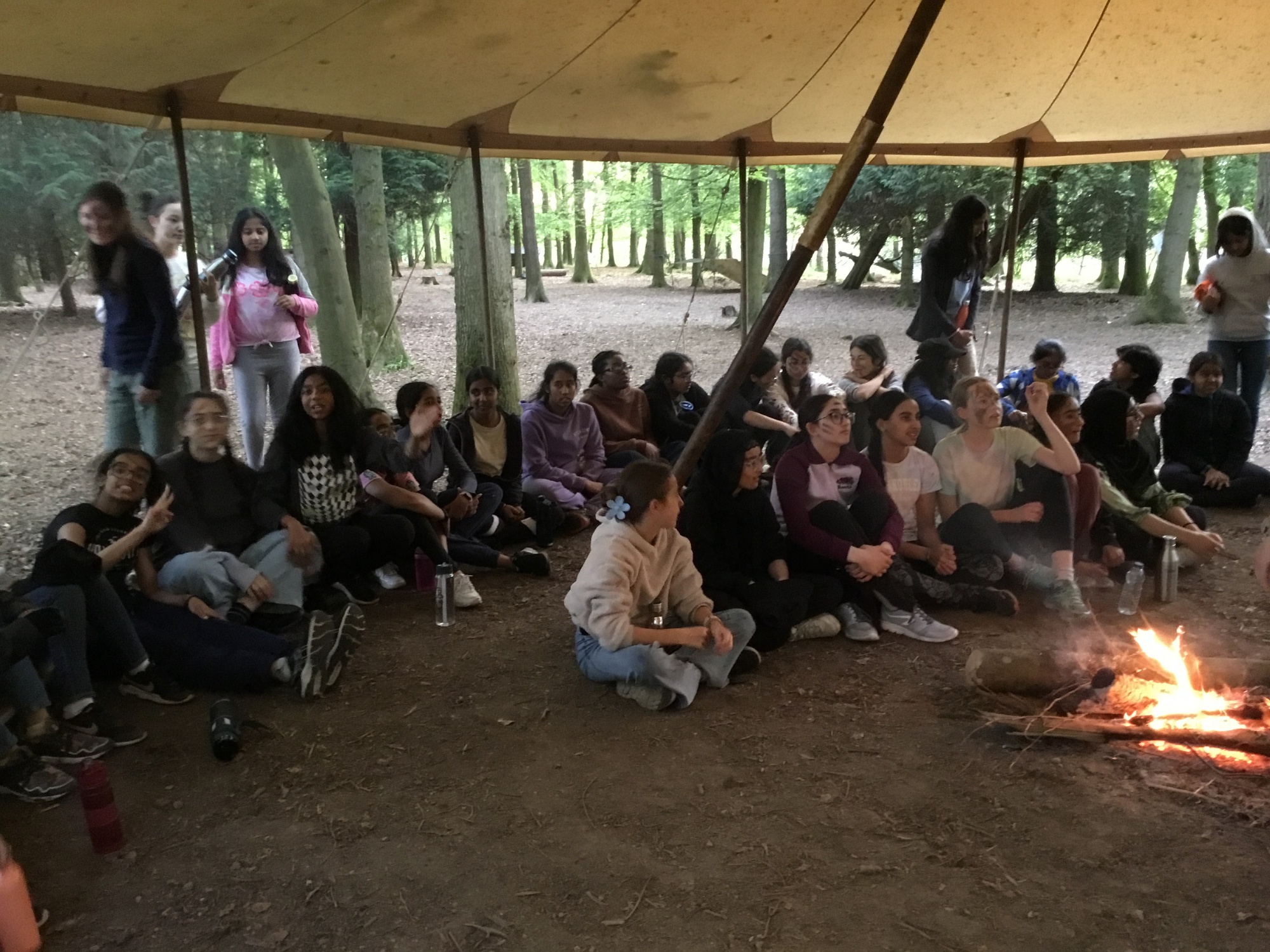 For dinner, we had some hot rice, curry and naan bread. After washing up we went to the yurt to enjoy the cosy fire and play some games. For dessert, we had some scrumptious brownies.
Now it was time to go through the night routine, and soon we left the yurt, ready to drift into sleep.
Day 2
We all woke up really early, so the start of the day felt quite slow. We started the actual day by playing some games in the yurt. We then had breakfast at about 8:30. For breakfast, we had some sausages (pork or veggie) and potatoes. We could also have cereal if we wanted to.
Then we had a Wilderness Basic first aid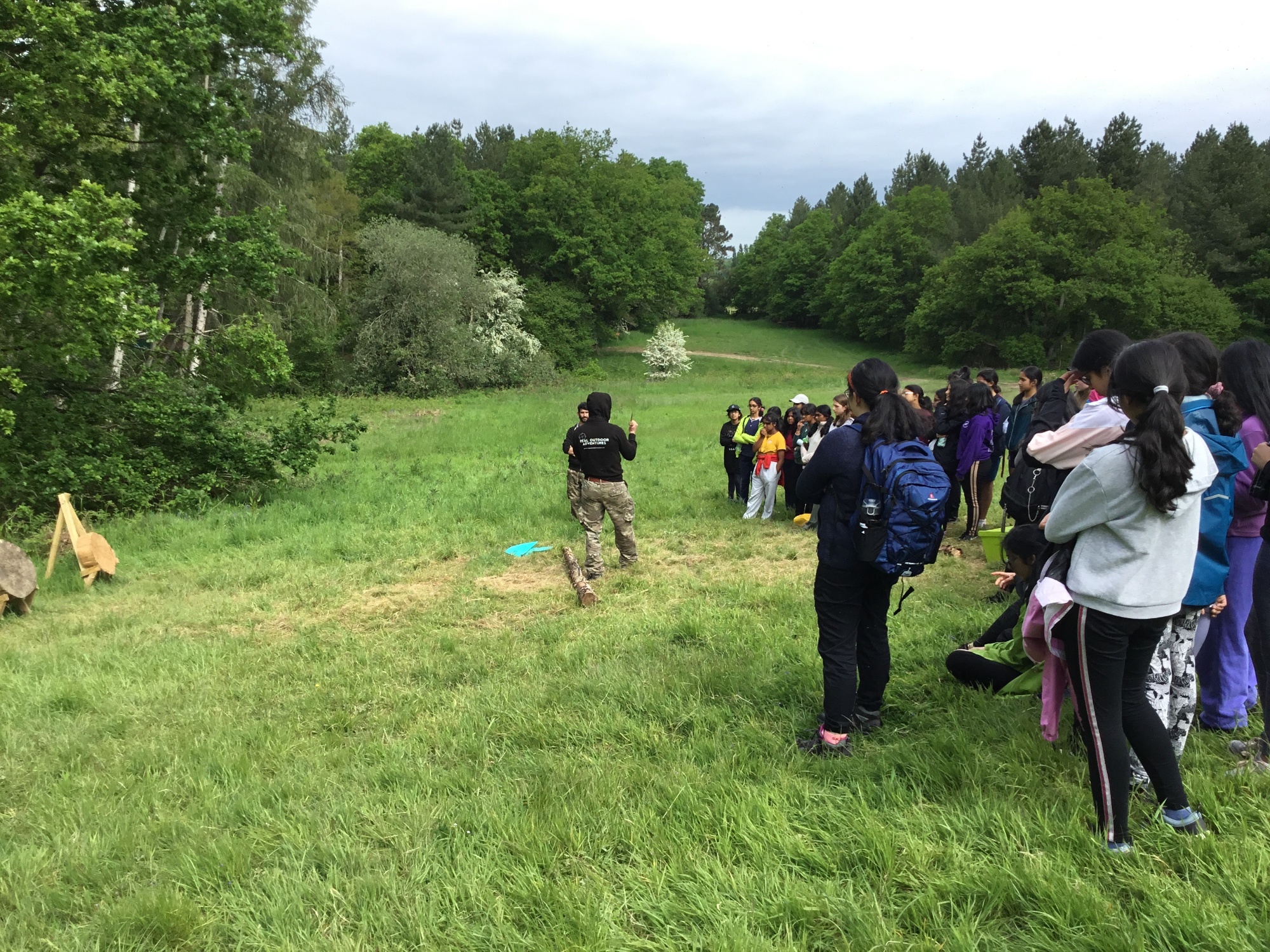 training and demonstration. This was indeed interesting, and we had to listen carefully because we would apparently be having a physical test on it the day after. When we had finished the demonstration and practise it was time for lunch. Today we were having pizza with a selection of toppings of your choosing. The topping included sweetcorn, cheese, tomato sauce, peppers and of course pepperoni. The pizza was baked in a kiln by the Tribe Leaders, so this was a new experience as well. After pizza, we were allowed to take a break and just chill out.
After a break we split into our tribes and did four different activities. They were archery, axe throwing, games and practise for Tribes Got Talent. Many people in our tribe were laughing at our performance for TGT (Tribes Got Talent) and we all had a very fun time.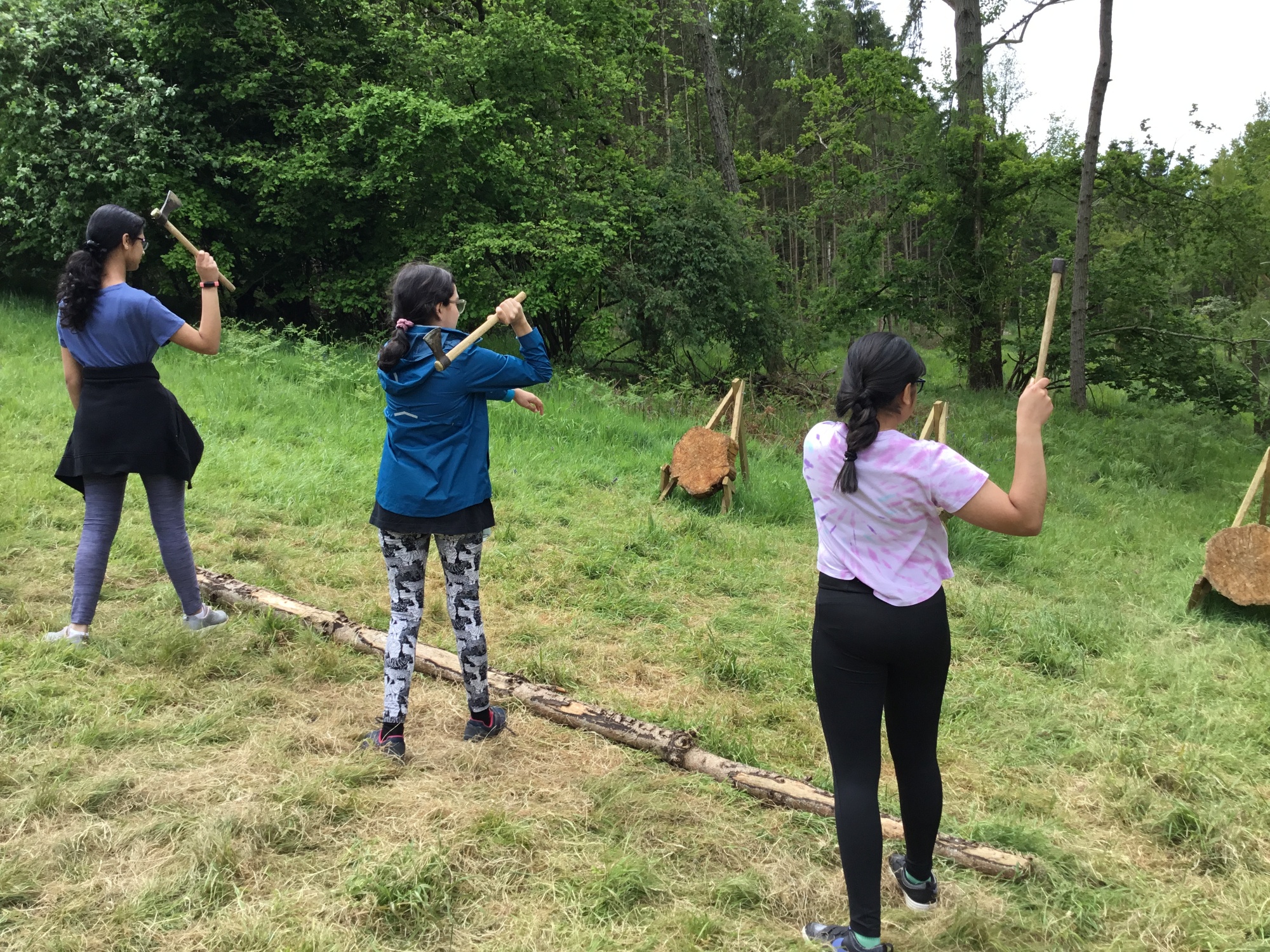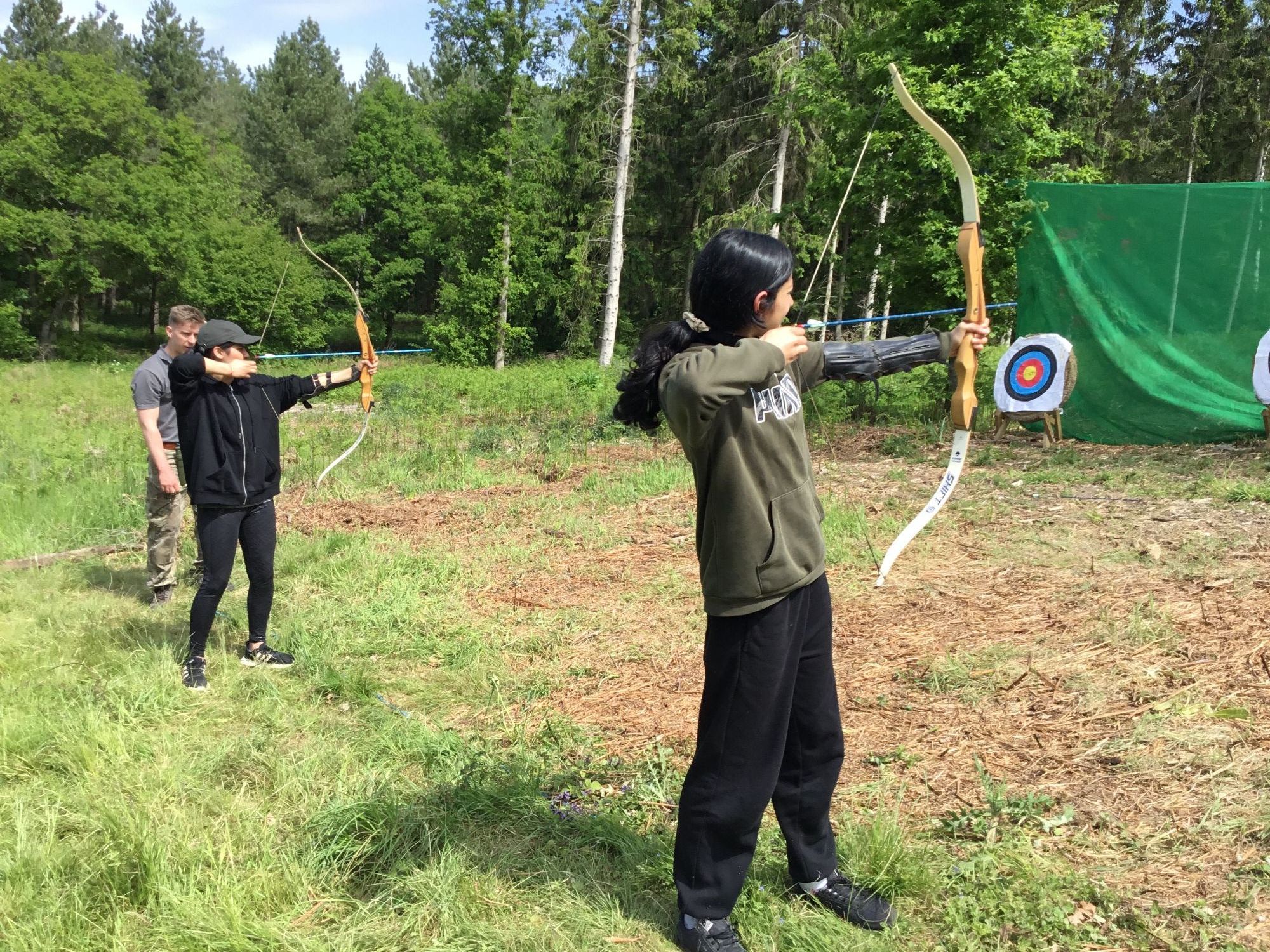 Some people had a knack for hitting the target in both axe throwing and archery.
When each tribe had had a go at each activity, it was time to go back to the yurt and take a small break. We started to sing many songs and the Tribe Leaders gave us a few more riddles to work out.
Finally, it was time for dinner and we were all famished. We were greeted with some warm rice, chilli carne, grated cheese and tortilla chips. For dessert, we all huddled around the cosy campfire and had the stereotypical camping snack : s'mores! We roasted the marshmallows on a barbecue stick and slid it in between the biscuits. When we had finished the s'mores, we were allowed to take a mug of hot chocolate.
We went through the night routine again, and then we had our tent time before going to sleep
Day 3
We started with collecting sticks. I was confused at first because the fire inside the yurt was already lit but then our Camp Leaders said that today's lunch was going to be a stew and as we were going to be using four pots, we were going to need a big fire. When we had collected enough sticks, it was time to get breakfast.
We all lined up and waited to get our breakfast which was an omelette burger and sausages. Before going to the yurt and cooking our lunch, we went on a wilderness trek. On the trek we learnt about surviving in the forest for a short while using plants. In this activity we learnt a number of new facts such as how to hold a stinging nettle without stinging yourself. When we were halfway through our wilderness trek we suddenly heard screaming and immediately went to the source. It was a plane crash and the teachers and two students were injured. It was time to put our first aid skills to the test. We had to move the teachers and students and get them to safety first. When we had done that we needed to calm them down and stop any bleeding or check for injuries. Soon we had saved them all.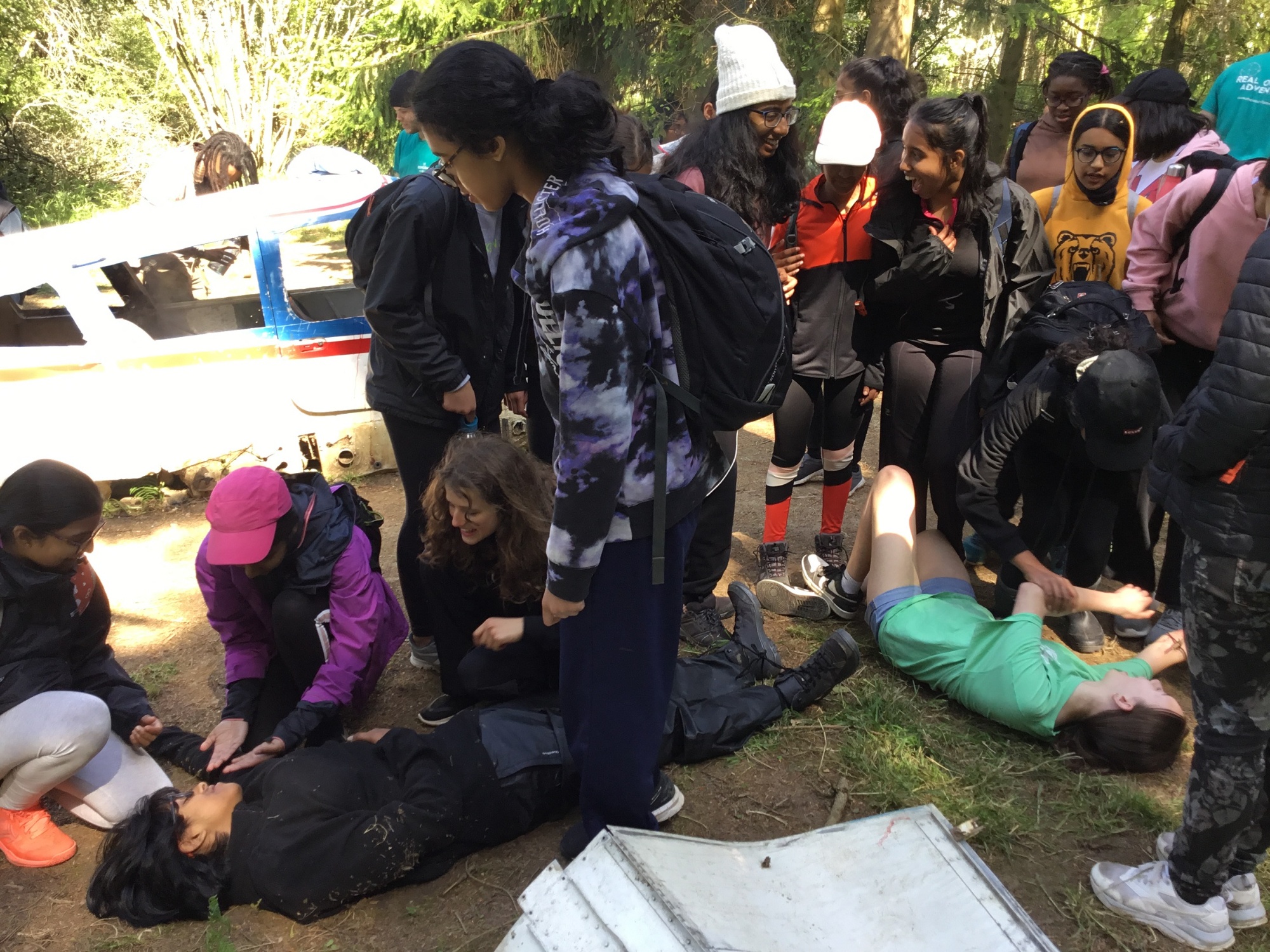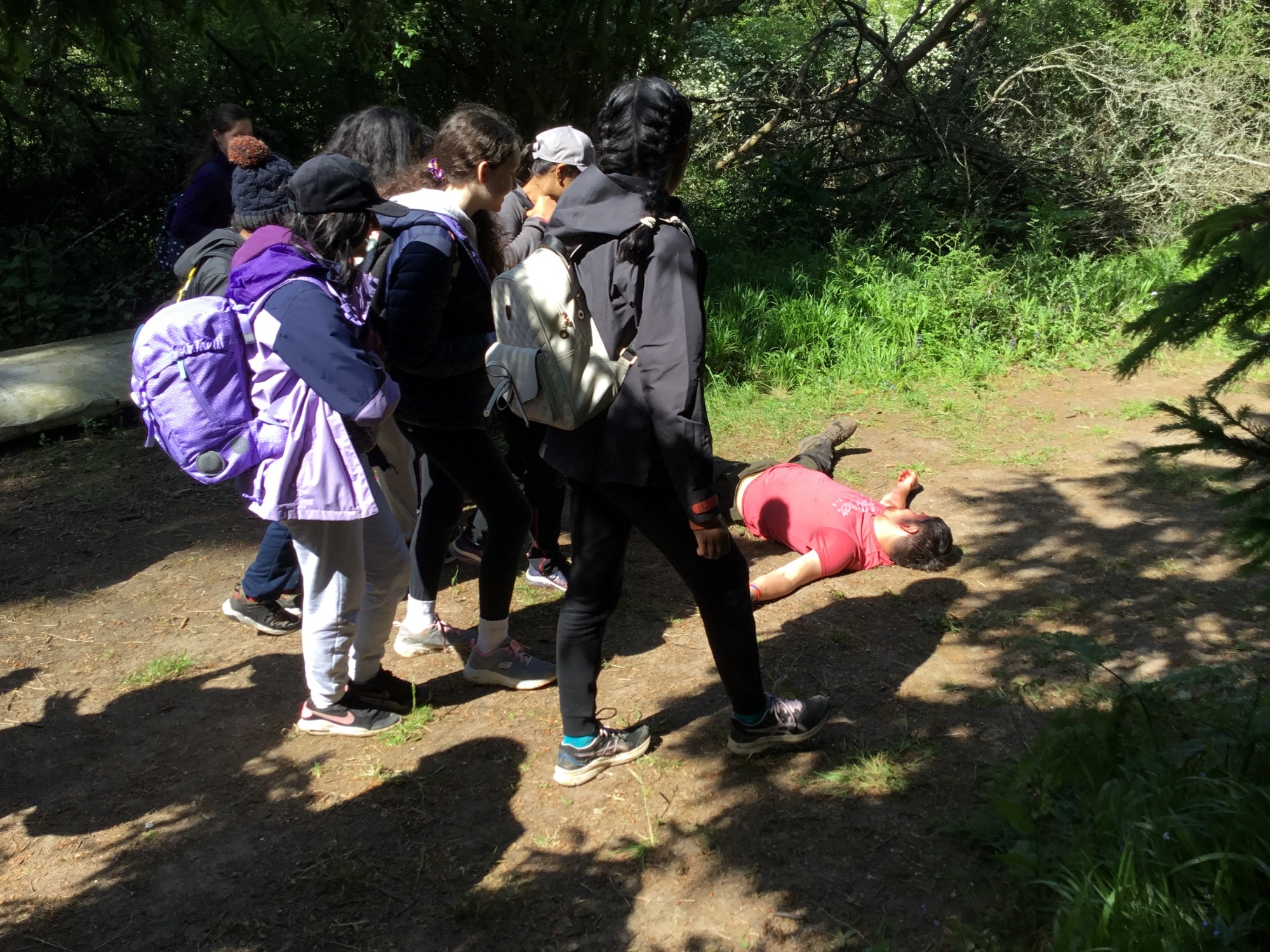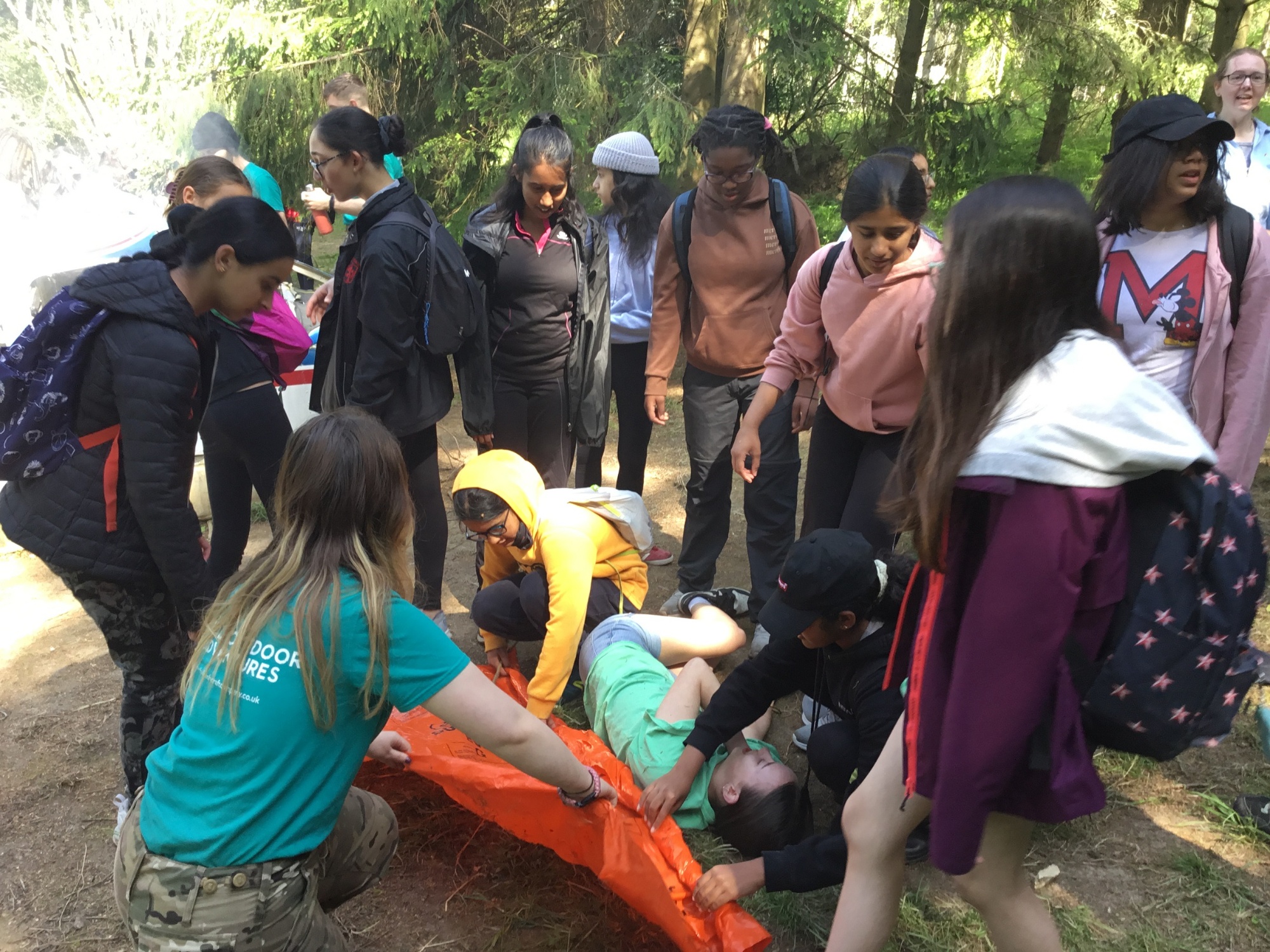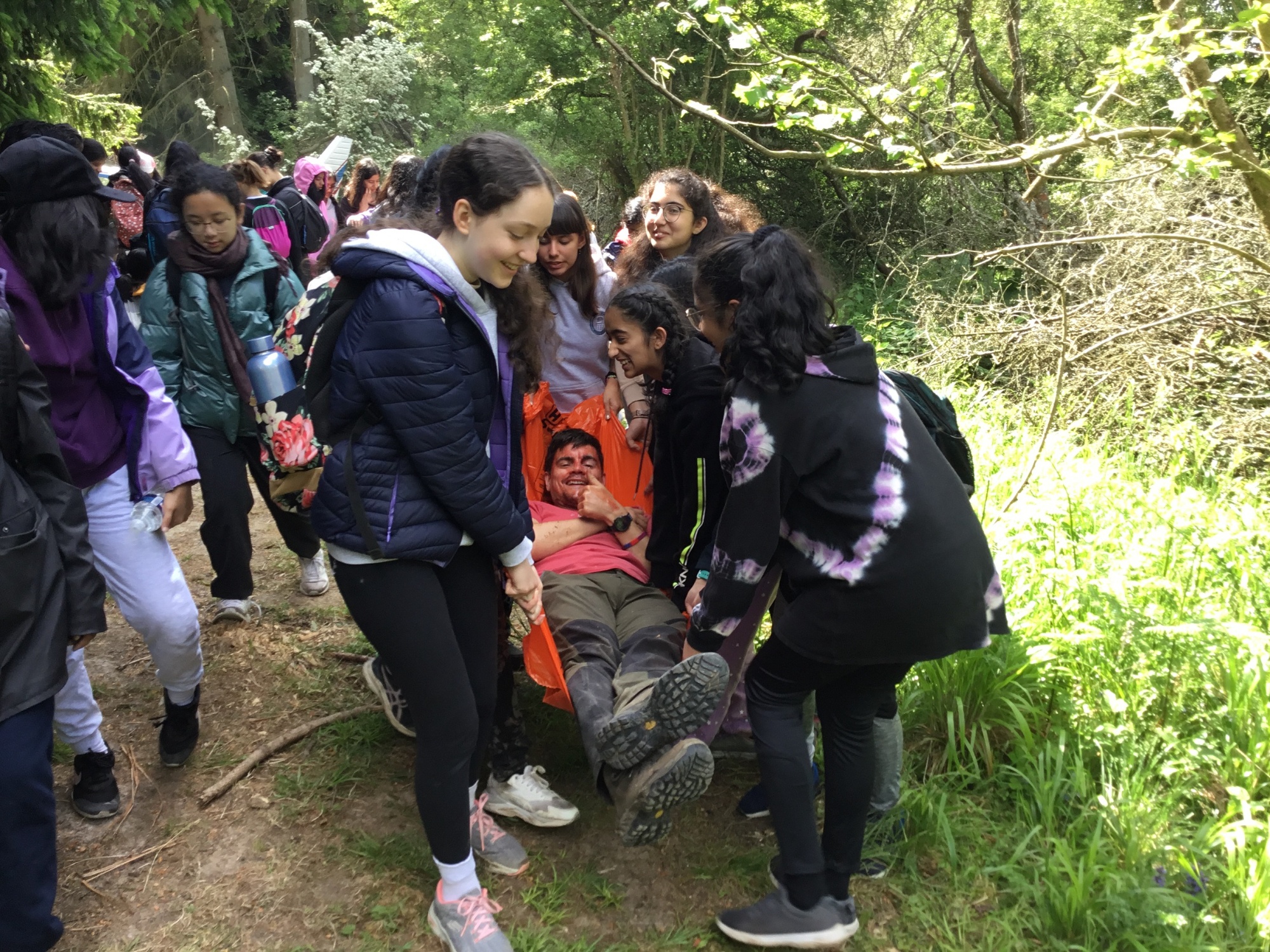 It was now time to make our lunch, the stew. The ingredients included mushroom, potato, turnip, onion, and if you could eat it, beef. We each got to chop or peel a vegetable one by one, before adding spices and water to the actual cooking pot. While the stew was cooking, we were beginning to have our lunch break. Some of us were selected randomly to be shown how to make our Bushcraft camping bracelets. When they had been taught how to make them, they could teach the rest of us in small groups. After we had all finished our bracelets, we began to eat our stew with some bread.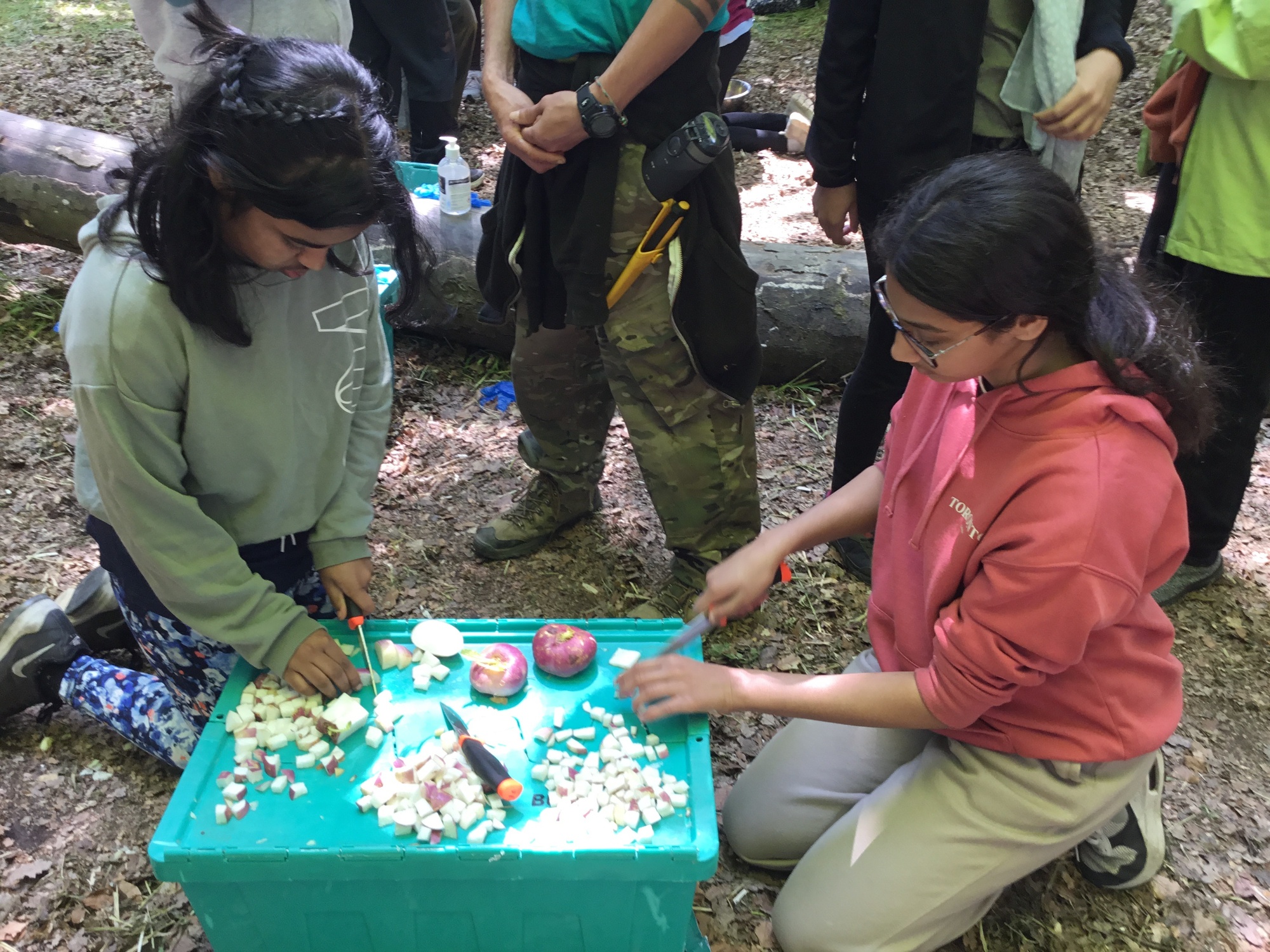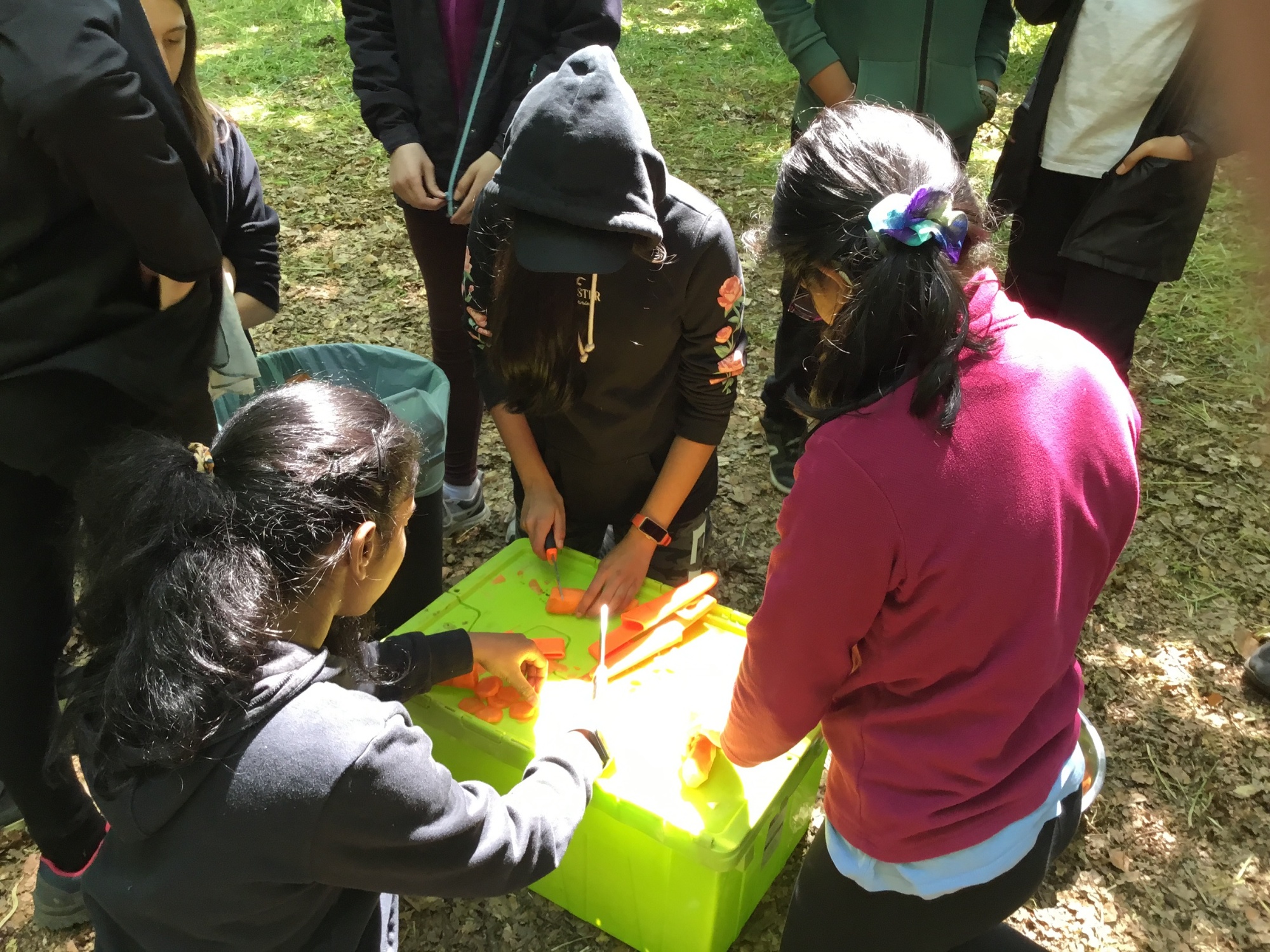 When we finished our lunch, the next activity on the itinerary was a demonstration on how to whittle a stick into a tent peg. Our Camp Leader could only supervise one tribe at a time, so the other tribes would be practising for Tribes Got Talent.
When all four tribes had whittled, the last activity before TGT was to watch a demonstration on how to pinasse a salmon. Some people even ate the fish eyes. This was definitely an interesting experience to see.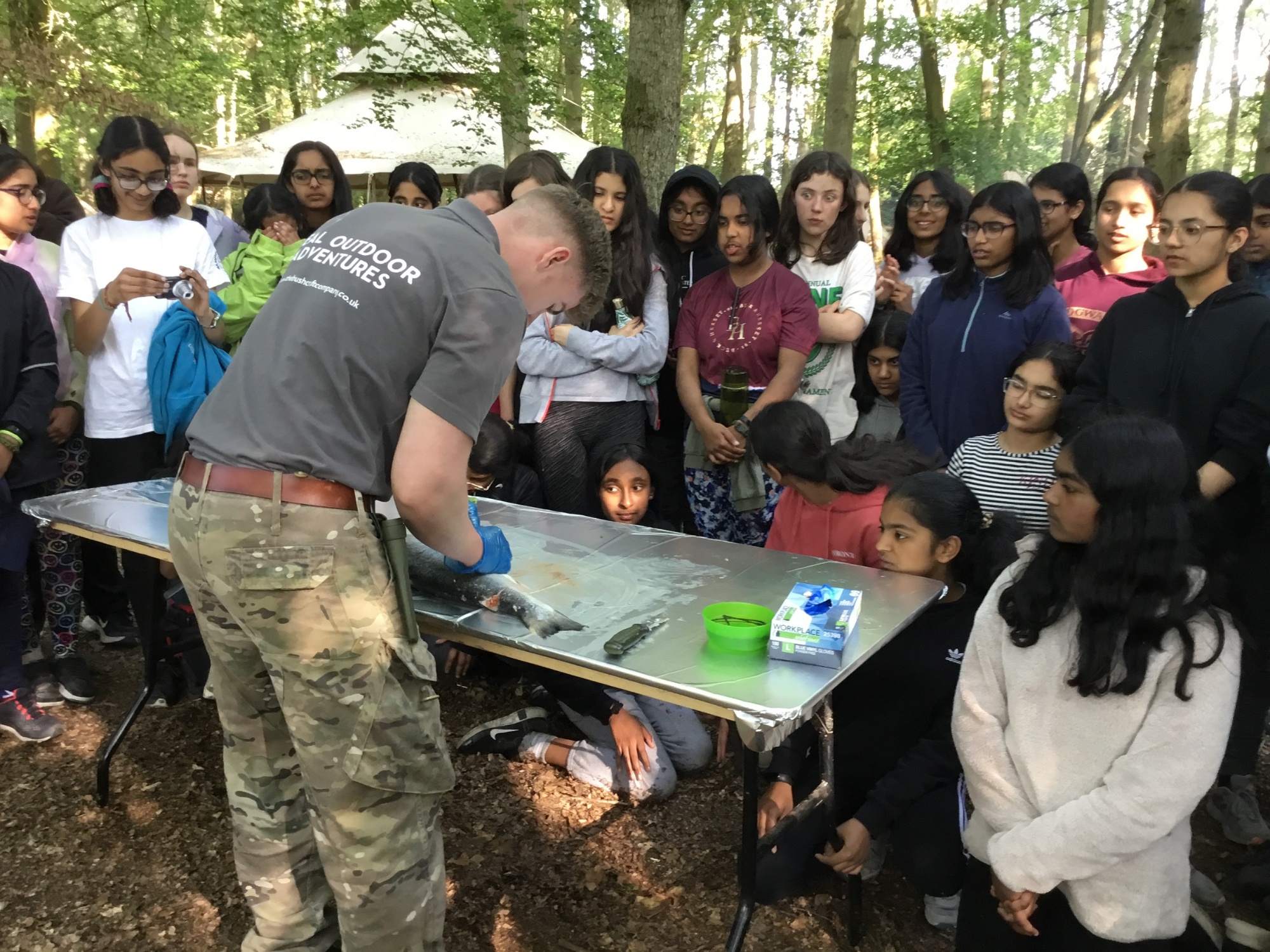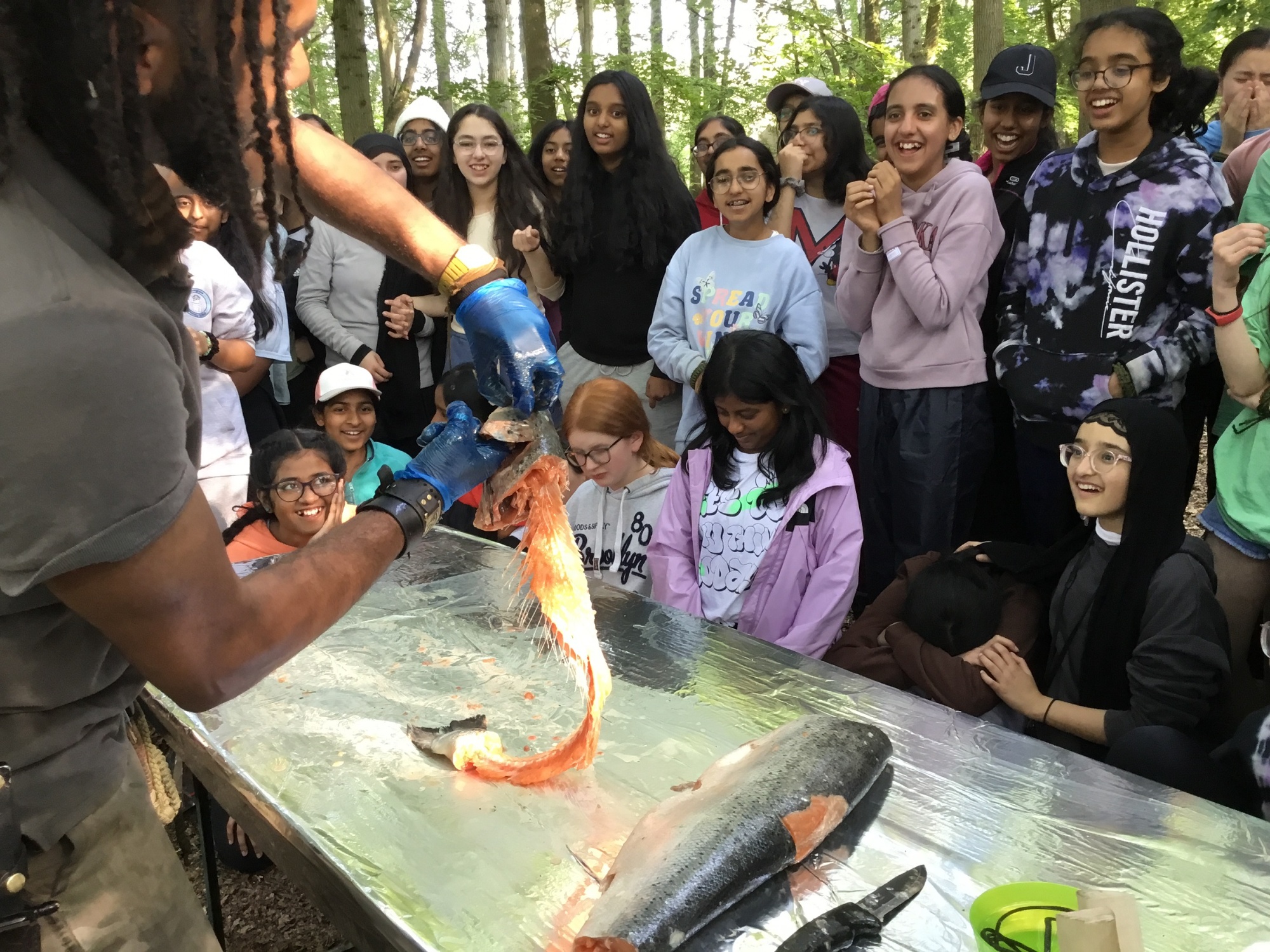 It was now time to go to the hill where Tribes Got Talent took place. Everybody enjoyed the show, which was filled with laughter and amazing performances, and soon we went back to our campsite. As a nighttime snack, we had s'mores again which was amazing! We heard stories from our Camp Leaders around the campfire until it was time to go back to our tents.
Day 4
On this day, we had to wake up early in the morning, so we could pack in time to leave later in the day. Before breakfast, we packed our bags, and were given all the answers to the riddles that we had not previously known. While we played this game, different tribes were called to have breakfast.
After breakfast, we did our last activity at Bushcraft. We learnt all about the different types of traps, and some of their names were 'strangle' traps, 'mangle' traps, 'dangle traps' or 'tangle' traps. I thought these were pretty funny, but the fact that they all rhymed was useful because it made them easier to remember.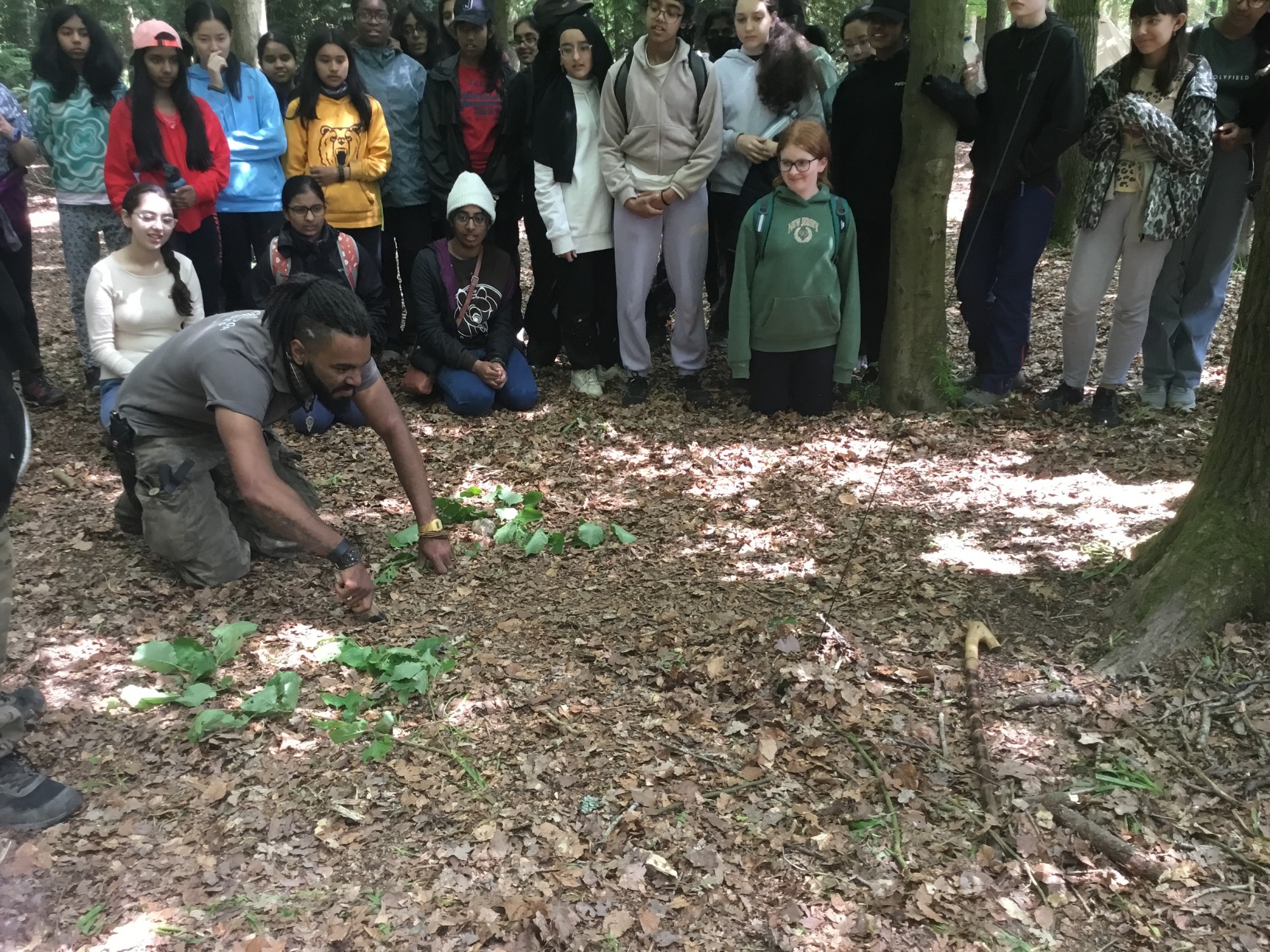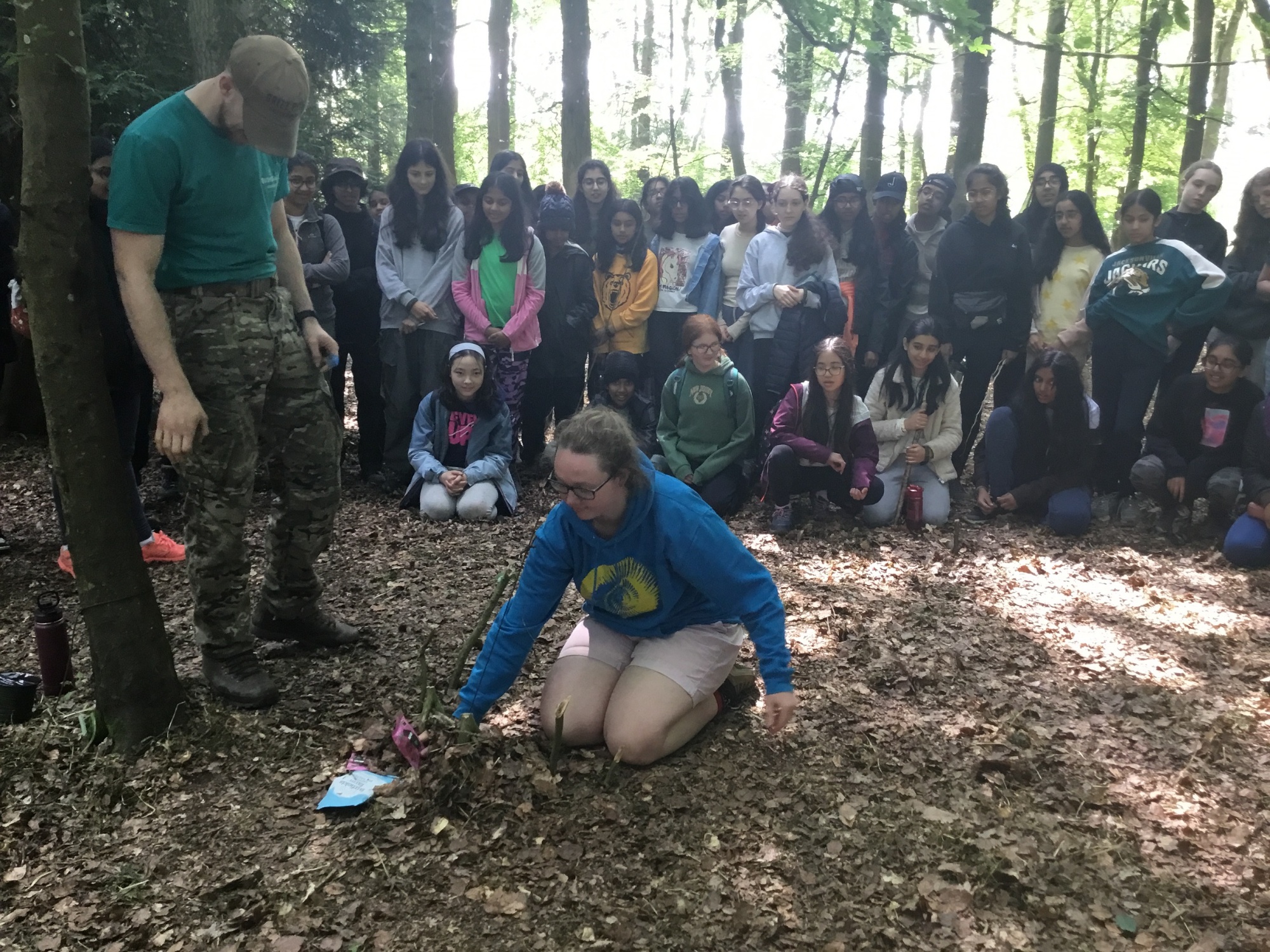 The traps and how they were used and built were demonstrated to us, then we had to go into our tribes, and try to make a trap using the techniques we had been shown. After some time to make our own trap, we went around and looked at each group's trap. This was the first activity or challenge in the Bushcraft Challenge. The next challenge was to leave no trace. We all then went out to where the shelters we had previously made were, and for the first of three activities to do with cleaning, we had to disassemble the shelters we had made throughout the trip and bring all the stuff back in a neat pile. For the third task, we had to build a fire from the sticks around the campsite and the tribe that burnt the piece of rope hanging from two trees would win. For the fourth and final task we had to make a shelter to protect a chocolate biscuit from water that the Camp Leader would throw from above, acting like rain. In the end it was a competition between two tribe Leaders and what started as a moo-off ended up as a game of splat. Our tribe leader won, leading us to victory and winning the Bushcraft Challenge overall.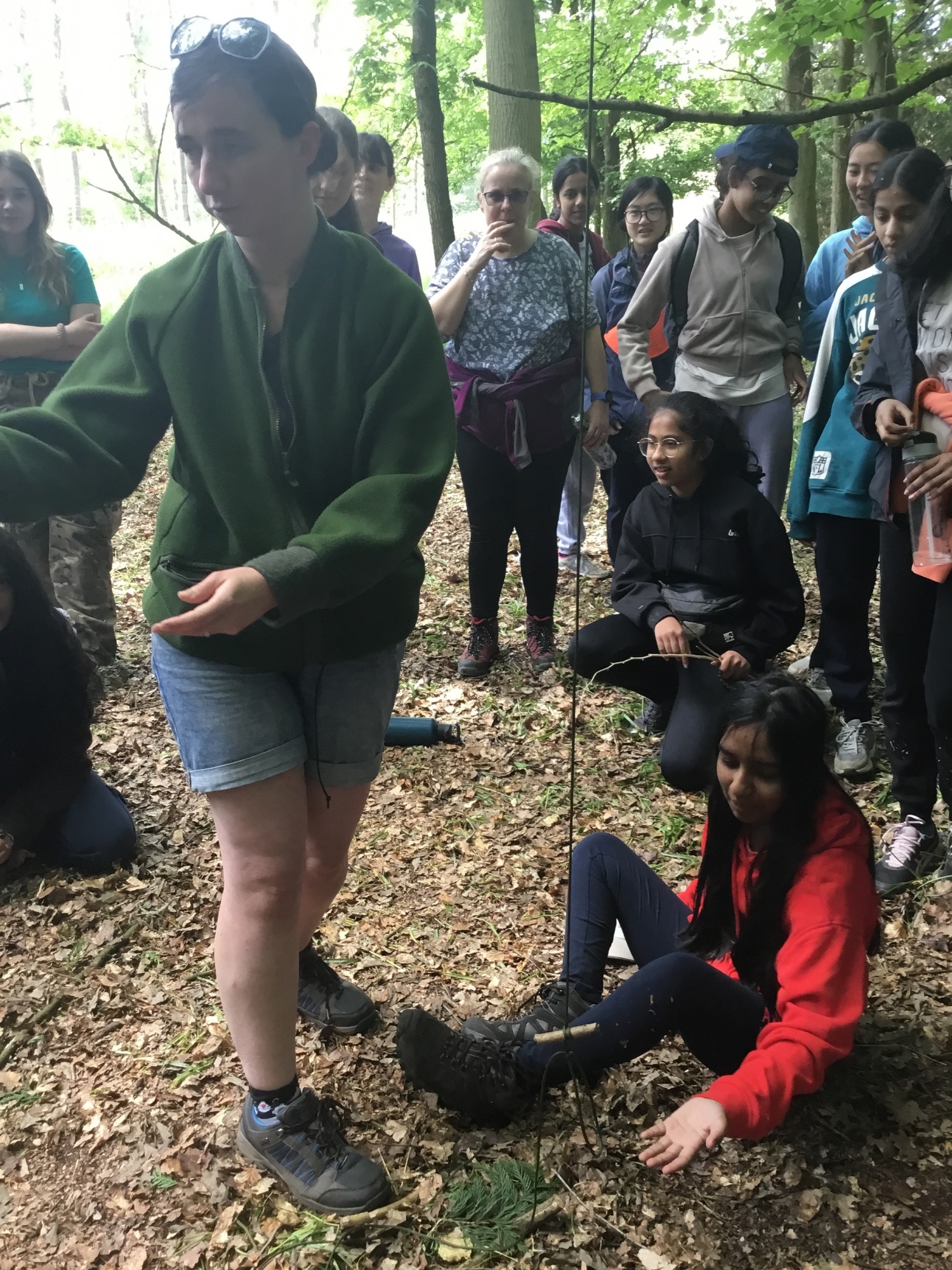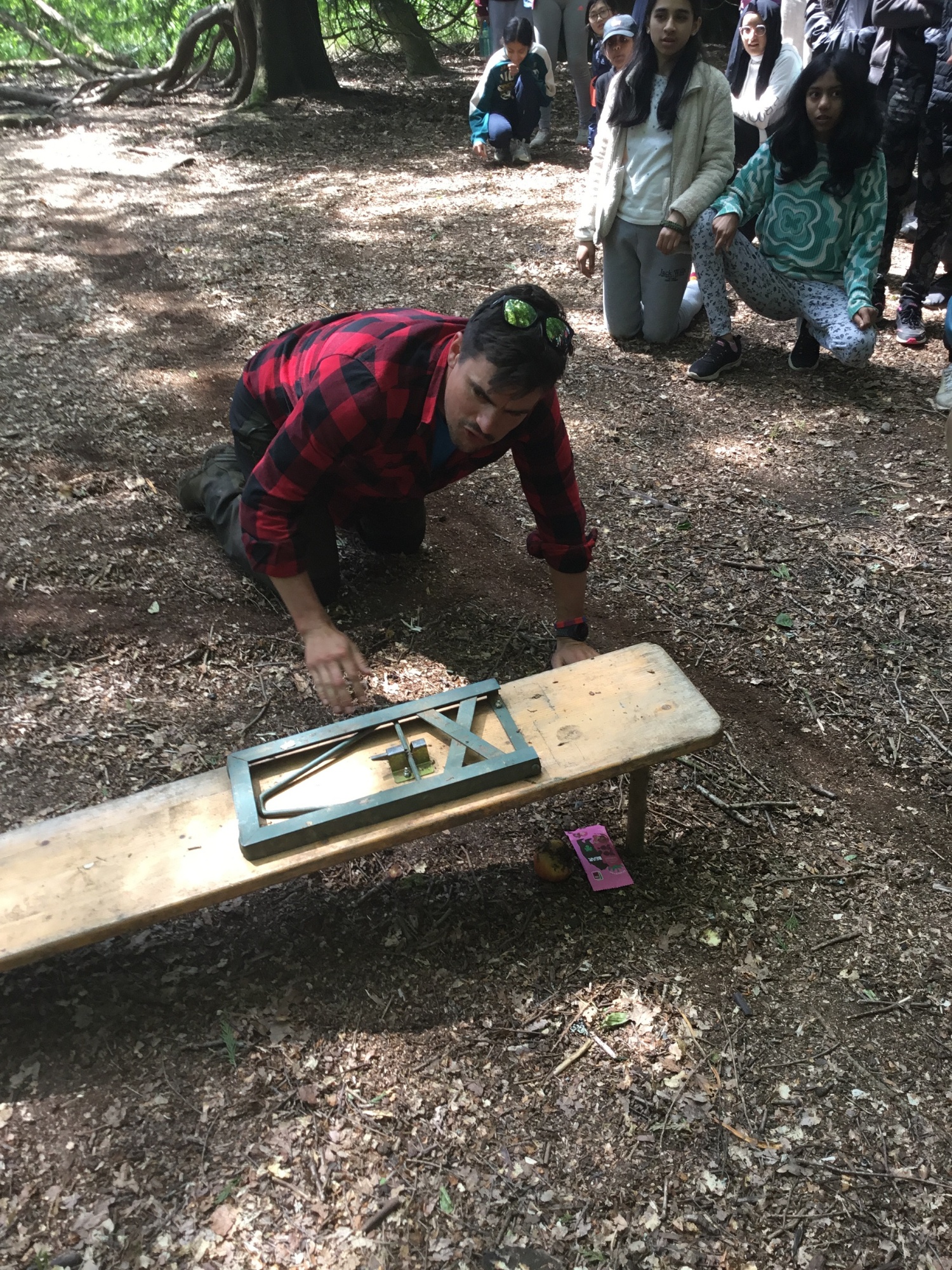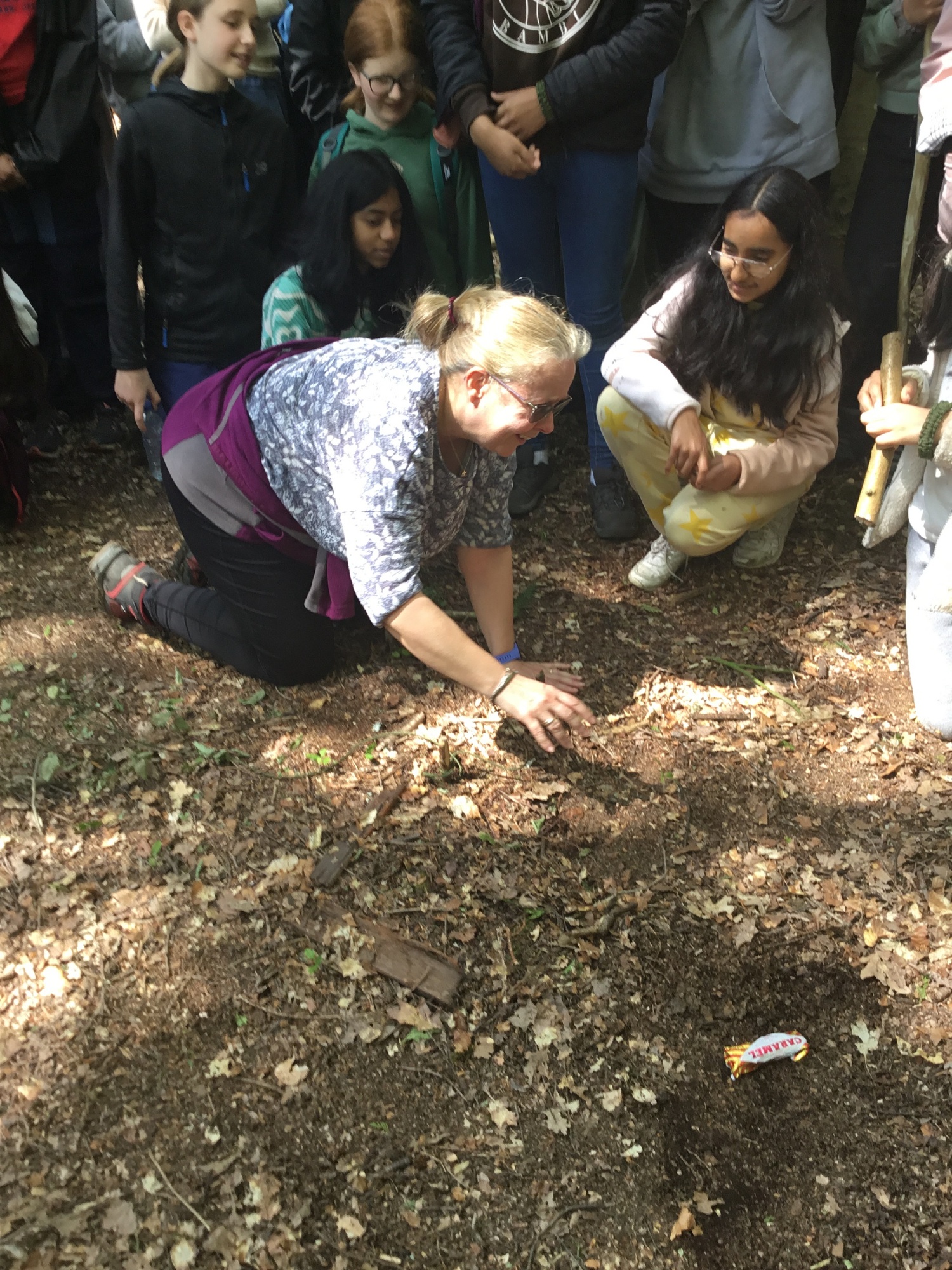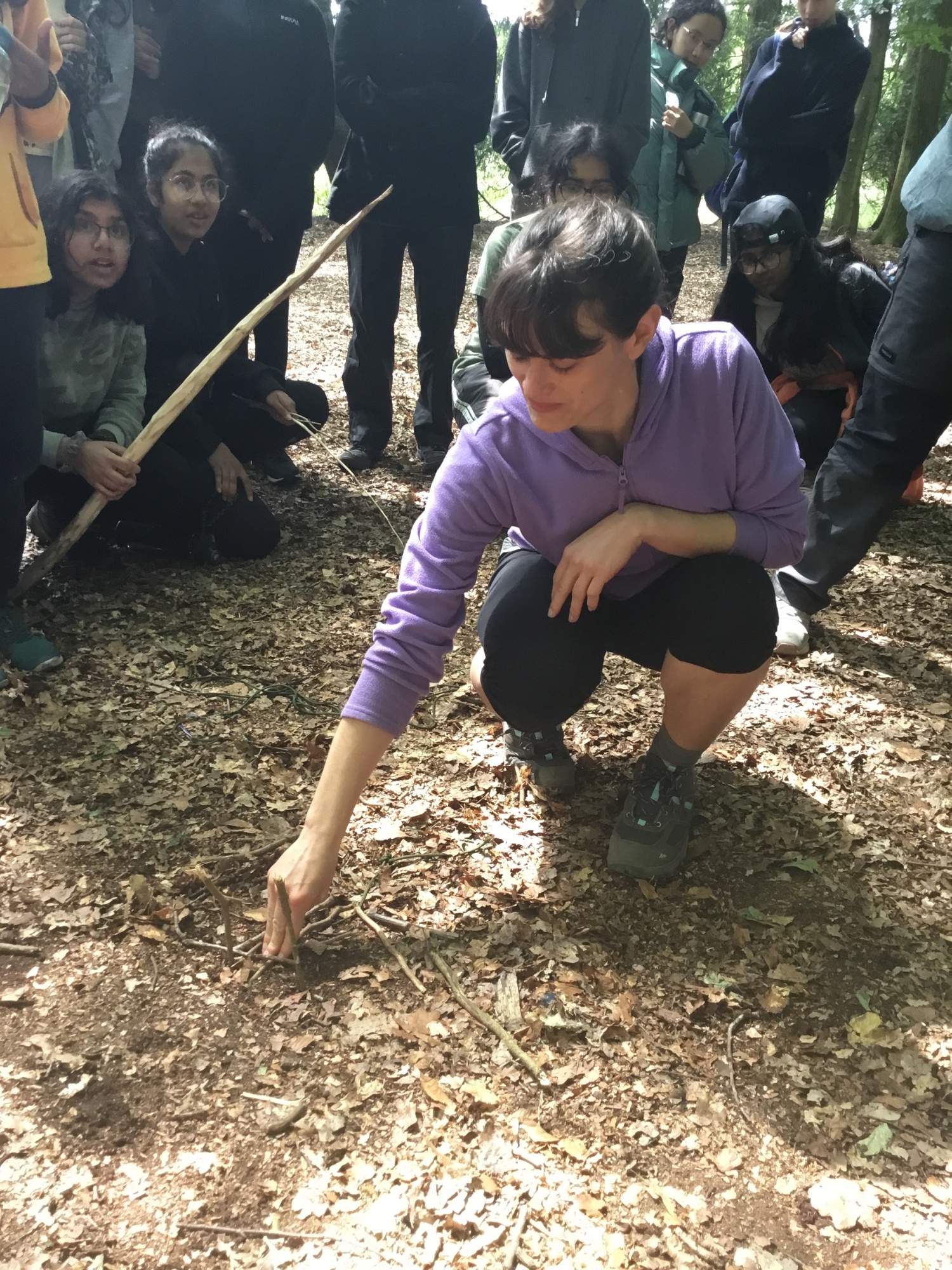 Finally, we had lunch, which was a tuna wrap, that was really nice. It was then time to say our goodbyes and as a farewell gift, each tribe received a present. Soon, we had to line up in our forms again. Few people were crying as we did this. We boarded the bus, but there wasn't much singing this time, as we were all exhausted and quite a few of us even fell asleep. We then exited the coach and collected our belongings from the front lawn, where we waited until we were collected by our parents.
I have really enjoyed this experience and I hope to do these unique activities again in the future. Learning all these new skills was in a friendly and supportive environment and I think that this entire trip, in combination with the delightful camp leaders, stories and new skills learnt, this experience and trip have been amazing!
Yaashawi - Year 8
Photos from this trip can be viewed here