Kendrick School - Widening Horizons
If your daughter is in receipt of pupil premium/service premium or is a child in care or previously in care, and you would like to be added to our mailing list to be informed of future events, please email admissions@kendrick.reading.sch.uk
Aims of the Project

Work with local primary schools to raise aspirations of local children
Raise awareness of Kendrick School
Provide a free test familiarisation programme for Year 5 pupil premium students (whose permanent address is within our designated area) who have applied to take the entrance test and provide support to their parents/carers with the entrance test application process as follows:

A score of 5 points lower than the qualifying score will be applied for pupil premium or service premium students and Looked After Children and Children in Care, whose permanent home address is within Priority Area 1 and Priority Area 2 of the designated area.
Our Admission policy prioritises pupil premium students which means that all pupil premium students which achieve this lower qualifying score and live within our Priority Area (1 and 2) and put Kendrick School as first choice on their Local Authority secondary school application form will be offered a place at Kendrick School.
All pupil premium students which apply to sit the Admission test for 2021 entry, and reside within our designated areas, are offered free familiarisation program for the Admission test in the summer and start of the autumn term 2020 which will also help their current school work. This will include free after school sessions at Kendrick School and free access to an online package.
For more information on the event or the Widening Horizons Project, please email admissions@kendrick.reading.sch.uk. Permission will be sought to approach your primary school to confirm eligibility.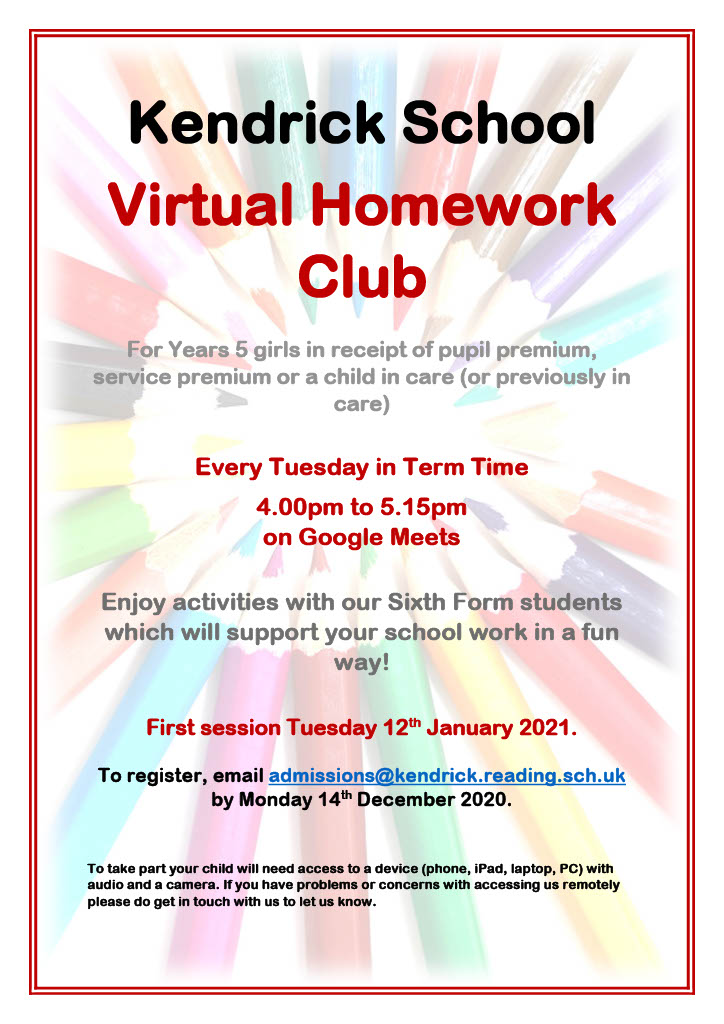 "My daughter thoroughly enjoyed joining the Tuesday familiarisation session remotely. Your sixth form students are a credit to the school'
"I would just like to praise the sixth form student for the remote session she did with my daughter yesterday. She was absolutely brilliant, supportive and explained the questions beautifully"